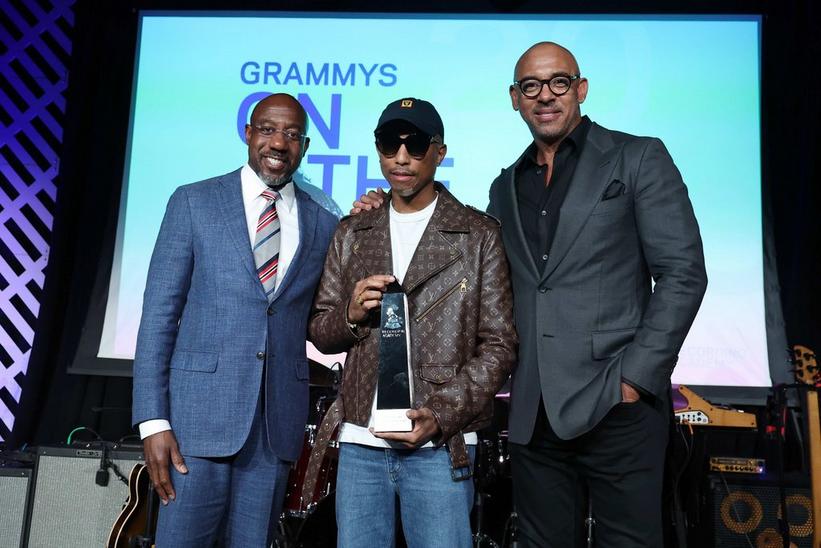 (L-R) Sen. Raphael Warnock, Pharrell Williams, Harvey Mason jr.
Photo courtesy of Recording Academy® by Paul Morigi via Getty Images
feature
How The 2023 GRAMMYs On The Hill Awards Addressed The Changing Music Landscape, Celebrated Music Champions & Pushed The Industry Toward Progress
The 2023 GRAMMYs On The Hill Awards honored the congressional leaders and music professionals championing creators' rights, including Pharrell Williams, U.S. Senate Majority Leader Chuck Schumer, and Sen. Bill Cassidy, while fighting for a fair industry.
Advocacy
/
May 1, 2023 - 07:49 pm
It virtually goes without saying that every year, the annual GRAMMYs On The Hill Awards are monumental in their own way. But for manifold reasons, 2023 stands alone.
Once again, the music industry paradigm is today shifting in real-time, driven by the rapid rise of emerging technology, the ongoing fight for fair compensation for songwriters and artists, the protection of artists' freedom of creative expression, and other key music industry issues impacting creators — all of which played a central role at the 2023 GRAMMYs On The Hill Awards.
"We find ourselves at a crossroads," Panos A. Panay, President of the Recording Academy, said on the red carpet ahead of this year's GRAMMYs On The Hill Awards last Wednesday. "It's a time of opportunity, but I think it's a time of peril, too."
By his telling, the evolving nature of today's music industry is wide-spanning: There's the collision between AI and music as well as the ongoing growth of music revenues via streaming. De novo, the music landscape has found itself in uncharted waters — financially and structurally.
Central on the docket for GRAMMYs On The Hill 2023 is the newly reintroduced Restoring Artistic Protection Act. The purpose of the act — to limit the admissibility of lyrics in criminal proceedings and legal court cases — is essential for fairness and equity across the wider music industry, but carries a heightened impact on the rap community that is commonly the target of this prosecutorial tactic.
All of this would be on the table by the next morning, at the dawn of Advocacy Day 2023, when the Restoring Artistic Protection Act was reintroduced by Congressmen Hank Johnson (D-GA) and Jamaal Bowman (D-NY), alongside Recording Academy leaders and members  at a press conference on Capitol Hill. 
While the week's events focused on progress and positive change, the GRAMMYs On The Hill Awards celebrated music people — and those who valiantly fight for their rights — on a higher level. Taking place at the Hamilton Live, a block from the White House, the event began with a performance from traditional New Orleans jazz trumpeter Leroy Jones, who's performed with everyone from Harry Connick Jr. to the Preservation Hall Jazz Band. Jones' swooping, swinging, syncopated rendition — hesitating, detouring, yet concluding in a flourish — befitted an endeavor where nothing was guaranteed, but nobody is giving up easily.
Country-soul leading light Maggie Rose then introduced Tammy Hurt, Chair on the Board of Trustees of the Recording Academy, along with five-time GRAMMY-winning soprano legend Renée Fleming. 
They, in turn, introduced U.S. Senate Majority Leader Chuck Schumer (D-NY) with a stirring video tying into the 50th anniversary of hip-hop, presenting the Brooklyn native as a tireless warrior for music creators' rights who proved instrumental in saving the industry during the COVID-19 pandemic.
Upon strolling onstage, Sen. Schumer acknowledged a "great New Yorker and great American," two-time GRAMMY winner and Recording Academy Lifetime Achievement Award recipient Harry Belafonte, who died the previous day. "Through his music, he touched the hearts of millions, like no one ever before," Schumer said, celebrating Belafonte's courage in "challenging an entire nation to confront the forces of segregation and bigotry."

After acknowledging his friend and fellow GRAMMYs On The Hill Awards honoree from across the aisle, Sen. Bill Cassidy, M.D. (R-LA), Sen. Schumer offered further expressions: "I've always believed that music is more than a form of entertainment," he said. "It's a cultural, economic and social force that brings people [together] from all walks of life."
One of the most emotionally stirring moments of the evening came when Todd Dupler, Acting Chief Advocacy & Public Policy Officer for the Recording Academy, introduced Dr. Ahmad Naser Sarmast, the founder and director of the Afghanistan National Institute of Music (ANIM), Ministry of Education of Afghanistan.
In August 2021, Sarmast put his life on the line to help the Afghanistan National Institute of Music escape after the Taliban seized control of his embattled country and banned all non-religious music. "We are here to celebrate the beauty of music," he said. "In Afghanistan, the people are deprived of their music."
Rose then returned to the stage for a rousing rendition of her anthemic "What Are We Fighting For," from her 2021 album Have a Seat. While the thrust of the lyrics is a lover's quarrel, the song felt apropos to the spirit of GRAMMYs On The Hill, where leading political minds reach across aisles for the greater good of our universal language. Upon her exhortation for the audience to join her in the revelry, a number of high-profile attendees, like House Foreign Affairs Chairman Michael McCaul (R-TX) and House Democratic Whip Katherine Clark (D-MA), followed suit.
This year, the GRAMMYs On The Hill Awards, sponsored by City National Bank, benefited the GRAMMY Museum; as such, Museum President and CEO Michael Sticka took the stage to tout the institution's crucial work on historical, curatorial and educational programs and initiatives. (Linda Duncombe, the executive vice president and chief marketing, data and digital officer of City National Bank and a member of the Museum's Board of Directors, made a brief onstage appearance as well.)
Singer/songwriter JP Saxe then gave the ceremony another dollop of soul, as he sat behind a keyboard and performed "If The World Was Ending," originally a GRAMMY-nominated duet with Julia Michaels.
After an introduction from Recording Academy President Panay, Tarriona "Tank" Ball — of Tank and the Bangas fame — appeared to tout the American musical tradition that birthed New Orleans artistry; in such, she stressed the primacy of freedom. A video played spotlighting Sen. Cassidy's work in the roots music capital, as he fights to sustain music small businesses, champions the Music Modernization Act, and assisted ANIM in their safe evacuation out of Afghanistan.
The night was winding up to Pharrell Williams' big honor. Tobe Nwigwe, a rapper and star on the Netflix series "Mo" who was nominated for a GRAMMY for Best New Artist in 2023, performed a rolling, flowing song especially for the man of the hour. That was "In the Water" – a reference to Williams' Something in the Water festival, which returned to his hometown of Virginia Beach, Virginia, the following weekend.
Right then, Williams himself — a 13-time GRAMMY winner who looms large in innumerable spheres of American music, from rap to pop to R&B — stepped onstage to receive the GRAMMYs On The Hill's Creator Leadership Award presented to him by Sen. Raphael Warnock (D-GA) and Academy CEO Harvey Mason jr.
"I've been incredibly lucky in my career as a musician," he said. "But there are a ton of my brothers and sisters that are just like starting out. And even some that have been in the game for a very long time that haven't had the same advantages.
"The worth of these musicians needs to be protected," Williams continued. "I think it's a very beautiful thing that our government is shining a light and giving visibility to the struggle [experienced by] us as musicians."
The evening concluded with a masterful performance by Tank and four-time GRAMMY winner and Recording Academy Lifetime Achievement Award recipient Nile Rodgers, who performed a luminous version of Daft Punk's "Get Lucky" — a modern classic that gave the veteran funk and disco legend a career boost as he fought for his life.
"At the time, I was suffering from cancer," he reflected from the stage, remembering the time when they created the song together. "As I stand here, getting ready to pay tribute to my brother with that song we wrote 10 years ago, I am still cancer-free." (Huge applause.)
As the years roll on, the fight for creators' rights will continue, and the Recording Academy will remain a trusted champion for creators of all levels across the full spectrum of the music industry, advancing important music policy issues to the forefront. And GRAMMYs On The Hill will once again step up to meet every challenge and celebrate those leading the charge along the way.
But one thing was certain as this year's honors wound down: As a music community, that night, we all gained ground.
Recording Academy And U.S. Congress Leaders Announce The Reintroduction Of The Restoring Artistic Protection (RAP) Act, Leading The Federal Effort To Limit The Use of Song Lyrics In Court And Legal Cases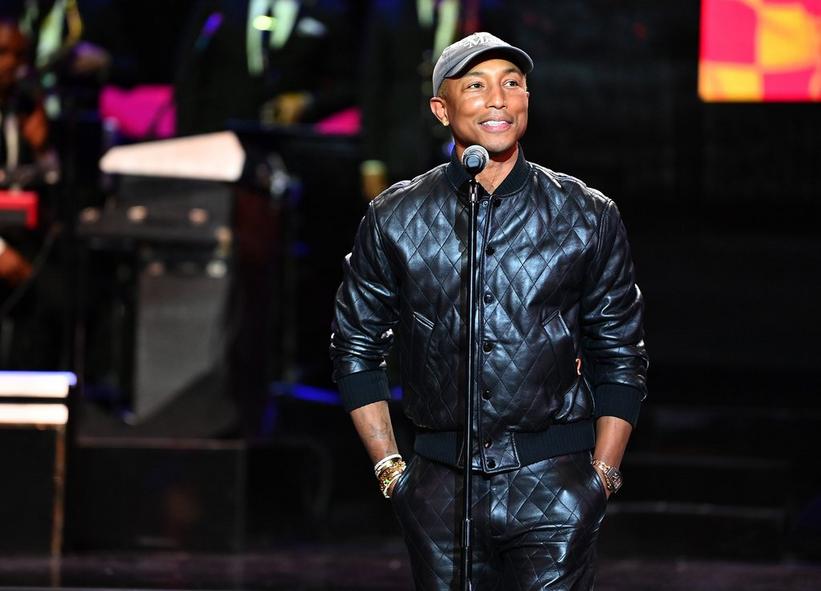 Pharrell Williams speaks at the TV One Urban One Honors in December 2022.
Photo: Paras Griffin/Getty Images for Urban One Honors
list
4 Ways Pharrell Williams Has Made An Impact: Supporting The Music Industry, Amplifying Social Issues & More
From advocacy and activism to music education and philanthropy, trailblazing superproducer Pharrell Williams uses his global reach to enact social change and inspire the masses — which is exactly why he's a 2023 GRAMMYs On The Hill honoree.
Recording Academy
/
Apr 20, 2023 - 04:40 pm
Thirteen-time GRAMMY winner Pharrell Williams understands how to wield his influence for the betterment of humanity. When he's not in the studio making award-winning music, the prolific multihyphenate spends his time supporting causes like education, sustainable fashion, conservation, and human rights, and leverages his platform to make change happen — creating a blueprint for merging passions with social causes.
The visionary's philanthropic reach is awe-inspiring. Since establishing his first non-profit, From One Hand to AnOTHER, in 2008 — a six-week summer camp that offers learning programs focused on science, technology and the arts to children from low-income families — Williams has given a host of communities access to resources, tools and life-changing opportunities. He's helped build an after-school center in his hometown of Virginia Beach, offered internships to students from Harlem, New York, and launched a non-profit initiative for Black and Latinx entrepreneurs on the heels of the 2020 racial justice protests.
Ultimately, the mega-producer wants to make the world a better place for future generations, which shines through in his dedication to education, climate action and equality. By taking action to tackle these big-picture issues, Williams is showing others in his position that it's possible to do what you love and make a difference in the world.
To mark Williams' efforts and their impacts, the multihyphenate will be honored alongside U.S. Senate Majority Leader Chuck Schumer (D-N.Y.) and Sen. Bill Cassidy (R-La.) at this year's GRAMMYs On The Hill in Washington D.C. The annual event spotlights congressional leaders and music makers who have worked together to raise awareness and pass legislation to help ensure fair pay and equal rights for creators. 
Ahead of the event on April 26 and 27, take a look at four ways Williams has supported the music industry — and beyond. 
He Advocates For The Protection Of Creators' Rights
Williams has made a concerted effort to negotiate with labels for control of his music, and he uses his platform to help fight for equality and equity for all artists. "I shouldn't be the only one with this preferred deal," Williams said to the head of Columbia Records after negotiating a deal to own his masters in 2015. "All artists should own their intellectual property — otherwise you're just working for someone else. It's really weird: They own the fields where you and God have laid the seeds; you do the harvesting, but they have the ownership."
Williams has consistently highlighted the importance of ownership in music, and his push to usher in new protections for artists extends to the virtual world. In 2021, the music mogul joined the advisory council of CXIP DAO, a decentralized organization that allows creators to protect their copyrights and manage their digital assets.   
Read More: Everything You Need To Know About GRAMMYs On The Hill 2023: What It Is, Who It Benefits & What It Has Accomplished
He Supports And Funds Arts & Music Education Programs
Williams got his musical start as a drummer in elementary school before taking band in middle school, where he met a similarly music-minded classmate named Chad Hugo, his future production partner in the Neptunes. Along with support from his grandmother, this educational experience shaped Williams into the innovator he is today, and encouraged him to center much of his philanthropy on the arts and education as a whole.
"I want all children to have access to that kind of creative growth, access, and support. All kids, not just my own," Pharrell told Billboard in 2019. 
His actions have shown just that: In 2009, Williams' non-profit launched a Summer of Innovation camp in association with NASA. His foundation would go on to donate school supplies and offer free after-school programs and camps to kids from his hometown areas. 
In 2018, the "Happy" singer partnered with American Express Platinum for The Yellow Ball, a fundraising event at the Brooklyn Museum to benefit Young Audiences Arts for Learning. Soon after, he joined forces with Verizon to launch a tech-forward music curriculum for underserved middle schools all over the country, which provides students with access to virtual reality, 3D printers and other emerging technology. 
He Launched A Private School
Back in 2021, Williams took his education advocacy to the next level when he announced the launch of Yellowhab, a tuition-free private school for third to sixth graders from low-income families in his home state of Virginia. Always innovating, Williams's micro-school takes "a future-forward approach" to learning that includes using tech and other methods to immerse students in the educational process.   
"If the system is fixed and unfair, then it needs to be broken," Williams said in a press release.  "We don't want lockstep learning where so many kids fall behind; we want bespoke learning designed for each child, where the things that make a child different are the same things that will make a child rise up and take flight."
He Uses Fashion To Help Global Causes
The fashion influencer has created a number of clothing and accessory lines throughout his career, from the Billionaire Boys Club label to its many offshoots. He's partnered with high-profile brands to create collections that raise awareness and funding for socially conscious causes; in December 2022, his global lifestyle brand ICECREAM collabed with Mini USA for a capsule collection whose proceeds went to Polar Bears International, a non-profit that works to protect the endangered species.
But with eight million metric tons of plastic in the ocean, his sustainable denim collection with Bionic Yarns may be his most socially impactful. Over a two-year period, this collaboration converted an estimated seven million plastic bottles into clothing items.
"We are trying to infiltrate the entire spectrum of fashion, high-end and low. It's a part of sustainability and the cause is to never throw anything [plastics and trash] into the ocean again," Williams told Women's Wear Daily in 2014. "The ocean is just one part of the earth we're concentrating on, but the world is made up of 75 to 80 percent water. It's a huge place to start."
Inside GRAMMYs On The Hill 2023: How The Recording Academy Will Fight For Creator's Rights