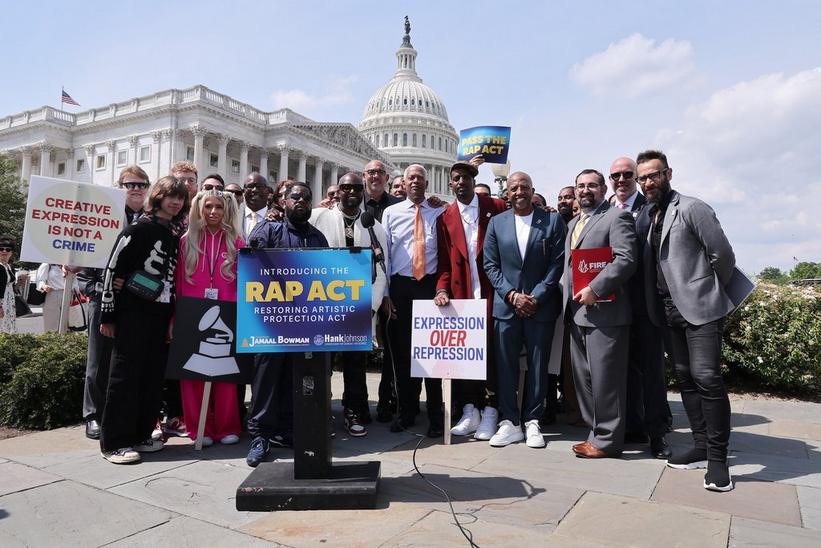 A group photo during GRAMMYs on the Hill Advocacy Day 2023 on April 27 in Washington, D.C.
Photo: Courtesy of Recording Academy ® | Photo by Paul Morigi by Getty Images © 2023
news
Recording Academy And U.S. Congress Leaders Announce The Reintroduction Of The Restoring Artistic Protection (RAP) Act, Leading The Federal Effort To Limit The Use of Song Lyrics In Court And Legal Cases
Following the 2023 GRAMMYs on the Hill Awards, Recording Academy leaders and members joined Congressmen Hank Johnson (D-GA) and Jamaal Bowman (D-NY) in Capitol Hill to announce the reintroduction of the Restoring Artistic Protection (RAP) Act.
Advocacy
/
Apr 27, 2023 - 06:52 pm
Today, Recording Academy leaders and members joined Congressmen Hank Johnson (D-GA) and Jamaal Bowman (D-NY) at a press conference on Capitol Hill to announce the reintroduction of the Restoring Artistic Protection (RAP) Act. Intended to protect artists' freedom of creative expression, the RAP Act would limit the use of song lyrics in court — a common practice that disproportionately affects rap and hip-hop artists. Artists and industry advocates, including Recording Academy CEO Harvey Mason jr. and Recording Academy Board of Trustees Vice Chair and Black Music Collective Chair Rico Love, shared their views on the importance of passing this legislation and ensuring all artists can create freely without fear of their work being criminalized. Watch the full press conference below.
The announcement comes on the heels of the Recording Academy's Annual GRAMMYs on the Hill, a two-day event that honored 13-time GRAMMY winner Pharrell Williams, Senate Majority Leader Chuck Schumer, and Senator Bill Cassidy for their stalwart support of music creators and connected music creators with members of Congress from both sides of the aisle to advocate for the RAP Act, the Help Independent Tracks Succeed (HITS) Act, the American Music Fairness Act (AMFA), and reform of the live event ticketing marketplace.
"GRAMMYs on the Hill has been bringing music creators to Capitol Hill for more than 20 years to elevate policy issues that impact our community. Today, we're proud to see our Academy members' commitment to advocacy come to life with the reintroduction of the Restoring Artistic Protection Act. We must safeguard artists' freedom to create at all costs and work to eradicate the biases that come with the unconstitutional practice of using lyrics as evidence. We are grateful to Congressmen Johnson and Bowman for their unwavering commitment to music people and look forward to working alongside them to advance this issue." – Harvey Mason jr., CEO, Recording Academy, and Rico Love, Chair, Recording Academy Black Music Collective
"This legislation is long overdue," Congressman Johnson said. "For too long, artists – particularly young Black artists – have been unfairly targeted by prosecutors who use their lyrics as evidence of guilt, even though there is no evidence that the lyrics are anything more than creative expression. When you allow music and creativity to be silenced, you're opening the door for other realms of free speech to be curtailed as well. The government should not be able to silence artists simply because they write, draw, sing, or rap about controversial or taboo subjects. The Restoring Artistic Protection Act (RAP Act) would protect artists' First Amendment rights by limiting the admissibility of their lyrics as evidence in criminal and civil proceedings."
"Rap, hip-hop and every lyrical musical piece is a beautiful form of art and expression that must be protected," said Congressman Bowman Ed.D. "I am proud to introduce the RAP Act alongside Rep. Hank Johnson. Our judicial system disparately criminalizes Black and Brown people, including Black and Brown creativity. For example, Tommy Munsdwell Canady is a young 17-year-old kid serving a life sentence whose conviction heavily relied upon lyrics he wrote. I was deeply moved to hear that Mr. Canady continues to pursue his art in the face of our carceral systems that would otherwise stifle Black art. He is not an outlier. Evidence shows when juries believe lyrics to be rap lyrics, there's a tendency to presume it's a confession, whereas lyrics for other genres of music are understood to be art, not factual reporting. This act would ensure that our evidentiary standards protect the First Amendment right to freedom of expression. We cannot imprison our talented artists for expressing their experiences nor will we let their creativity be suppressed."
There are over 500 documented cases since the 2000s where prosecutors have used lyrics as criminal evidence in court against an artist defendant. A 2016 study by criminologists at the University of California examined whether rap lyrics are evaluated using stereotypes and found that rap was evaluated more negatively than other genres of music, highlighting the possibility that bias against rap lyrics could inappropriately impact jurors when admitted as evidence to prove guilt. To right this wrong, the Recording Academy has spearheaded efforts to protect the First Amendment rights of artists nationwide by working to limit the use of an artist's lyrics — among other forms of creative expression — as evidence in criminal proceedings.  
On Sept. 30, 2022, California Governor Gavin Newsom signed the Decriminalizing Artistic Expression Act into law alongside Recording Academy CEO Harvey Mason jr. at a virtual bill signing.
This year, the Academy is working to advance similar legislation in several states, including Louisiana, where HB-475 passed a House vote on April 25; Missouri, where HB-353 recently advanced to the House for a vote; and in New York, where a similar bill passed through the Senate in 2022.
Inside GRAMMYs On The Hill 2023: How The Recording Academy Will Fight For Creator's Rights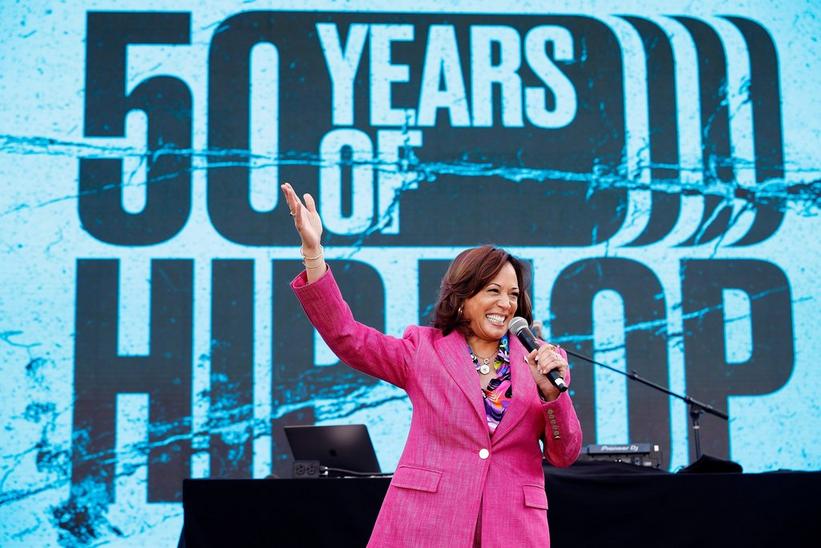 U.S. Vice President Kamala Harris speaks on stage during the 50th Anniversary of Hip-Hop Celebration
Photo: Tasos Katopodis/Getty Images for The Recording Academy
news
How Vice President Kamala Harris And The Recording Academy Celebrated The 50th Anniversary Of Hip-Hop: "Hip-Hop Culture Is America's Culture"
Presented by Live Nation Urban, the Recording Academy's Black Music Collective, and the U.S. Vice President's office, the once-in-a-lifetime event celebrated 50 years of hip-hop with multiple performances from Lil Wayne, Common and more hip-hop luminaries
Recording Academy
/
Sep 15, 2023 - 08:19 pm
"Welcome to the first-ever hip-hop house party at the home of the Vice President of the United States," U.S. Vice President Kamala Harris said excitedly from a lively stage propped up in her backyard. Her words reminded folks of the Notorious B.I.G.'s eternal lyrics: "You never thought that hip-hop would take it this far."
Indeed, as guests gathered at Vice President Harris' residence in Washington, D.C., on Saturday for a private, intimate event celebrating the 50th anniversary of hip-hop, a palpable sense of wonder and awe, mixed with waves of laughter and bliss, overtook the energized crowd. Here we were, honoring hip-hop in the home of the Vice President, with rap classics blasting from the stage as the unrelenting D.C. sun kept attendees beaming and alive.
The celebration, co-presented by Live Nation Urban and the Recording Academy's Black Music Collective, recognized hip-hop's global influence, evolution and long-lasting impact and brought together music industry professionals, U.S. Senators and Governors, politicians, and celebrated rappers — all true fans of and believers in the power of hip-hop. 
Among them, Vice President Harris was perhaps the most vocal hip-hop supporter of them all. In an impassioned, heartfelt speech, she boasted of the immeasurable impact hip-hop has made on American culture. 
"Hip-hop is the ultimate American art form … Hip-hop now shapes nearly every aspect of America's popular culture," she said. "And it reflects the incredible diversity and ingenuity of the American people. 
"Hip-hop culture is America's culture," she continued. "It is a genre. It is music, melody and rhyme. And hip-hop is also an ethos of strength and self-determination, of ambition and aspiration, of pride, power, and purpose." 
Second Gentleman Douglas Emhoff, who confirmed with the audience that his home with Vice President Harris is, as a matter of fact, a "hip-hop household," echoed the sentiment in his opening remarks, emphasizing that the event aimed to "celebrate the legends who pioneered the music we love, the next generations who will carry on their legacy, and the artists and producers who use the power of music to create change."
For the Recording Academy, the celebration was a historic milestone in the evolution of hip-hop music and culture as a whole and the latest installment in the organization's year-long celebration of 50 years of hip-hop. In February, hip-hop took over the 2023 GRAMMYs with a special, star-studded tribute to hip-hop's 50th anniversary featuring performances from rap pioneers (Grandmaster Flash, Run-D.M.C., Chuck D, Flavor Flav), modern legends (Busta Rhymes, Missy Elliott, Lil Wayne), and next-gen stars (GloRilla, Lil Baby). Now, from the GRAMMYs stage to the Vice President's backyard, hip-hop is everywhere, and the genre's impact has touched virtually every aspect of global pop culture. 
"Now, fifty years later, there's not a single genre of music that hasn't absorbed something essential from hip-hop," Recording Academy CEO Harvey Mason jr. said in a speech as he introduced "the first Vice President of the hip-hop generation."
"Our Vice President was rooted in hip-hop. It is essential to who she is. And — as today shows — she has brought hip-hop with her to the White House," he continued.
The multifaceted event featured a variety of performances and speeches celebrating the five core pillars of hip-hop: MCing, DJing, breakdancing, graffiti and beatboxing. As performers like legendary beatboxer Doug E. Fresh, DJ Dom and DJ D-Nice commanded the stage, Bboy Gravity and his breakdance crew wowed the audience with their neck-breaking moves; throughout the event, a graffiti artist completed a live graffiti mural wall painting from beginning to end.
"This event perfectly embodied everything that we at the Black Music Collective are about, and it's been the honor of a lifetime to work alongside other industry leaders and Vice President Kamala Harris to curate this historic celebration," Ryan Butler, the Recording Academy's Vice President of Diversity, Equity & Inclusion, said in a statement. "We chose to focus on five key pillars of hip-hop — MC, DJ, breakdance, graffiti and beatbox — which allowed us to celebrate all of the distinct elements of such a culturally significant movement."
A powerful lineup of artists further framed the five elements of hip-hop. Remy Ma, MC Lyte and Roxanne Shanté showcased some of the many ways women have influenced hip-hop culture, while Bay Area rapper Too $hort represented the West Coast with his performance of his classic hits "Life is Too $hort" and "Blow the Whistle." Common's freestyle-fueled performance exemplified the higher-learning, conscious-expression aspect of hip-hop, while fellow Chicago rapper Saba held it down for the fresh faces of hip-hop. The event also featured performances by legendary rappers Fat Joe, Slick Rick, Doug E. Fresh, D.C.'s own Wale, Jeezy, who performed his fitting hit "My President," and Lil Wayne, who delivered a show-stopping, career-spanning closing set.
As the event ended, an ominous thunderstorm loomed up in the clouds, but that didn't stop attendees from basking in the afterglow, snapping their final selfies and videos of what was truly a once-in-a-lifetime experience. 
Too $hort best summed up that sense of unbelievable astonishment.
"The journey of hip-hop was not projected to be this," Too $hort said during an on-site interview. "It's a beautiful thing that the image of the culture has changed enough to be used as a tool … Every aspect of life is influenced by hip-hop. Nobody expected that … But at the same time, we were relentless enough to keep doing our craft, and now we're here — we're here! I can't believe I'm here."
— With additional reporting from John Ochoa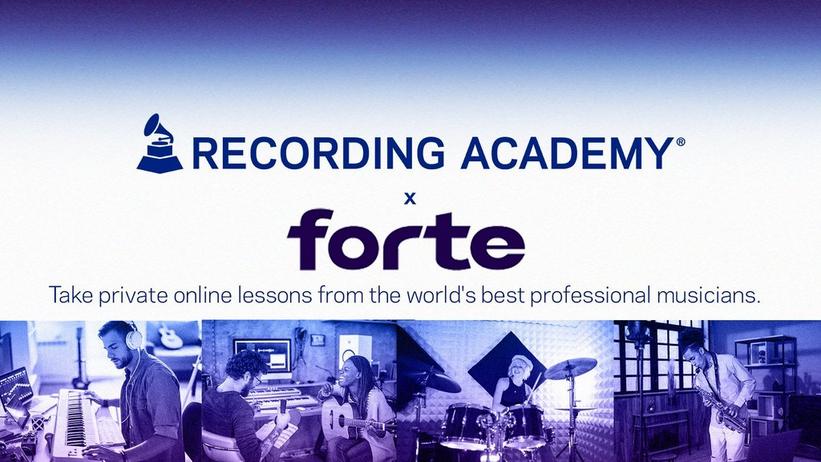 Image courtesy of the Recording Academy
news
The Recording Academy Partners With Forte To Offer High-Quality Music Education Lessons For Students Of All Levels
Through this newly announced partnership, students and aspiring musicians and artists will be able to access more than 100 Forte teachers who are verified Recording Academy members, GRAMMY winners and GRAMMY nominees exclusively on Forte.
Recording Academy
/
Sep 8, 2023 - 02:04 pm
Marking a major step forward in the music industry and online learning, the Recording Academy has partnered with industry-leading online music education platform Forte to provide and expand access to the highest quality in music education for students of all levels. Through the new partnership, Forte, known for its use of high-definition audio quality and user-friendly design, will be the only online platform where students can access accomplished musicians from the Recording Academy's esteemed membership, including GRAMMY winners and GRAMMY nominees.
More than 100 Forte teachers have been verified as members of the Recording Academy or as GRAMMY winners or GRAMMY nominees. This process included a screening for each instructor that guarantees Forte teachers hold significant teaching experience and background, ensuring all students receive instructions and lessons from knowledgeable and experienced educators.
"Members of the Recording Academy are among the most experienced and prestigious music creators in the world, working in the highest levels of the music industry," Forte co-founder and CEO Mark Murtagh said in a statement. "If a student has ever dreamed of learning an instrument or song writing from a GRAMMY nominee or winner, Forte now makes that possible. This unprecedented partnership exemplifies Forte's mission to radically expand access to high-quality music education and the Recording Academy's dedication to advancing the future of music."
Recording Academy CEO Harvey Mason jr. further spoke on the revolution of online music education.
"Online learning is revolutionizing education, expanding access and creating new opportunities for families and students everywhere," Mason jr. said in a statement. "The Recording Academy is proud to help expand music instruction through our partnership with Forte. Our extraordinary members are excited to share their expertise and knowledge with future music creators."
All lessons will be on Forte's online platform. Learn more and sign up now for lessons via Forte's official website.
GRAMMY Museum & Recording Academy Announced Second Annual Quinn Coleman Memorial Scholarship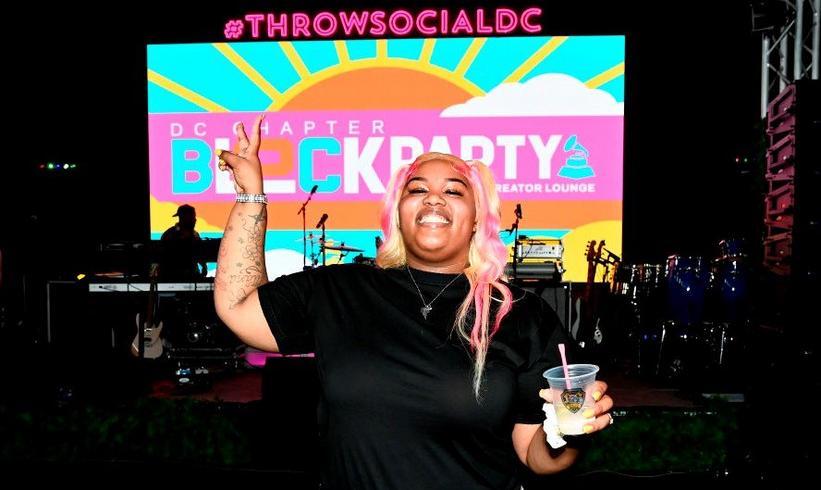 Pinky Tha Rapper poses at the Recording Academy DC Chapter Block Party
Photo: Shannon Finney/Getty Images for The Recording Academy
news
Revisit The 2023 Washington D.C. Chapter Block Party: Championing Artistry & Advocacy
At its first block party in four years, the Recording Academy's Washington D.C. Chapter showcased its support for music and the artists who make it. Take a peek inside the July 28 event, held at THRōW Social D.C.
Recording Academy
/
Aug 16, 2023 - 08:21 pm
Cheers filled the room on July 28 as guests of the Recording Academy's Washington, D.C. Chapter block party — the chapter's first in four years. 
The world has changed significantly since the Chapter's last block party, but as Chapter President Tamara Wellons (who is also a gifted vocalist) noted, one thing remains the same: "Music is that thing that really helps us." 
The six-hour event provided the opportunity for both fellowship and knowledge-building. The first half featured a Creator Lounge, where panelists spoke on the nuances of an ever-changing industry and how musicians can adapt, advocate and monetize their work. The block party itself took place on the rooftop of THRōW Social D.C., and included finger foods, cocktails and performances by local artists. Among those artists was DJ Oji, a Brooklyn-bred and Baltimore-based house DJ.
The block party fell on the same day as The Day that Music Cares, the first-ever day of service for the music community. To commemorate this day, attendees were encouraged to bring school supplies for the chapter's back to school drive. 
For Wellons, it was extremely important that the block party be equally diverse, informative, and fun. The goal was for the local music community to walk away with the knowledge they need to advance their careers.
"One thing we wanted to do was have our block party be just a little different  not just an average party," Wellons told GRAMMY.com. "We wanted to get organizations that offered grants, like the Maryland State Arts Council or the D.C. Commission [on The Arts & Humanities]. They have these grants and things that a lot of our music community don't know about and have not taken advantage of completely."
The advancement of knowledge about available resources, along with the idea of advocacy, were huge themes throughout the event. Members attended discussions about the potential uses of AI, the RAP Act and the importance of ensuring all creators get paid fairly.
The first panel, which was led by Todd Dupler, the Recording Academy's Acting Chief Advocacy & Public Policy Officer, and Dr. Chelsey Green, the Vice Chair of the Board of Trustees, discussed the Academy's efforts to fight on behalf of music creators.
"What's great about the Recording Academy is that we represent all creators, no matter their craft or their genre," Dupler said. "Especially here in the Washington D.C. chapter, there's always been great synergy between having a chapter in our nation's capital and the advocacy work that we do year-round." 
Members of the D.C. Chapter were also given exclusive access to register early for District Advocate Day, an initiative through which Recording Academy members across the country can get involved in the Academy's advocacy work. 
"My hope is that [members] understand that we value not only what they do as an Academy member, but who they are as a working musician, [as well as] what needs they have as an artist and how we can support that," said Green, a skilled violinist and founder of the Green Project, an ensemble that aims to break down stereotypes around the violin and viola. "We're all part of one Academy, and that is what the Academy is about. It's about the community supporting creators year-round."
The second panel, which was led by YouTube Music Global Music Strategist Lead Mahlet Seyoum, discussed YouTube monetization and how creators can benefit from the use of assets like YouTube Shorts. For Seyoum, it is important for marginalized creators, especially Black ones, are able to profit and receive the utmost credit for their work.
"I'm always going to be holding it down for us and making sure that the people who are really the bedrock of the culture — are producing the most content and are at the top of the charts — are able to monetize, profit off of and grow from their creativity, from their work and from their art," said Seyoum.
The block party portion of the event kicked off with performances by Pinky Tha Rapper and Noochie, two Washington D.C. rappers on the rise, along with sounds by DJ Joxfroxi. 
"[D.C.'s] just a very unique place when it comes to fashion, music, even the Black experience," said Noochie, who is known for his #FrontPorchFreestyles series on Instagram and is inspired by D.C.'s life and culture. "I've been to a lot of other cities, and I don't feel as comfortable as I do here. I consider myself lucky to be from here."
Other performers included DC-based indie soul band Oh He Dead, as well as three-time GRAMMY nominee Raheem DeVaughn and his go-go band, the Crank Crusaders.
Wayna, a GRAMMY-nominated singer and actress who co-authored the Best Song For Social Change Award, enjoyed each aspect of the block party, which allowed for learning, relaxation and entertainment. A newly elected member to the Recording Academy's Board of Trustees, she resonated greatly with the messages around advocacy.
"I became an artist because I wanted to tell stories, and very often the stories that I want to tell — and a lot of marginalized artists want to tell — are those of people who don't have a voice," she said. "The point of creating that empathy and connection through music is so that we can have a world where it's more equitable and people have more opportunities. That is the outcome of great art."
The energy at the block party certainly indicates that the Recording Academy's D.C Chapter knows how to party; but more than that, they know how to cultivate community and connection during a time at which those things are needed most. 
2023 GRAMMY Camp Musicians Share Their Artist Session Experiences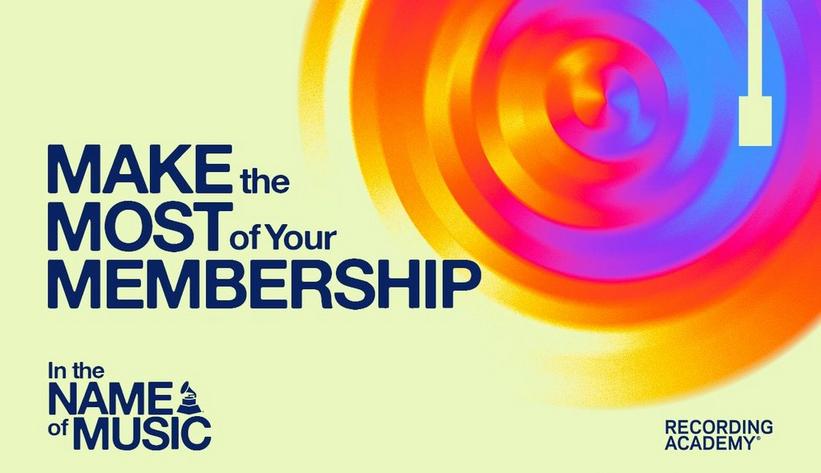 Recording Academy Membership
Graphic Courtesy of the Recording Academy
list
4 Ways To Maximize Your Recording Academy Membership
Here is a thorough guide to the primary ways all Recording Academy members can use their platform, maximize their membership, and get involved with the Academy's various divisions and initiatives.
Recording Academy
/
Aug 9, 2023 - 07:29 pm
If you're reading this, chances are you've decided to become a member of the Recording Academy. You are to be commended for this decision!
As part of the world's leading society of music people, you are in a unique position to make your voice heard — and effect change that not only manifests during the GRAMMYs show, but ripples throughout the music industry and world at large.
As such, becoming a member is merely the first step: it's time to use your platform to the fullest and get involved with the Academy's various divisions and initiatives. Below is a handy guide to the primary ways you can maximize your Recording Academy membership.
Fight For Music Creator's Rights
One of the most crucial divisions of the Recording Academy is Advocacy, which fights to protect the rights of music makers and advance their interests in the realms of /ocal, state and federal policy.
Additionally, Advocacy works to educate the public about key legislation and policy issues that affect everyone in the music community.
As an Academy member, you can get involved with Advocacy in a number of ways. One is by familiarizing yourself with GRAMMYs On The Hill, a two-day event consisting of the GRAMMYs on the Hill Awards and subsequent Advocacy Day.
Over the course of these events, music creators come together with Members of Congress to celebrate those who have been exceptional in their support of creator's rights and to advocate for the passage of legislation that will further improve those rights.
Read More: Everything You Need To Know About GRAMMYs On The Hill 2023: What It Is, Who It Benefits & What It Has Accomplished
Another important component of Advocacy is District Advocate, the largest grassroots advocacy movement for music and its makers.
This manifests every year in District Advocate Day, where Recording Academy members across the U.S. met virtually with their Senators and Congressional Representatives to fight for change for the music community.
Other facets of Advocacy to get acquainted with include the GRAMMY Fund For Music Creators and the quarterly advocacy newsletter and annual magazine. Furthermore, click here for a helpful landing page that features practical routes to support Advocacy initiatives.
Support The Next Generation of Music
The GRAMMY Museum's education initiatives aim to keep music in our schools and introduce music as a profession to young people.
Here are four ways they do this:
Education
The GRAMMY Museum's K-12 educational outreach and funding efforts ensure the future of music is only as strong as the next generation of creators. Last year alone, the Museum reached more than 700,000+ students through their free virtual education programming by way of GRAMMY Museum At Home and online streaming service, COLLECTION:live. 
Community Engagement
Their many public programs range from panels on the state of the music industry to intimate performances.
On-Site Exhibits
The Museum's Los Angeles location offers a variety of interactive and educational experiences that provide insights into artists who have shaped music history — as well as the creative process itself.
COLLECTION:live
Re:live Music Moments on COLLECTION:live, the official streaming service from the GRAMMY Museum featuring artist interviews, performances, and livestreams.
Support Music Makers
As a freshly minted member of the Recording Academy, you can help spread awareness of resources that aid all music makers in need.
Founded by the Recording Academy in 1989, MusiCares is an independent 501(c)(3) non-profit dedicated to supporting the health and welfare of the music community through preventative care, crisis relief and recovery support.
Here are just some of the ways MusiCares is here to support you and your peers in the music community:
Mental Health & Addiction Recovery Services
Support, referrals, and emergency financial assistance for counseling, psychiatric care, inpatient treatment, coaching, intensive outpatient care, group therapy, sober living and more.
Health Services
Financial assistance during medical crises and preventive services such as dental and medical screenings, hearing clinics, vocal health workshops, and assistance obtaining low-cost health insurance.
Human Services
MusiCares provides humanitarian disaster relief, and emergency financial assistance for basic living expenses like rent, utilities, car payments and insurance premiums. 
They can also assist with funeral costs, or instrument replacement/repair if stolen or damaged in a natural disaster — excluding wear and tear. 
The human services team also offers preventive programs addressing financial literacy, affordable housing, career development, legal issues, and senior services.
Support The Academy's Future & Evolution
As a member, you have the ability to make big moves at the Academy by:
Recommending fellow music peers to become members

Submitting projects for GRAMMY Awards consideration

Proposing amendments to GRAMMY Awards rules

Voting in the GRAMMY Awards process (if you're a voting member; key dates here)

Getting involved in the Academy's DEI efforts

Running for a Recording Academy board and/or participating on advisory committees

Joining local chapters and voting in chapter elections

Participating in members-only programs

Supporting the Producers & Engineers (P&E) and Songwriters & Composers (S&C) wings
Additionally, you can become eligible to purchase GRAMMYs tickets and join the Latin Recording Academy as a dual member.
The Recording Academy is thrilled to have you as a member — whether you've already joined, or plan to join in the future! Watch this space for further news about Recording Academy membership and all other goings-on with the world's leading society of music people.
The Online Entry Process For The 2024 GRAMMYs Explained: How To Submit, Upcoming Deadlines & Webinars, GRAMMY Nominations & Voting Process, And More