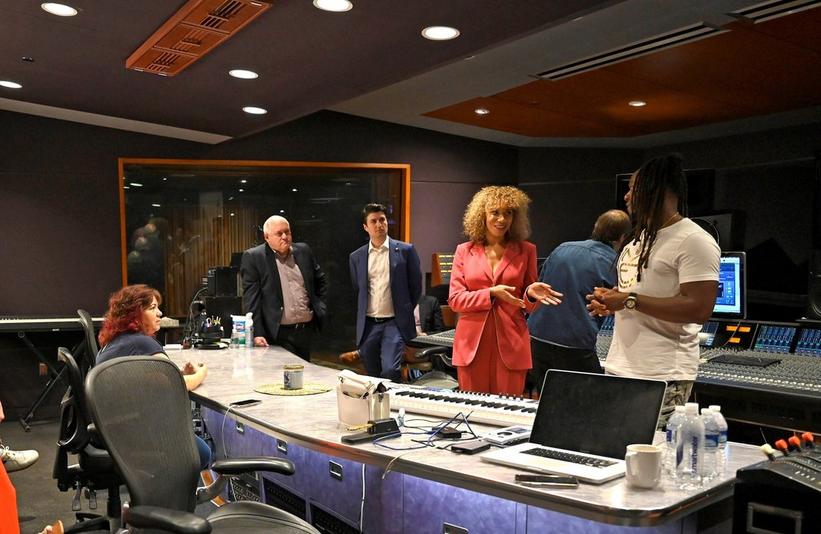 (L-R): Rep. Linda Sanchez (D-CA), Rep. Ron Estes (R-KS), Michael Lewan, Autumn Rowe, Kizzo Keaz
Photo: David Becker, Getty Images for the Recording Academy.
news
The HITS Act Is Reintroduced in Congress: A Vital Step Forward For Music Creators
This bill, which the Recording Academy helped craft, would modify current U.S. tax law to allow independent artists to deduct 100% of their production costs on new recordings upfront.
Advocacy
/
Feb 28, 2023 - 11:06 pm
Earlier today, the Help Independent Tracks Succeed (HITS) Act was reintroduced to Congress in a bipartisan and bicameral way by Representatives Ron Estes (R-KS) and Linda Sanchez (D-CA) and Senators Diane Feinstein (D-CA) and Marsha Blackburn (R-TN).
This bill, which the Recording Academy helped craft, would modify current U.S. tax law to allow independent artists to deduct 100% of their production costs on new recordings, up to $150,000, upfront rather than over a period of years. The goal of the HITS Act is to incentivize the creation of new music by lessening the financial burden and risk.
"Earlier this month at the GRAMMY Awards we celebrated the power of music on Music's Biggest Night, but we know it's important to build a music ecosystem year-round that supports all creators. The Help Independent Tracks Succeed (HITS) Act will aid independent artists, songwriters, and producers in creating new music that we can celebrate and enjoy," said Recording Academy CEO, Harvey Mason jr. "We are grateful to Reps. Estes and Sanchez, and Senators Feinstein and Blackburn, for reintroducing the HITS Act and we are optimistic this legislation will finally become law in this Congress."
Almost three years after the start of the COVID-19 pandemic, artists are still dealing with the financial impact the pandemic and slowing economy have had on their livelihood and ability to create new music. The HITS Act is a long-term, low-cost solution that would allow creators to get back in the studio and produce more music.
After reintroducing the bill on the House floor, Rep. Sanchez stated, "Music is a fundamental part of our lives, shaping our memories and seeing us through both good times and bad. Yet the reality is that many small creators are struggling to make ends meet, especially after the pandemic."
She continued, "That's why I'm proud to re-introduce the HITS Act today. This bill will make it easier for independent creators to keep doing what they love most, without having to worry about putting food on the table." 
"The music from Nashville strikes a chord with folks across the nation," said Sen. Blackburn (R-TN). "However, the unique burdens faced by the arts community forced many to stop writing, performing, and producing altogether. The HITS Act will provide targeted tax deductions to support our musicians and allow them to get back to work."
Notably, the Recording Academy worked proactively this year to ensure that the HITS Act also applies to songwriters who incur costs when creating sound recordings for demos and other purposes, opening the door for growth throughout the entire music ecosystem. This new clarity has been welcomed by other stakeholders in the songwriter and publisher community, with many releasing statements in support of the HITS Act:
"The Nashville Songwriters Association International supports and encourages adoption of the HITS Act," said Bart Herbison, Executive Director of NSAI. "Independent creators, including individual songwriters, face unique financial challenges.  Allowing them to fully expense the cost of new studio recordings on their taxes in the year such expenses are incurred eases the financial burden and benefits the public because it encourages new recordings for music lovers to enjoy."
"We thank Senators Feinstein and Blackburn, and Representatives Sánchez and Estes for their work on this important legislation," said David Israelite, President and CEO of NMPA; Beth Mathews, CEO of ASCAP; and Mike O'Neill, President and CEO of BMI. "We are pleased to support the HITS Act because it will help songwriters, composers, and music publishers expedite expensing the cost of demos they create in the process of bringing their music to fans."
"The reintroduction of the HITS Act in 2023 is a much-needed step toward tax savings for recording artists, their label partners, and songwriters that will enable them to reinvest in new projects," said Dr. Richard James Burgess MBE, President and CEO of A2IM. "HITS will create jobs and increase the recorded output of American music creators. The exact same tax relief has long been available to other creative sectors, so we are thankful to our congressional champions who are steadfast in supporting the independent recorded music culture."
Currently, other creative industries, such as film and television, are qualified to fully deduct their production costs. However, the same rules do not apply to the music industry, leaving artists fiscally unable to create more work. The passage of the HITS Act, which was crafted with independent artists and small creators in mind, would alleviate this burden and grant the music community the same treatment as other creative industries.
Sen. Feinstein spoke to this discrepancy across creative industries stating, "While music helped so many get through the pandemic, creators struggled to make ends meet when they were unable to play live shows, and many continue to feel that financial pain. Our bill would provide relief by allowing independent musicians, technicians and producers to deduct a portion of their production expenses in the same year they occur, giving them the same treatment as film, television and theater productions have long had."
Rep. Estes (R-KS) also released a statement noting that, "Regardless of background, language or experiences, music moves our spirits and connects us to one another. While talented writers, musicians and producers are creating the sounds that bring joy, reflection and growth, they should be able to deduct their expenses in the year they are incurred. The bipartisan HITS Act is sound, common-sense legislation that supports our creative communities throughout the United States and encourages music makers of all sizes and notoriety."
Today's reintroduction of the HITS Act demonstrates the support these members of Congress have for the music community and their understanding of the importance of reviving the music ecosystem. The Recording Academy looks forward to working with Congress to ensure the passage of this key piece of legislation.
The Senate Committee On The Judiciary Held A Hearing On Fair Ticketing: Here's What You Need To Know