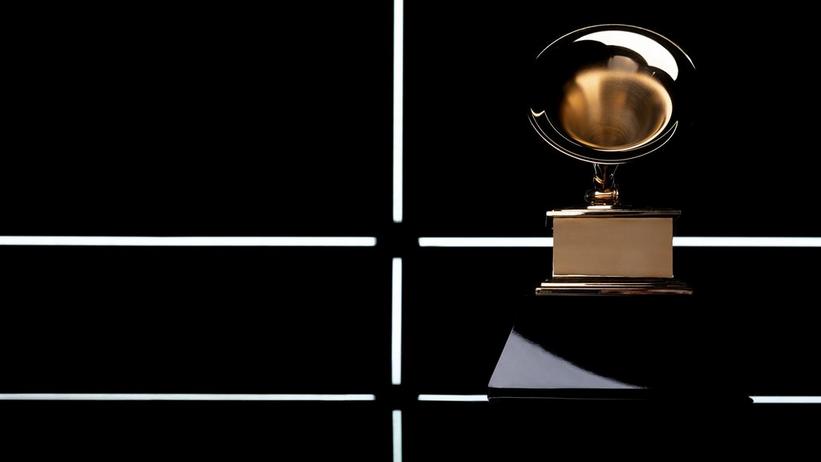 video
The Online Entry Process For The 2023 GRAMMYs Is Now Open: Watch Our Step-By-Step Explainer Video
For those looking to submit their music and works for GRAMMY consideration at the 2023 GRAMMYs, the Recording Academy has produced a helpful, step-by-step video walkthrough of the 65th GRAMMY Awards Online Entry Process.
Recording Academy
/
Jul 19, 2022 - 02:40 am
Article updated Monday, Aug. 1, to include the 65th GRAMMY Awards: The Online Entry Process Explained video.
The GRAMMY Awards are Music's Biggest Night, but it takes the whole year to get there. And the journey to the annual GRAMMY Awards begins with the Recording Academy's Online Entry Process (OEP).
For those looking to submit their music and works for GRAMMY consideration at the upcoming 2023 GRAMMYs, officially known as the 65th GRAMMY Awards., recordings must be submitted during the OEP to be eligible; the OEP this year opens Monday, July 18, at 9 a.m. PT/noon ET and closes on Wednesday, August 31, at 6 p.m. PT/9 p.m. ET.
Plus, it's important to note, there is only one round in which to make entries, and we encourage everyone to make entries as early as possible so that the Recording Academy's Awards team can assist with any questions in a timely manner. Typically, we receive over 20,000 entries each year.
While submitting entries during the annual OEP is straightforward, everyone can use a primer. Here's how the OEP works:
Recording Academy members in good standing and registered media companies submit recordings for GRAMMY consideration through the OEP.

The eligibility period for the 65th GRAMMY Awards is Friday, Oct. 1, 2021 – Friday, Sept. 30, 2022. All eligible awards entries must be released within this timeframe.

There is one round in which to make entries. This year, that window runs from Monday, July 18, at 9 a.m. PT/noon ET to Wednesday, August 31, at 6 p.m. PT/9 p.m. ET, which means now's the time to submit products for consideration ahead of Music's Biggest Night before the window closes at the end of August.
Submissions for GRAMMY consideration through OEP can only be made by registered Media Companies and Academy Members (Voting and Professional). Registered Companies are not permitted to vote in the GRAMMY Awards Process. Companies will receive OEP instructions by email pending registration approval.
Media Company Registration will be open during the following dates this year:
Monday, July 11, at 9 a.m. PT/noon ET — Wednesday, August 24, at 6 p.m. PT/9 p.m. ET
To register an existing or new Media Company and to reference the OEP Timetable, visit here.
To help the music community prepare for the upcoming 65th GRAMMY Awards season, the Recording Academy has produced a helpful, step-by-step video walkthrough of the 65th GRAMMY Awards Online Entry Process. The video guide gives a complete overview of the OEP, an inside look at what the OEP website looks like, and includes a Q&A with our Awards team.
Watch the 65th GRAMMY Awards: The Online Entry Process Explained video in full below and learn everything you need to know about submitting your entries during the upcoming GRAMMY season.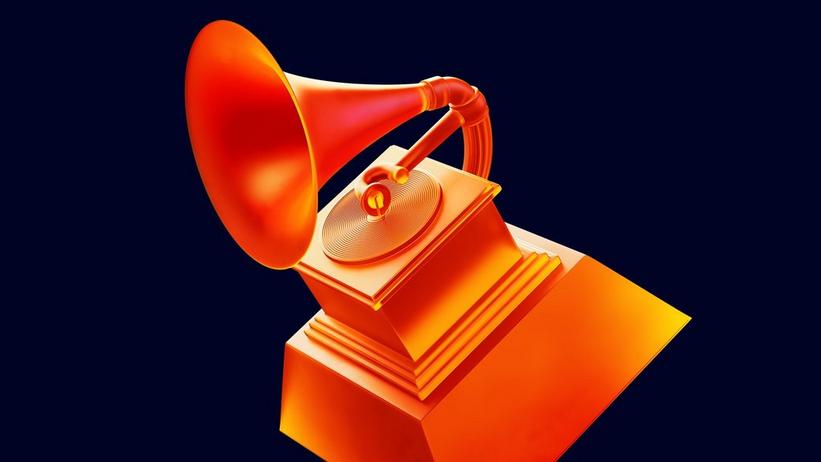 Photo courtesy of the Recording Academy
news
The Recording Academy Congratulates All Of The Winners & Nominees At The 2023 GRAMMYs: "Keep Shaking Up The World With Your Music"
As the 2023 GRAMMYs season comes to a close, Recording Academy executives sign off on a historic GRAMMY season with messages of gratitude to all of the winners and nominees at this year's GRAMMY Awards.
Recording Academy
/
Mar 1, 2023 - 10:55 pm
Every GRAMMY ceremony is a history-making event. But the 2023 GRAMMYs did so for very specific reasons — ones that had an indelible impact on the music industry and cultural landscape worldwide.
Among the most talked-about milestones for the GRAMMYs' big return to Los Angeles as an in-person ceremony: Beyoncé became the person with the most GRAMMYs of all time. Kim Petras scored a big win for the transgender community with her GRAMMY win for Best Pop Duo/Group Performance alongside Sam Smith; she's the first transgender woman to win in that category. Dr. Dre was the inaugural recipient of his namesake Dr. Dre Global Impact Award.
Equally significant were the five new GRAMMY Awards categories debuted and awarded at the 2023 GRAMMYs, making those five recipients the first to receive their respective honors. These inaugural winners, who were awarded at the Premiere Ceremony, included: Tobias Jesso Jr. (Songwriter Of The Year, Non-Classical); Stephanie Economou (Best Score Soundtrack For Video Games And Other Interactive Media for "Assassin's Creed Valhalla: Dawn Of Ragnarok"); Wet Leg (Best Alternative Music Performance for "Chaise Longue"); Bonnie Raitt (Best Americana Performance for "Made Up Mind"); and J. Ivy (Best Spoken Word Poetry Album for The Poet Who Sat By The Door). On top of that, 57% of this year's Grammy winners were Black artists or from other underrepresented communities, and 48% were women.
For Recording Academy executives, the 2023 GRAMMYs marked a banner year for Music's Biggest Night — and the music community writ large.
"I'm most proud of the range and diversity of our 91 awards, which continue to evolve and to inspire," Ruby Marchand, Chief Awards & Industry Officer for the Recording Academy, says. "Music as a powerful force for change within our culture and our lives was what struck me as the show unfolded."
Kelley Purcell, the Recording Academy's Vice President of Membership & Industry Relations, echoes the sentiment: "It was inspiring to see a diverse array of artists grace the GRAMMY stage, showing off the beautiful depth and breadth of our industry."
As one of the organization's leaders bridging the inner workings of GRAMMY voting with the wider music industry, Purcell is also inspired by the Recording Academy's esteemed voting membership, who make their voices heard when voting for the nominees and ultimate winners each year during GRAMMY season.
"From submitting eligible recordings to voting and tuning in to watch the GRAMMYs, Recording Academy members know that the GRAMMY process is strongest when every member is involved," she says. "It is always inspiring to witness Recording Academy members take their participation in the GRAMMY process seriously."
"I was inspired to see our members dedicate themselves to every step of the Awards process and celebrate musical excellence as peers," Marchand adds.
As the 2023 GRAMMYs season comes to a close, the Recording Academy is extending a mighty, heartfelt congratulations to all of this year's GRAMMY winners and nominees. Your well-earned achievements, along with the full-fledged commitment of the Academy's wider membership, brought this year's GRAMMY ceremony to life. The Recording Academy will continue to celebrate all GRAMMY winners and nominees this year and beyond.
"To my wonderful colleagues: Your dedication, professionalism, and heart for our GRAMMY Awards and our amazing musical community is at the heart of what makes our Academy such a special home," Marchand reflects.
"Keep shaking up the world with your music," Purcell adds. "The world needs it."
2023 GRAMMY Nominations: See The Complete Winners & Nominees List
Photo courtesy of the Recording Academy
news
The Inaugural Best Song For Social Change Award Captured The World's Attention. The Recording Academy Now Looks To The Future: "The World Needs To Hear Your Voice"
Iranian singer/songwriter Shervin Hajipour received the inaugural Best Song For Social Change Special Merit Award at the 2023 GRAMMYs. Now, Recording Academy leaders give music fans an inside view at the making of the award and look toward its future.
Recording Academy
/
Mar 1, 2023 - 10:26 pm
An intimate, vocal-forward performance had an earth-rattling impact. Last September, the widely publicized death of 22-year-old Iranian woman Mahsa Amini while in custody of the morality police in Iran sparked outrage and protests across the world. Less than two weeks later, Iranian singer/songwriter Shervin Hajipour poured his raw feelings into "Baraye."
An emotive offering to the Iranian population, and the rights of women everywhere, the song became a global clarion call for protesters on the ground as well as those in solidarity with them. Hajipour posted "Baraye" on his Instagram page. In less than two days, it gained more than 40 million views.
In recognition of this culture-shifting song, the Recording Academy — by way of presenter First Lady Jill Biden — awarded Hajipour with the inaugural Special Merit Award for Best Song For Social Change at the 2023 GRAMMYs.
The Recording Academy's Chief Awards & Industry Officer, Ruby Marchand, and Sr. Director of Awards, Nick DiFruscia, speak for this entire society of music people when they describe how "Baraye" fulfills the mission of the Best Song For Social Change Special Merit Award — one of the highest honors a socially conscious song can receive.
"I think it's global and it's universal," DiFruscia says of the song in an interview with GRAMMY.com. "The magic in the ether came together. And then you see how it's impactful. It becomes the anthem or the unofficial anthem of a movement that the globe has now focused on, and then all the behavior around it."
Read More: 2023 GRAMMYs: How The New Best Song For Social Change Special Merit Award Inspires Positive Global Impact & Celebrates Message-Driven Music and How To Qualify
"I think that if ever there were an example of how a simple song can change the world, you have it in 'Baraye,'" Marchand adds. "A man sitting behind a keyboard creating this very sweet, evocative melody, but yet the lyrics are piercing for those who understand them. And even for those who don't, they hear the emotion in his voice and completely identify with that."
"Music is one of the most powerful forces on earth and has long been an engine of important social and political advancements. We created this award to shine a spotlight on the music that is making a difference and there couldn't have been a better song to win this inaugural honor than Shervin's," Recording Academy CEO Harvey Mason jr. said in a statement announcing Hajipour as the honoree.
To Marchand, no matter which languages you speak or understand, the moving emotion of "Baraye" transmitted loud and clear. "It wasn't about language; it wasn't about a particular image or lyric that we may not all have in common," she says. "It was about the humanity in the performance and in the song.  And that's where a song can truly change the world."
The Special Merit Award is determined by a Blue Ribbon Committee, a group of qualified Recording Academy voting members, and ratified by the Recording Academy Board of Trustees.
"These are members who are very steeped in the craft and art of songwriting, of lyrical development, and of social justice themes and social change possibilities" Marchand notes. "It was a diverse, dedicated, and remarkable group of people who came together and understood the purpose behind this award."
The process, she says, is highly intensive in multiple regards. "We're talking about dozens and dozens of hours spent listening in order to absorb the full breadth and scope of the submissions", Marchand reflects. "It was truly a meeting of the minds."
Some great songs are personal; some are political; some are neither. Some blend the personal and political until they're indistinguishable. How does one compare a great song to an impactful song? To DiFruscia, there's no concrete delineation.
"One never knows what is going to impact the public — either it be emotionally, either it be political, it is a magic sort of ether. A very special mix in the air that comes together," he says.
To DiFruscia, a song worthy of the Best Song For Social Change caliber can run the gamut as per topics at play, as well as the composition's relative complexity. He says it can be "a magnificently crafted composition that's academically superior," or "a very simple, three-chord song that completely captivates an audience."
"It relates to how our committee members digested and listened and judged these songs that were submitted based on their own understanding and their own direction of the spirit of the award," DiFruscia notes. "I think a lot of that magic sort of has to process and then gets conveyed through conversation in the meetings."
With the first-ever Special Merit Award for Best Song For Social Change in the bag, both Marchand and DiFruscia are feeling very positive and centered toward the development and future of the award. "We want to continue to protect its integrity and also to ensure that the award is known to songwriters who are deserving of consideration because they're engaged in social impact."
"For however long as I'm involved, I just would like to watch it unfold without any expectation," DiFruscia says of the award." I think there's going to only be more magic that happens around this award in the subsequent years."
For the creators who are ready to take a massive swing and write or sing about our beautiful, terrifying, complex world in the young 2020s, Marchand encapsulates the essence of this monumental Special Merit Award in seven words: "The world needs to hear your voice."
Meet Stephanie Economou, The First-Ever GRAMMY Winner For Best Score Soundtrack For Video Games And Other Interactive Media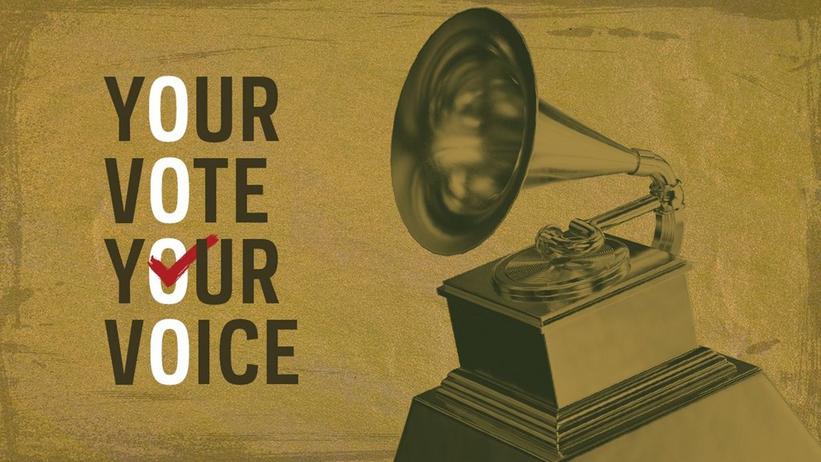 65th GRAMMY Awards
Graphic: The Recording Academy
news
2023 GRAMMYs: Everything You Need To Know About Final Round Voting
Now that the nominees for the 2023 GRAMMY Awards have been announced, it's time for Recording Academy voting members to submit their Final Round votes. Here's everything you need to know before voting opens Dec. 14.
Recording Academy
/
Dec 12, 2022 - 10:15 pm
GRAMMY Voting season, and the journey to Music's Biggest Night, continues! 
Now that First Round voting, which took place in October, has determined the nominees at the 2023 GRAMMYs, officially known as the 65th GRAMMY Awards, Recording Academy voting members are now set to decide who will take home a golden gramophone on GRAMMY night next year via Final Round voting. 
As Academy voting members prepare to cast their votes, we've assembled a helpful guide with all the must-know information about the Final Round GRAMMY Voting process behind music's only peer-recognized honor. 
2023 GRAMMYS VOTING — KEY DATES
Final Round Voting: Wednesday, Dec. 14, 2022 — Wednesday, Jan. 4, 2023  

2023 GRAMMYs (65th GRAMMY Awards) Telecast: Sunday, Feb. 5, 2023  
VIEW THE 2023 GRAMMY NOMINEES
Last month, Recording Academy CEO Harvey Mason jr. joined creators across genres and crafts, including Olivia Rodrigo, Machine Gun Kelly, John Legend, Smokey Robinson, and more, to reveal the full list of nominations for the 2023 GRAMMYs.  
The full list of nominations covering all 91 categories, as well as additional information on past GRAMMY nominees and winners, can be accessed at GRAMMY.com/Awards.  
See a full list of updates and adjustments to the 65th GRAMMY Awards nominations list. 
THE IMPORTANCE OF FINAL ROUND GRAMMY VOTING
The annual GRAMMY voting process is divided into two phases. First Round Voting determines all the GRAMMY nominees for each GRAMMY Awards year. Once the nominees are determined, Recording Academy voting members return to the ballots to vote during Final Round Voting, which ultimately determines the GRAMMY winners across all categories to be revealed on GRAMMY night. 
To ensure all artists, musicians and creators are fairly evaluated based on their artistic and technical merits, it is vital for all Recording Academy voting members to participate in both First Round Voting and Final Round Voting. This will help the wider music community determine the leading music of the year, as voted on by their peers.
MUSIC'S ONLY PEER-VOTED AWARD
The GRAMMY is music's most prestigious honor and the only peer-recognized award in music. It represents the full recognition and respect that comes from within the global family of music people. Every vote affirms this prestige and continually refreshes the meaning of excellence in music and the recording arts and sciences.   
As active, working musicians and creators across all genres and crafts, Recording Academy voting members are responsible for representing the international music community and celebrating the creative accomplishments of their peers. 
HONORING FIVE NEW CATEGORIES
To evolve alongside the ever-changing musical landscape, the Recording Academy accepts proposals for GRAMMY category changes or amendments from its robust, diverse membership body every year.  
As a direct result of this annual membership-driven initiative, the 65th GRAMMY Awards will honor creators across 91 total categories, including the below five newly announced categories, which will debut at the 2023 GRAMMYs next February:   
Best Score Soundtrack For Video Games And Other Interactive Media  
Remember: Like in First Round Voting, Recording Academy voting members can vote in up to 10 categories across up to three fields on their member ballot, in addition to all four categories in the General Field (Record Of The Year, Album Of The Year, Song Of The Year, and Best New Artist). To help ensure the quality of GRAMMY voting, members are directed to vote only in their areas of expertise. 
THE GRAMMY BALLOT, UPGRADED
The personalization, search and flexibility enhancements added to GRAMMY voting ballots will continue to be implemented this year. As introduced during First Round voting, the recently launched category selection tool, which minimizes scrolling time and creates an easy-to-use, custom ballot for each voter, will return for Final Round voting.  
LISTEN TO NOMINATED RECORDINGS
As they cast their votes, voting members will have the ability to stream nominated recordings on select streaming services. 
Respecting fellow creators means respecting and considering their work, so we encourage all voting members to take additional time and give another thoughtful listen to all nominated recordings in the categories in which they are voting. 
HOW TO VOTE
Recording Academy voting members can access their Final Round GRAMMY Voting ballot via their member dashboard beginning Wednesday, Dec. 14.   
Before voting opens, please make sure you have the correct email and password. If your credentials are invalid, reset your password. For further assistance, contact the Membership Department at membership@recordingacademy.com.  
For general voting support, contact 833-789-VOTE (8683) or votersupport@recordingacademy.com. 
VOTING & SOLICITATION GUIDELINES
It is imperative that our voting members participate in the GRAMMY Awards process in a fair and ethical manner and only make choices based on artistic and technical merits of the recordings. Before voting, make sure to read the Voting and Solicitation Guidelines and Voter Code of Conduct. 
LEARN MORE
Learn more about the year-round GRAMMY Awards voting process and read our FAQ. 
Your Vote, Your Voice: 6 Reasons Why Your GRAMMY Vote Matters
The 2023 GRAMMYs, officially known as the 65th GRAMMY Awards, returns to Los Angeles' Crypto.com Arena on Sunday, Feb. 5, 2023, and will broadcast live on the CBS Television Network and stream live and on-demand on Paramount+ at 8-11:30 p.m. ET/5-8:30 p.m. PT.
The eligibility period for the 65th GRAMMY Awards is Friday, Oct. 1, 2021 – Friday, Sept. 30, 2022. All eligible awards entries must be released within this timeframe.
The Recording Academy and GRAMMY.com do not endorse any particular artist, submission or nominee over another. The results of the GRAMMY Awards, including winners and nominees, are solely dependent on the Recording Academy's Voting Membership.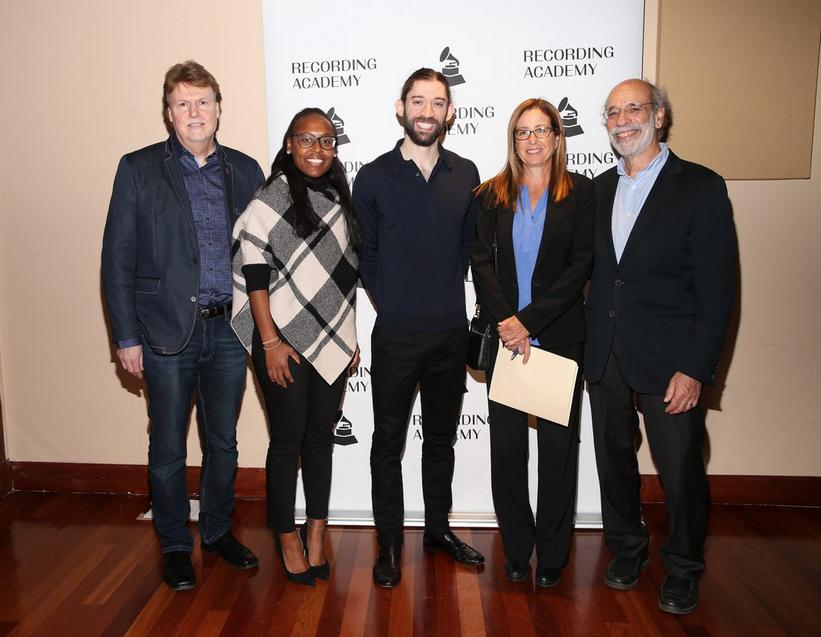 (L-R) Neil Crilly, Sharde Simpson, Ben Landry, Sandra Crawshaw-Sparks and Elliot Groffman attend "The Evolution of the Record Contract: Where it's Been, Where it Is, Where it's Going" at Eisner & Lubin Auditorium on November 8, 2022 in New York City.
Photo: Rob Kim/Getty Images for The Recording Academy
news
How The Entertainment Law Initiative's "The Evolution Of The Record Contract" Panel Analyzed The Essentials Of Record Deals
Featuring a panel representing both the artist and label sides of record deals, the lively discussion yielded numerous key takeaways regarding the ins and outs of contracts.
Recording Academy
/
Nov 22, 2022 - 09:24 pm
With tectonic shifts in the music business — TikTok's domination and virality; the "Taylor effect" of Swift's re-recordings, among other things — contractual procedures can and do change incredibly quickly.
It's difficult for an artist to keep track, let alone know what type of record deal to sign… or when. To unpack this topic, the Recording Academy's Entertainment Law Initiative (ELI), a program aimed at bolstering discussion and debate around legal affairs and their impact on the music industry and creative community, held a Professional Education Event titled "The Evolution of the Record Contract" at NYU's Kimmel Center for University Life on Nov. 8, 2022.
The panel, sponsored by NYU Steinhardt Music Business Program and First Horizon Bank, was moderated by Sandra Craswshaw-Sparks, Partner at Proskauer Rose LLP and Chair of the Entertainment, Copyright & Media Practice Group. Participating attorneys included Shardé Simpson, Vice President of Operations, Dream Chaser Records and founding partner of Simpson and Reed PLLC; Elliot Groffman of Carroll Guido Groffman Cohen Bar & Karalian; and Ben Landry, Senior Vice President, Business & Legal Affairs, Atlantic Records. Practicing attorneys received 1.0 credit hour of Continuing Legal Education (CLE) credit from Proskauer Rose LLP in the Professional Practice (NY)/General (CA/IL) category for their attendance.
In his opening remarks, Neil Crilly, Managing Director of Industry Leader Engagement & Chapter Operations for the Recording Academy and one of the event's organizers, presented an overview of the 2023 Entertainment Law Initiative Writing Contest. The annual contest invites current law students to identify and research a pressing legal issue facing the music industry today and outline a proposed solution in a 3,000-word essay. The winner, decided upon a nationwide panel of music law experts and to be recognized at the 25th Annual ELI event to be held during GRAMMY Week 2023, will receive a $10,000 cash scholarship, among many other prizes; each of the two contest runners-up will receive a $2,500 cash scholarship. Learn more about the 2023 Entertainment Law Initiative Writing Contest, read the official contest rules, and spread the word to eligible applicants via our Social Media Toolkit.
Representing both the artist side (Groffman) and the label side of record deals (Landry, and Simpson, who works on both the artist and label side), the lively discussion yielded numerous key takeaways regarding the ins and outs of contracts. Kanye West's business dealings even came into play — in a positive way!
One topic of note: when it comes to an artist signing a recording contract, short-term is king.
"There's only one clause that counts when you're representing a new artist, and that's the length of the term. And we like it to be short," says Groffman. But as he warns, "Just short doesn't mean good, either." Back in the day, artists were committing to 10-album deals; now two or three records is the desired norm.
From the label POV, Atlantic's Landry concurs, adding, "We've seen more leverage given back to the artists. I think that's a result of a lot of barriers to entry to the market being removed. It's easier to release music these days than maybe it ever has been before."
If an artist becomes successful, it seems that more money, more creative control and more benefits should follow. In that case, being locked in a long-term contract signed can be detrimental.
"You'll see [artists] two, three albums down the road, blowing up, and they're noticing that there were certain restrictions in their agreement that didn't allow them to do certain things," says Simpson. "Then we're fast forwarding five, 10 years, and they're still in these deals. So that's definitely a disadvantage."
Renegotiate that deal, rock star. 
Ye worked his early career and contracts in a way that allowed for growth and renegotiation: As Kanye West, "after his first few albums, he renegotiated his deal, and that turned into a profit split," Landry, who studied the now-mogul's contract, explains. 
"Later in his career it turned into a distribution arrangement where he got 100% of the proceeds," he continues. "And he got reversions; ownership rights for some of his albums. That's sort of a life-cycle. If you can't come in and get the deal that you want from the beginning, and you find success, we expect and happily welcome those renegotiations."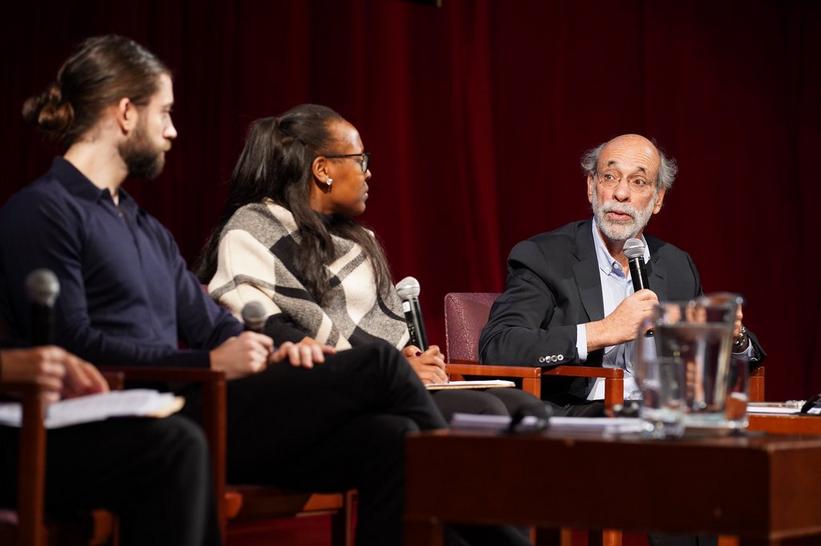 (L-R): Ben Landry, Sharde Simpson & Elliot Groffman | Photo: Rob Kim/Getty Images for The Recording Academy
Of course, sustained success is the key to those re-negotiations. And deal terms are viewed differently as star status changes. "As for the all-in royalty rate, as artists grow, the royalty rate does matter. When they're initially signing as baby or junior artists, I don't think they care as much. But as they grow, that royalty rate makes a huge difference in terms of income, especially as they start to be multimillionaires," Simpson says.
Artists should consider a distribution deal instead of a record deal, he adds.
As he lays out, signing a "traditional" record deal with a major label offers the advantage of being part of the "machine" and its infrastructure of marketing, publicity, a radio promo team and more.  Sometimes, though, traditional old-school deals happen because the artist goes for the biggest initial payday/investment rather than looking to the long-term.
"Labels can operate as a bank of sorts; provide those advances," Simpson says, "Ultimately, though, If I had to pick between an all-in royalty rate or a profit split, I would tell the artists to definitely do a profit-split or net-receipts type of situation. If you can go into a deal like that, you should. And that's usually a distribution situation."
Distribution deals are often a beneficial position to be in, "especially if you have a distribution company that's really good at marketing, and they can provide you with a great marketing advance," Simpson says. "And maybe you don't need the advance to be tied to anything else. I think in those situations, it might be beneficial for the artists to take it."
Beware of signing to a production deal, he adds. Because it's tempting for a creative to acquiesce when someone says they can handle all the business around securing a deal… and then shield/advocate for the artist at the major label. "Oftentimes a baby artist will have a manager or person close to them sign them to a  'production deal,' which is sort of a makeshift label deal," he says — and that can lock the artist down financially.
Production deals "can cause problems for a number of reasons," Landry believes. "As artists starting out, they don't have a lot of leverage, and they're very, very eager to get things going." And a production deal may fast-track that process, but then? "I think artists sometimes be into these deals, and then they become household names and stars, and they start looking askance at their production deals."
If the band or artist is unhappy with the amount of money they're making from a label, "imagine having to split that with a production company," Landry says. "Maybe by then [the artist] is working directly with the label, so it's like, 'Why am I paying this person over here half of my money?'"
Many production deals, he surmises, are due to the ease with which almost anyone can "set up distribution and provide basic label services to an artist starting out."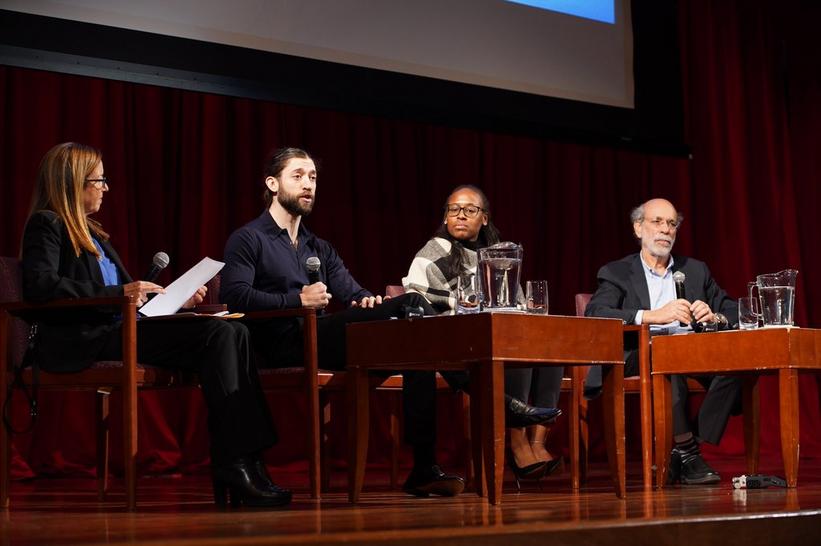 (L-R): Sandra Crawshaw-Sparks, Landry, Simpson & Groffman | Photo: Rob Kim/Getty Images for The Recording Academy
That's not to say there aren't mutually beneficial production deals. "There could be a good reason [for signing one]; it could be that the person was a producer or writer who found somebody, groomed them and worked a deal," adds Groffman.
Work as hard as you can and wait as long as you can before signing any record contract, Landry says.
"I think that major labels are extremely good at taking a three and going to 10. I think the magic often is zero to three," he explains. That kickstart that usually happens with [the artist] and their "really smart, enterprising friends, managers, lawyers working together to create these moments and create a buzz.
"So, the longer you can hold out and get more leverage, of course, the more labels are going to be interested. It's less risk," Landry continues. In that case, the majors can take a chance and do a riskier (i.e., higher money deal for the artist) deal, since the "proof of concept" has already been established from the creative side.
Leverage is key when going into an initial major-label label negotiation, agrees Groffman.
"The longer you wait before you engage with a major label system, the more negotiating power you're gonna have. I'm not saying don't do deals with majors, but arm yourself. If you come in there too soon, you're going to be giving up five albums, not three.
"You'll be doing 360 stuff [an exclusive contract between a label and an artist where the label not only takes a share of the artist's music sales, but also percentages of revenue touring, merchandise, publishing or more], even with good shelters and all the things that [attorneys] negotiate," he adds.
Yet even distribution deals aren't easy, Groffman says. "As Ben said, monies that a major label will pay are recoupable, but not returnable. Distribution deals, you over-manufacture, you overspend, guess what? You're paying for that. And you know, the splits look much better on paper."
How The Entertainment Law Initiative Tackles Today's Leading Law Issues & Fosters The Next Generation Of Legal Innovators