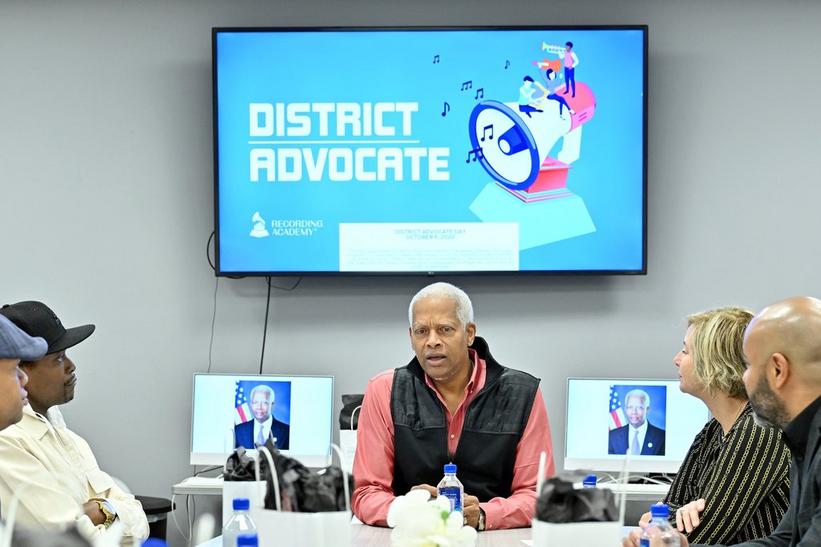 Photo: Derek White/Getty Images for the Recording Academy.
news
District Advocate Day 2022 Is A Wrap. What Was Accomplished, And How Do We Move Forward?
The Recording Academy's District Advocate program is the largest grassroots advocacy movement for music and its makers. Here's what its 2022 edition accomplished, and how we can keep that energy going into the future.
Advocacy
/
Oct 26, 2022 - 05:38 pm
There's a part in the FAQ section of the District Advocate Day landing page that's surprisingly direct — and also totally correct.
"Being part of District Advocate is more than just showing up to a meeting on District Advocate day," it reads, under a question about what is expected of District Advocate participants.
"Being an advocate," it continues, "means staying active in the weeks leading up to the meetings to help advance key priorities through social media and calls-to-action on specific legislative issues."
In tandem with that, it's important not only to celebrate the sizable accomplishments of District Advocate Day 2022 — but look ahead to how we can maintain that momentum, and continue to fight for all music people worldwide.
On that day — which fell on Oct. 6 — Recording Academy members visited the local district offices of their elected representatives to discuss issues affecting their livelihoods and careers. including fairer compensation for songwriters, performers, and studio professionals.
But with the largest grassroots advocacy movement for music and its makers now in the rearview, it's crucial to consider how we can keep the energy going throughout the following year — until District Advocate Day meets us again in the fall of 2023.
What District Advocate Day 2022 Accomplished
District Advocate Day was a big success, and helped advance music makers' policy priorities with lawmakers across the country. Here are some heartening details of the practical impact of this crucial day in music advocacy:
Showing Up
Remember the FAQ about District Advocate being "more than just showing up?" Well, showing up is still a key part of the program, and this year Recording Academy members did just that. In all, about 2,000 Recording Academy members got involved with District Advocate Day 2022. As a result of their participation, Academy members reached 75 percent of Congress during District Advocate day, across 45 states (including the District of Columbia), and almost 200 scheduled meetings.
Advancing Pro-Music Policy
The main purpose of District Advocate day is to advance legislation that would benefit music and music makers. And this year was no exception, with Recording Academy members advocating for four bills being considered by the 117th Congress. On October 6, members across the country met with lawmakers in support of the HITS (Helping Independent Tracks Succeed) Act,the PEACE (Promoting Peace, Education, and Cultural Exchange) Through Music Diplomacy Act, the American Music Fairness Act, and The RAP (Restoring Artistic Protections) Act.
And just a few weeks after the coast-to-coast day of action, these important bills have garnered the support of 13 new co-sponsors– all while Congress isn't in session– giving them momentum to close out the year strongly.
These Music People And Lawmakers Reacted On Social
District Advocate day also made waves across social media as Recording Academy members, lawmakers, and the public helped amplify the important message to #SupportMusic.
Here's Taylor Hanson spreading awareness of DA.
Here's a heartfelt tweet from an engineer and Recording Academy member who participated:
Chair of the Black Music Collective Rico Love and GRAMMY-winning artist PJ Morton encouraging members to get involved with DA:
GRAMMY-winning artist Gramps Morgan shouting out DA:
Below, producer Robert Eibach spreads awareness about DAD and the American Music Fairness Act.
Below, CA-37 US Congressional District Director Jacqueline Hamilton (a staffer for Rep. Karen Bass) meets with the LA Chapter and listens to their team captains about the key legislation.
Rep. Young Kim, of CA-39, meeting with CA members:
And, finally, the POV of a District Advocate can be found below:
How Can We Keep The Flame Of District Advocate 2022
Didn't get enough of District Advocate in just one day? Well, you can be an advocate for music and music makers year-round. Here are some easy ways to get involved:
Take action and write to your lawmakers. You can do so via this handy link courtesy of Recording Academy Advocacy.
Vote on Election Day to ensure that music is represented in Washington and in your home state.
Follow @GRAMMYAdvocacy and tune in to biweekly Twitter Spaces policy conversations with experts in the field.
Get more involved with your local Academy chapter for future events, dialogues, and opportunities. For more information about Recording Academy membership, visit here.
Visit RecordingAcademy.com/Advocacy to read the latest news and updates on policy matters.
With these steps taken, you can be a crucial part of our fight for all music people — until the next District Advocate Day comes along!
How District Advocate Day 2022 Aided Music People Nationwide, From Fair Pay For Radio Play To Protection Of Artistic Expressions