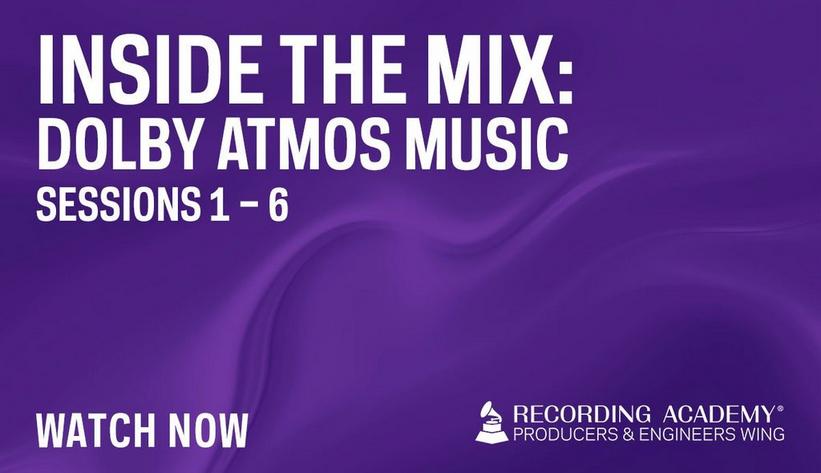 Inside The Mix: Dolby Atmos Music
Photo: The Recording Academy
news
Get 'Inside The Mix' With These 6 Can't-Miss Webinar Sessions From The Recording Academy's P&E Wing's Master Class With Dolby
Presented by the Recording Academy's Producers & Engineers Wing and Dolby Atmos Music, industry professionals dissect the technicalities of immersive audio and share best practices over six master class episodes.
Recording Academy
/
Mar 13, 2023 - 06:59 pm
Melding music and technology, members of the Recording Academy Producers & Engineers Wing guide music recording both technically and creatively. In line with their commitment to education, the P&E Wing is offering six free "Inside the Mix" webinar sessions available online.
The hour-long sessions were co-presented in 2022 with Dolby as part of the Dolby Atmos Music Master Class series. Along with a live Q&A, each episode spotlights different professionals from Dolby, who discuss everything from tuning to metadata for immersive audio and understanding room configurations. 
"These sessions were informative, timely and entertaining as well, and we invite all audio professionals to watch them for yourselves and get the inside scoop," said Maureen Droney, Vice President of the Recording Academy Producers & Engineers Wing. "We thank all of our guests from Dolby for their incisive commentary, and we look forward to further sessions covering more topics of importance in the future."
The master class also included the preliminary session "Prelude: Immersive Audio 101," moderated by producer and immersive mix engineer Brian (BT) Gibbs and Droney. Panelists included professional recording engineers and producers such as Jimmy Douglass, Leslie Ann Jones, Mike Placentini and Darcy Proper, who discussed the power of immersive audio. Watch the immersive audio session on the Recording Academy's website or on YouTube.
All six of the master class' main informative sessions are available here for free. From professional support forums to deep dives into creation solutions, take a look at this episode breakdown below.
Episode 1: Deliverables
Listen to Dolby Atmos expert Ceri Thomas offer professional insight on deliverables, file types, references, and more. Watch episode 1 here.
Episode 2: Room Configurations and Tuning
Watch Bryan Pennington, Dolby's senior applications manager, share his advice on room configuration, monitor tuning and more.
"It doesn't matter if you have the best speakers in the world; if your room is not acoustically good, then chances are your mixes won't be either!" Pennington noted. Watch episode 2 here.
Episode 3: Creation Solutions
Learn from David Gould and John Scanlon as they share an informative back-and-forth about their top creation solutions. Along with offering various guidelines and tools, the two outline a general Dolby Atmos mixing workflow with help from the Dolby Atmos Mastering Suite, Production Suite, Renderer, and more.
Gould is Dolby's senior director of content creation solutions, and Scanlon is senior manager of Dolby Institute and events. Watch episode 3 here.
Episode 4: The Formats
Listen to Mike Ward, Dolby director of consumer entertainment technology, and his conversation with GRAMMY-winning engineer Michael Romanowski about Dolby Atmos Music formats. Watch episode 4 here.
Episode 5: Metadata
David Gould is back to answer all your questions about metadata — covering everything from panning and trim controls, to binaural controls and parameters. Watch episode 5 here.
Episode 6: Learning, Education, and Support
In this final episode, John Scanlon returns with a focus on learning, offering information on certification options and professional educational resources such as knowledge bases and forums. Watch episode 6 here.
Recording Academy Producers & Engineers Wing Shares "Immersive Audio 101" Panel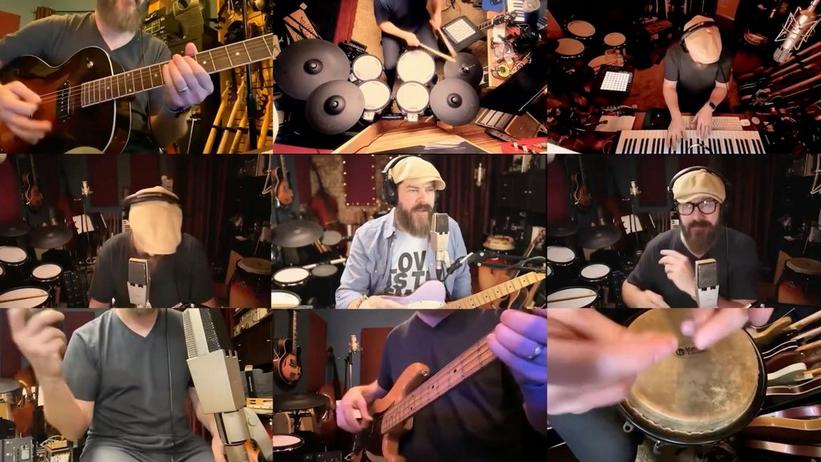 Courtesy of The Recording Academy on Facebook
news
Remote (Controlled): The Recording Academy's Guide To Making Your Livestreams Look And Sound Good
In the third and final installment of the three-part webinar series, musicians and engineers reveal how to make your livestreamed performance shine
Membership
/
Feb 12, 2021 - 02:08 am
If you've been following the Recording Academy Producers and Engineers Wing's dynamic new virtual webinar series, Remote (Controlled), you now have a solid foundation as to how to record music at home and work remotely with a producer and engineer. (And if you're new to the series, be sure to catch up before you continue!) With those two videos under your belt, now you're ready to share a livestream performance that looks and sounds fantastic—not a tinny, blurry nightmare from your bathtub or dining room table.
For this third and final episode of Remote (Controlled), the P&E Wing pulled out all the stops, congregating musicians, engineers and technologists to help viewers navigate complicated software and make clean, classy, camera-toggling videos to remember.
After a brief introduction from P&E Wing Senior Managing Director Maureen Droney, the clip begins in earnest with a sobering juxtaposition that illustrates our changing musical landscape. A nest of onstage cables gives way to devices now familiar to anyone making online audio content: a condenser mic, an Mbox, a ring light. Then, Greg Carter of Black Fret—an Austin-based membership-based community of art patrons that provides grants for artists—explains how the Zoom-based musical landscape has improved since the pandemic began.
Read More: How Do I Record My Own Music? The Recording Academy's Brand-New "Remote (Controlled)" Series Is Here To Help
With improved technology often comes a hit to the wallet, though. You might be wondering: Doesn't livestreaming require a litany of fancy tech upgrades? Not necessarily, as the video's participants point out—and the first software you should reach for is free and open-source.
OBS Studio lets you stream easily on Windows, Mac and Linux. And to guide you through the learning curve, a tutorial for the software appears in this video. Chris Shaw, the committee co-chair of the Texas Chapter of the P&E Wing, is your guide through this process.
But how does livestreaming work when you're a band, not a solo artist? Meet David and Joseph Dunwell, the guitarist/vocalist and lead singer of English pop-rock outfit The Dunwells. The brothers recall how they had to act quickly and decisively when COVID hit, grabbing equipment from their studio and setting up a livestream directly to their Facebook page. Then, their evolution accelerated when they discovered StreamYard, which allows for cross-platform streaming.
Afterward, StreamYard's Head of Marketing Dana Bentz joins a conversation with Shaw and singer/songwriter and Texas Chapter P&E Wing committee co-chair Lisa Morales. The video concludes with a demo from Austin musician Roger Blevins about making those grid-based, "Hollywood Squares"-style, one-man-band videos for a compelling visual experience. As he underlines, you don't need a $4,000 computer or a cutting-edge smartphone—you just need time, persistence and imagination to make a superb livestream that sticks out from the rest.
Check out the third episode of Remote (Controlled) above and read a list of the equipment mentioned below.
EQUIPMENT:
Used by Joe Barrelas McGonigel's Mucky Duck (venue):
OBS software
DSLR
iPad, iPhones, Macbook Pro
Ida PTZ cameras
Avapass controller
Custom-built computer
Midas PRO1 house sound and monitors (matrix out for streaming)
Used by Chris Shaw (OBS Demo)
Webcam: Logitech C920
iPhone 7S
Microphone: AKG 414 UBS
Interface: Behringer UMC204HD

Used by The Dunwells:
StreamYard.com
Behringer UMC22 interface, Beringer UMC404HD interface
AKG studio K240 studio headphones Rode NT1 mic
AKG 214 mic
Taylor acoustic
Fender electric
Surface Go laptop
Macbook Pro laptop
Used by Roger Blevins:
Hardware: Mac MIni, UA Apollo interfaces, Canon M50, Canon T2i, Canon T5i, USB 3.0 HDMI capture card, pedal webcams, MIDI pedal
Software: Ecamm Live, Logic, Loopback, UA Midi Control, MidiPipe
Used by Jon Muq:
iPhone
Options for Streaming:
Zoom, StreamYard, YouTube, Blackmagic, Restream
Streaming Set Up Requirements
1. Bandwidth is the most important thing you need to have good audio and video quality. Plug an ethernet cable from your internet router to your laptop/desktop or perform as close to the wifi router as possible. Ask everyone to stay off the internet during your shows.
2. Video quality Built-in laptop cameras don't have great resolution. Use a USB HD webcam or phone as it will give much better video quality. Good lighting is important.
3. Configure Audio Settings on Zoom Turn off original sound, choose the input device you are using, suppress background noise to "low," leave echo cancellation on "auto" and select "high fidelity music mode."
4. Backing tracks Use two laptops for best results (see link below for more best practices).
For detailed Zoom instructions, click here.
Remote (Controlled): The Recording Academy's Guide To Recording Music Remotely With A Producer & Engineer