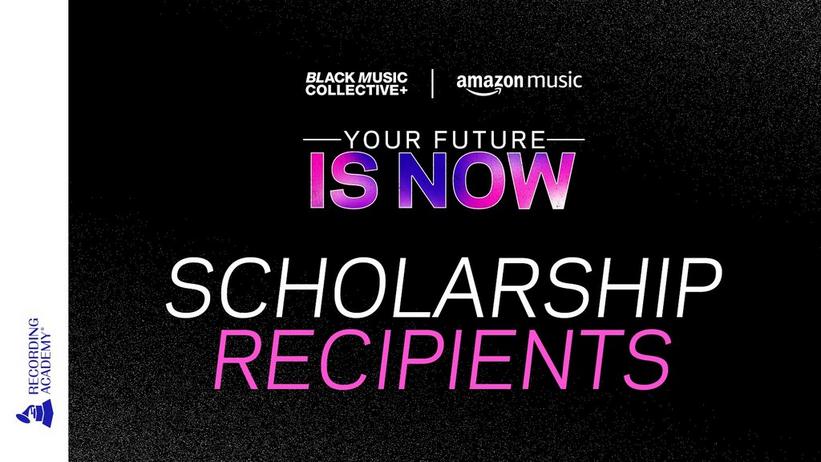 Graphic: The Recording Academy, Black Music Collective and Amazon Music 
news
Recording Academy's Black Music Collective And Amazon Music Select "Your Future Is Now" 2022 Scholarship Recipients
Four students across four Historically Black Colleges and Universities (HBCUs) will receive $10,000 in scholarships and the opportunity to participate in an immersive rotation program with Amazon Music and Recording Academy leaders.
Recording Academy
/
Jun 29, 2022 - 01:00 pm
The Recording Academy's Black Music Collective (BMC) and partner Amazon Music have selected Jayden Ahmad Potts (Jackson State University), Amir Duke (Morehouse College), Jasmine Gordon (Spelman College), and Zsana Hoskins (Howard University) as the recipients of the "Your Future Is Now" scholarship, which provides students at Historically Black Colleges and Universities (HBCUs) with the opportunity to learn and explore all facets of the music industry.
Launched in February 2021, the returning scholarship offers students the chance to receive $10,000 for the 2022/2023 school year and the opportunity to participate in an immersive rotation program with Amazon Music and Recording Academy department leads, providing each student a detailed look at their particular field of work within the music industry. To coincide with these scholarships, the BMC and Amazon Music will also award two HBCUs a $10,000 grant each for equipment for their music programs to be announced later this summer.
"As part of our commitment to advance Black music, we've created another opportunity for Black rising talent to enter the world of music and entertainment with the second annual 'Your Future Is Now' scholarship," Ryan Butler, Vice President of Diversity, Equity and Inclusion at the Recording Academy, said. "We're honored to work with Amazon Music to lay the foundation for Amir, Jasmine, Jayden, and Zsana's music industry career goals."
This diverse group of students represents four schools, four stages of their higher education journey, and four different areas of interest in the music industry. Ahmad Potts is a freshman at Jackson State University interested in sound engineering and producing; Duke is a senior at Morehouse College interested in management and A&R; Gordon is a sophomore at Spelman College interested in music marketing; and Hoskins is a junior at Howard University interested in music journalism and programming.
Learn more about the Black Music Collective and the "Your Future Is Now" scholarship.
Your Future Is Now: Music Industry Executives Discuss The Benefits Of Historically Black Colleges And Universities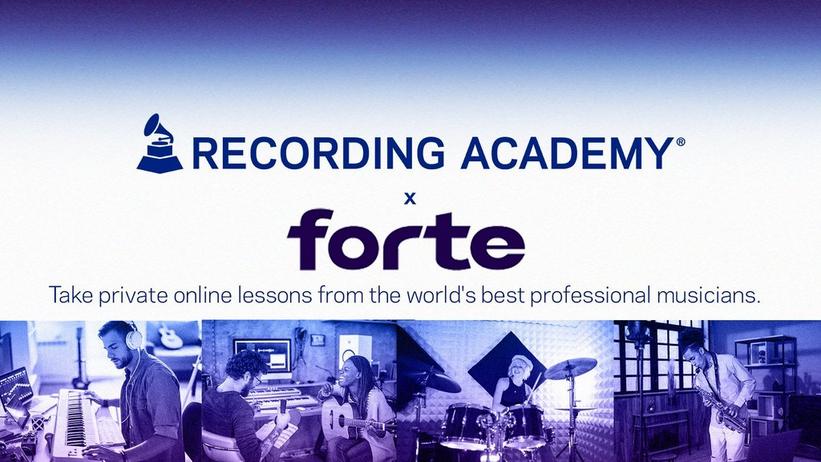 Image courtesy of the Recording Academy
news
The Recording Academy Partners With Forte To Offer High-Quality Music Education Lessons For Students Of All Levels
Through this newly announced partnership, students and aspiring musicians and artists will be able to access more than 100 Forte teachers who are verified Recording Academy members, GRAMMY winners and GRAMMY nominees exclusively on Forte.
Recording Academy
/
Sep 8, 2023 - 02:04 pm
Marking a major step forward in the music industry and online learning, the Recording Academy has partnered with industry-leading online music education platform Forte to provide and expand access to the highest quality in music education for students of all levels. Through the new partnership, Forte, known for its use of high-definition audio quality and user-friendly design, will be the only online platform where students can access accomplished musicians from the Recording Academy's esteemed membership, including GRAMMY winners and GRAMMY nominees.
More than 100 Forte teachers have been verified as members of the Recording Academy or as GRAMMY winners or GRAMMY nominees. This process included a screening for each instructor that guarantees Forte teachers hold significant teaching experience and background, ensuring all students receive instructions and lessons from knowledgeable and experienced educators.
"Members of the Recording Academy are among the most experienced and prestigious music creators in the world, working in the highest levels of the music industry," Forte co-founder and CEO Mark Murtagh said in a statement. "If a student has ever dreamed of learning an instrument or song writing from a GRAMMY nominee or winner, Forte now makes that possible. This unprecedented partnership exemplifies Forte's mission to radically expand access to high-quality music education and the Recording Academy's dedication to advancing the future of music."
Recording Academy CEO Harvey Mason jr. further spoke on the revolution of online music education.
"Online learning is revolutionizing education, expanding access and creating new opportunities for families and students everywhere," Mason jr. said in a statement. "The Recording Academy is proud to help expand music instruction through our partnership with Forte. Our extraordinary members are excited to share their expertise and knowledge with future music creators."
All lessons will be on Forte's online platform. Learn more and sign up now for lessons via Forte's official website.
GRAMMY Museum & Recording Academy Announced Second Annual Quinn Coleman Memorial Scholarship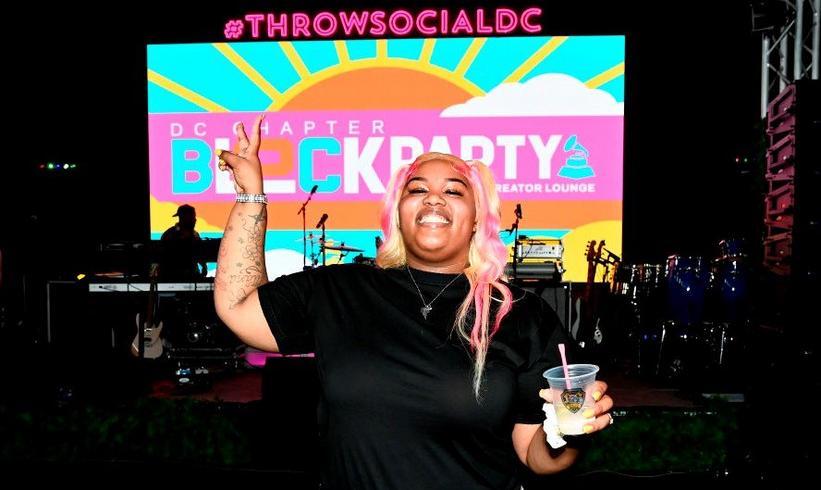 Pinky Tha Rapper poses at the Recording Academy DC Chapter Block Party
Photo: Shannon Finney/Getty Images for The Recording Academy
news
Revisit The 2023 Washington D.C. Chapter Block Party: Championing Artistry & Advocacy
At its first block party in four years, the Recording Academy's Washington D.C. Chapter showcased its support for music and the artists who make it. Take a peek inside the July 28 event, held at THRōW Social D.C.
Recording Academy
/
Aug 16, 2023 - 08:21 pm
Cheers filled the room on July 28 as guests of the Recording Academy's Washington, D.C. Chapter block party — the chapter's first in four years. 
The world has changed significantly since the Chapter's last block party, but as Chapter President Tamara Wellons (who is also a gifted vocalist) noted, one thing remains the same: "Music is that thing that really helps us." 
The six-hour event provided the opportunity for both fellowship and knowledge-building. The first half featured a Creator Lounge, where panelists spoke on the nuances of an ever-changing industry and how musicians can adapt, advocate and monetize their work. The block party itself took place on the rooftop of THRōW Social D.C., and included finger foods, cocktails and performances by local artists. Among those artists was DJ Oji, a Brooklyn-bred and Baltimore-based house DJ.
The block party fell on the same day as The Day that Music Cares, the first-ever day of service for the music community. To commemorate this day, attendees were encouraged to bring school supplies for the chapter's back to school drive. 
For Wellons, it was extremely important that the block party be equally diverse, informative, and fun. The goal was for the local music community to walk away with the knowledge they need to advance their careers.
"One thing we wanted to do was have our block party be just a little different  not just an average party," Wellons told GRAMMY.com. "We wanted to get organizations that offered grants, like the Maryland State Arts Council or the D.C. Commission [on The Arts & Humanities]. They have these grants and things that a lot of our music community don't know about and have not taken advantage of completely."
The advancement of knowledge about available resources, along with the idea of advocacy, were huge themes throughout the event. Members attended discussions about the potential uses of AI, the RAP Act and the importance of ensuring all creators get paid fairly.
The first panel, which was led by Todd Dupler, the Recording Academy's Acting Chief Advocacy & Public Policy Officer, and Dr. Chelsey Green, the Vice Chair of the Board of Trustees, discussed the Academy's efforts to fight on behalf of music creators.
"What's great about the Recording Academy is that we represent all creators, no matter their craft or their genre," Dupler said. "Especially here in the Washington D.C. chapter, there's always been great synergy between having a chapter in our nation's capital and the advocacy work that we do year-round." 
Members of the D.C. Chapter were also given exclusive access to register early for District Advocate Day, an initiative through which Recording Academy members across the country can get involved in the Academy's advocacy work. 
"My hope is that [members] understand that we value not only what they do as an Academy member, but who they are as a working musician, [as well as] what needs they have as an artist and how we can support that," said Green, a skilled violinist and founder of the Green Project, an ensemble that aims to break down stereotypes around the violin and viola. "We're all part of one Academy, and that is what the Academy is about. It's about the community supporting creators year-round."
The second panel, which was led by YouTube Music Global Music Strategist Lead Mahlet Seyoum, discussed YouTube monetization and how creators can benefit from the use of assets like YouTube Shorts. For Seyoum, it is important for marginalized creators, especially Black ones, are able to profit and receive the utmost credit for their work.
"I'm always going to be holding it down for us and making sure that the people who are really the bedrock of the culture — are producing the most content and are at the top of the charts — are able to monetize, profit off of and grow from their creativity, from their work and from their art," said Seyoum.
The block party portion of the event kicked off with performances by Pinky Tha Rapper and Noochie, two Washington D.C. rappers on the rise, along with sounds by DJ Joxfroxi. 
"[D.C.'s] just a very unique place when it comes to fashion, music, even the Black experience," said Noochie, who is known for his #FrontPorchFreestyles series on Instagram and is inspired by D.C.'s life and culture. "I've been to a lot of other cities, and I don't feel as comfortable as I do here. I consider myself lucky to be from here."
Other performers included DC-based indie soul band Oh He Dead, as well as three-time GRAMMY nominee Raheem DeVaughn and his go-go band, the Crank Crusaders.
Wayna, a GRAMMY-nominated singer and actress who co-authored the Best Song For Social Change Award, enjoyed each aspect of the block party, which allowed for learning, relaxation and entertainment. A newly elected member to the Recording Academy's Board of Trustees, she resonated greatly with the messages around advocacy.
"I became an artist because I wanted to tell stories, and very often the stories that I want to tell — and a lot of marginalized artists want to tell — are those of people who don't have a voice," she said. "The point of creating that empathy and connection through music is so that we can have a world where it's more equitable and people have more opportunities. That is the outcome of great art."
The energy at the block party certainly indicates that the Recording Academy's D.C Chapter knows how to party; but more than that, they know how to cultivate community and connection during a time at which those things are needed most. 
2023 GRAMMY Camp Musicians Share Their Artist Session Experiences
Image courtesy of the Recording Academy
news
Learn How The GRAMMY Awards Journey Works With This Interactive Online Hub: GRAMMY Submissions, Voting, Nominations & Beyond
With this dynamic, informative, easy-to-use online resource, learn how the GRAMMYs process works — from GRAMMY voting to GRAMMY nominations to GRAMMY night.
Recording Academy
/
Jul 31, 2023 - 03:51 pm
GRAMMY night is Music's Biggest Night — but it takes the whole year to get there.
If the GRAMMYs process seems fairly elaborate, that's because it is. It's built on a finely tuned system that ensures the most fair, accurate and transparent process possible. And now, the Recording Academy is giving an inside look into the annual GRAMMY Awards process like never before.
The Recording Academy just unveiled a dynamic online hub giving artists, music professionals and music fans alike a deep dive into the annual GRAMMY Awards process. The reimagined GRAMMY Awards journey page, launched today, offers an interactive, engaging online resource for anyone looking to learn more about the inner mechanics behind the GRAMMYs. 
A comprehensive resource and online hub for all things GRAMMYs, the page explains the GRAMMY Award process in full, from submissions to GRAMMY voting to GRAMMY nominations and beyond, offering users many opportunities to dig deeper throughout the experience. It also includes a timeline of key GRAMMY dates and deadlines and overall GRAMMY Awards milestones.
The GRAMMY Awards journey page is a 24/7, 365 resource for Recording Academy voting members, artists and media companies submitting GRAMMY-eligible product, and nominees as well as everyday music fans.
Click here to get started and explore the GRAMMY Awards process in full.
The Online Entry Process For The 2024 GRAMMYs Explained: How To Submit, Upcoming Deadlines & Webinars, GRAMMY Nominations & Voting Process, And More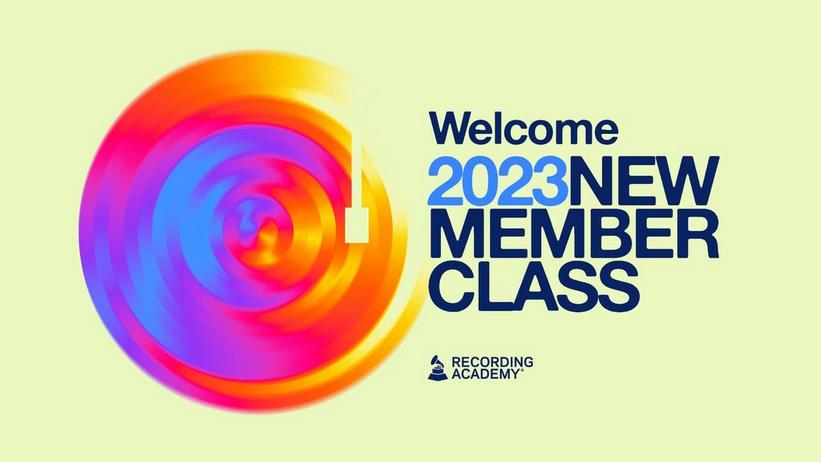 The Recording Academy's 2023 New Member Class
Graphic Courtesy of the Recording Academy
news
The Recording Academy Proudly Invites Nearly 3,700 Music Creators & Professionals To Join Its 2023 New Member Class
The newly invited members epitomize the Recording Academy's mission to reflect the vibrant global music community we proudly serve. The deadline to accept invitations to participate in the entire process for the 2024 GRAMMY Awards is Friday, July 14.
Recording Academy
/
Jun 21, 2023 - 04:58 pm