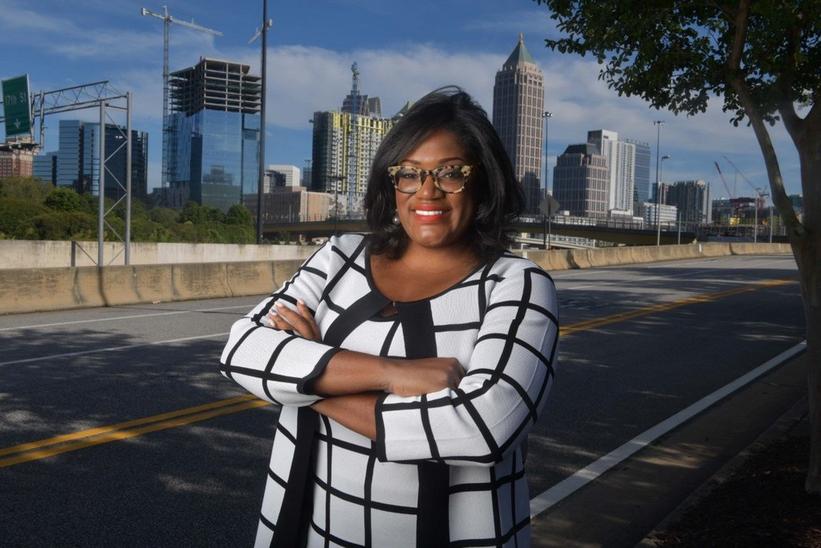 Recording Academy Chief Diversity, Equity & Inclusion Officer Nzinga "Zing" Shaw
Photo: Byron Small/ Atlanta Business Chronicle
news
Meet Nzinga "Zing" Shaw, The Recording Academy's New Chief Diversity, Equity & Inclusion Officer Who's Bringing Innovation & Inclusivity To The World Of Music
Zing Shaw is responsible for ensuring that diversity and inclusion are core to the Recording Academy's business values, and demonstrated throughout the organization. In an interview, the experienced DEI steward details her background, methods and vision.
Recording Academy
/
Mar 2, 2023 - 07:35 pm
Nzinga "Zing" Shaw has become the Recording Academy's Chief Diversity, Equity & Inclusion (DEI) Officer at a pivotal point in the DEI industry. 
While the concept of DEI hit the public lexicon — and corporate boardrooms — hard after the racial reckoning of summer 2020, a lot has happened since, and, unfortunately, many have moved on. Shaw is acutely aware of this crossroads. 
"Oftentimes, there happens to be a public-facing crisis," Shaw says in an exclusive interview with the Recording Academy, citing the events that shake the public consciousness — hard-to-watch viral footage of racial tensions, police killings and so on. "Then, once that crisis is over, we go back to business as usual, and we don't walk away with tangible lessons that we need to take away from the experience."
To her, matters of inclusion must not be fleeting concerns, viral moments, or flavors of the month — they must be baked into the DNA of corporations and society at large.
"The way that we evolve this work is to keep it top of mind … not thinking of DEI as adjacent to the work that we do, but prioritizing this function as interconnected through everything we do," she says.
Shaw honed her keen perspective by putting in the time and effort — and then some. Prior to joining the Recording Academy, she made waves via her pioneering DEI work with the NBA's Atlanta Hawks, which became the first professional sports team to celebrate the LGBTQIA+ community, and the MOSAIC symposium (Model of Shaping Atlanta through Inclusive Conversations), which she launched in 2015.
Additionally, Shaw was the first Chief DEI Officer at major blue chip organizations like Edelman, Starbucks and the National Basketball Association's Atlanta Hawks. In addition to serving on the Board of Trustees of Fisk University, the Board of Directors of ColorComm and the Board of Advisors of Arctos Sports Partners, Shaw was appointed by former President Jimmy Carter to serve a six-year term on the Board of Councilors of the Carter Center.
As Shaw enters her new role at the Recording Academy, she checked in to discuss her wide-spanning career, the role of DEI within corporate America and everyday life, and the importance of instilling DEI principles in our youth today.
This interview has been edited for clarity.
Tell me about your background in DEI. What about your early life experience led you to choose this career path?
I became very interested in diversity, equity, and inclusion when I was at the National Football League as an HR generalist. 
I realized that DEI could enable the organization to perform at a high level if we leaned into the concept of including different types of people with different backgrounds, both from lived experiences and some of the inherited traits that people are born with and have no control over. 
I thought to myself: We can combine lived experiences with diverse demographic sets and put all of those things together to highlight non-traditional talent within the organization, which in turn would foster new ideas and innovation. I realized this approach could really enable an organization to fulfill some of its deepest desires around mission, vision and values. 
I decided at that point in my career that I wanted to pivot out of traditional human resources and have a more linear focus on diversity, equity, and inclusion.
After leaving the National Football League, I went to Edelman, which is the world's largest public relations firm and is now an integrated marketing firm. I led diversity, equity, and inclusion there, and spent five years doing some tremendous work, both internally, but also on the client side. That's when I knew that my path was going to be in DEI for the long haul.
How does it benefit a company to make sure people of all backgrounds are present, accepted, and heard in a corporate setting, as well as given the necessary space and encouragement to develop and flourish?
At a micro level, most companies are interested in innovation, pushing their brands forward and doing work that is new and exciting. Part of the way you get your firm to be innovative is by having differing opinions at the table so people can hash out their ideas; they can have healthy discussions around what works, what doesn't work, and ultimately come to a consensus on how to build a collective body of work together.
At a macro level, when you have diversity, equity, and inclusion supported across all levels in your organization — department heads, heads of organizations, managers, employees — and people bringing diverse perspectives, healthy discourse, and open discussion to the table, those are likely the times when innovation comes to the forefront.
I've seen that organizations that have a healthy culture of diversity, equity, and inclusion are oftentimes thriving from a bottom-line perspective, but also from an internal-culture perspective. People feel valued, they feel trusted, and they trust their colleagues.
When you add all of those ingredients into the recipe, then you become the cooks of a major dish that is palatable and makes the organization thrive while also creating a sense of belonging, which is what most people want to do. Most people want to feel like they belong.
Music is perhaps the ultimate uniter of human beings across all boundaries. How would you describe your path to the world's leading society of music professionals as the ideal place to execute your unique gifts and talents for fostering inclusion?
I feel so fortunate to be in the world of music right now, because most of my career has been spent in sports and entertainment — although, I have spent some time in retail, insurance and public relations. 
I always wanted to do diversity, equity, and inclusion work in an environment that could unite different types of people. A lot of industries are very specific, and so if you are not interested or involved in that industry, then it's hard to connect to the message. But for me, music is the unifier of people. It's a universal language.
Music has always been near and dear to my heart. I sang in the Select Chorale when I attended Freeport High School in Long Island, New York. For me, music is something that I rely on in times that are tough. If I'm experiencing a challenge, I might turn on my radio, listen to a song, and all of a sudden, my mood can change. When I had my children, I would sing them lullabies to sleep. Music is something that is ever-present in my life, so to be able to do this work at such a high level at a place like the Recording Academy is a dream come true.
What are you specifically excited about on a very granular, boots-on-the-ground level regarding bringing your particular DEI expertise to the Recording Academy? 
I think that I'm an interesting DEI practitioner because I am an academic, and I am also a practitioner. For DEI, that is few and far between. 
I say that I'm an academic because I serve on the Board of Trustees of Fisk University, which is a historically Black college in Nashville, Tennessee. But I am also a professor at Fisk University, and I teach a course called Advancing Diversity, Equity, and Inclusion in Business and Beyond. 
Thus, I approach the work from an academic perspective, but then I also approach it from a practical perspective. I have been the first chief diversity officer at multinational organizations, both privately held and publicly traded. 
To combine all of those experiences and bring them to the Recording Academy in a way that fosters education for our colleagues and for the creators, while also fostering the ability for us to create new and innovative programs and projects, is monumental for me. I look forward to educating our creators and colleagues in addition to launching new and innovative programs that touch and reach the masses.
What are you looking to accomplish in the course of your first year at the Recording Academy? And to zoom out even more, what are you looking to accomplish in this role overall?
In the first year, I want to ensure that my DEI team creates a holistic strategy that not only represents the work that we're doing internally, but also resonates with the musicians, creators and innovators that are in this space.
I want to ensure that emerging communities that have been underserved historically are now represented at the forefront. I see communities like the LGBTQIA+ community having a great opportunity under our leadership. I also see communities that are engaged with gender parity, or racial equity, or even languages spoken. I want to make sure that we are representing everybody in a way that makes them feel welcomed and belonged.
Long-term, I want for my team to be known as the gold standard for how diversity, equity, and inclusion plays out in the world of music. I want academic institutions to write white papers about the Recording Academy talking about how we have been able to develop world-class programs in this space that others can then follow and use as best practices. 
As an alumna of Spelman College, you're a product of the HBCU system, which the Recording Academy has been celebrating and supporting via its annual Your Future Is Now scholarship program, presented by the Academy's Black Music Collective and Amazon Music, since 2021. In your eyes, why is it important to instill the principles of DEI in young people and students before they enter the professional world?
The youth are truly the windows to what happens in the future. That's why I have taken on the task of teaching college, that is why I have taken on the task of being a parent, and that is why I believe the world of music has such a huge opportunity in front of it.
When you instill the principles of diversity, equity, and inclusion in the youth, they bring an open mind to the table. And when they bring an open mind to the table, they likely will bring an open heart to the table, and an open heart creates empathy, it creates love, and it creates and fosters an understanding of why everybody matters.
If the youth are going to bring this level of energy to the table with one another, as they think about what the world of music deserves and needs, they are creating a template for success for the future and evolution of music.
I think we have to start with the youth and we have to instill these principles so that it's almost second nature to them. They don't have to think about it. It just is a way of life and it's who they are. And then once that is instilled so deeply within them, the things that they will produce will be everlasting.
Having worked with the NBA and the Atlanta Hawks, you're well aware of the massive role that sports and entertainment play in society. What responsibilities do the leading organizations in both the sports and entertainment worlds have in pushing and progressing societal change?
I think sports and entertainment and music are industries that have a huge responsibility in pushing forward diversity, equity and inclusion because they are uniquely situated to bring a variety of people together.
Every time I've been to a sporting event, whether it was a Major League Baseball game or a National Football League game or a National Basketball Association game, I look around the audience and I see a variety of people there — unusual suspects that are sitting next to each other, slapping high fives, giving each other hugs when the home team is doing well, putting their differences to the side so that they can root for the home team and bring home a win.
If you bring that level of energy to the world of DE&I and explain to people why unity is a recipe for success, then you have created an ecosystem where people are excited to be around differing points of view, a place where they can put their differences to the side, figure out ways to come together to inspire, and ultimately win. 
Sports, entertainment, music — these are the industries that can ultimately get this work done right.
As you well know, DEI hit the global lexicon hard due to the events of the last few years. Of course, this has been a longstanding value in corporate and non-corporate settings, but it has never been codified quite like this. How can DEI  improve, especially as the culture continues to shift and other topics unrelated to identity, discrimination, etc. assume the spotlight?
In order for diversity, equity, and inclusion to continue to evolve, we have to stop enabling this work through crisis. Oftentimes, there happens to be a public-facing crisis, like the death of a person on film or an unwarranted arrest because a person is in a minority group or whatever the crisis may be, and it sparks outrage. 
Then, once that crisis is over, we go back to business as usual, and we don't walk away with the tangible  lessons that we need to take away from the experience: how to be better, how to put our differences aside, or at a minimum, how to be respectful to one another when we do have differences.
The way that we evolve this work is to keep it top of mind. Always talk about it, but in the context of what good can be done, not just harping on what's wrong, but celebrating what's right.
I also think that, in terms of corporations, we need to ensure that senior leaders are enabling this work through the functions that they lead; not thinking of DEI as adjacent to the work that we do, but thinking about this function as interconnected through everything that we do. There should be a component of DEI within marketing, within sales, within consumer products, within finance, within human resources — within every function of the business.
That's why I'm so excited about the way that the Recording Academy has set up this function. Our DEI team truly works in a very interconnected way with our entire organization, and for me, I think that is ultimately how we are going to sustain the work and get to the right place.
Looking Forward To 2023: Recording Academy CEO Harvey Mason Jr. On Rebuilding, Laying The Groundwork & Paving The Road Ahead