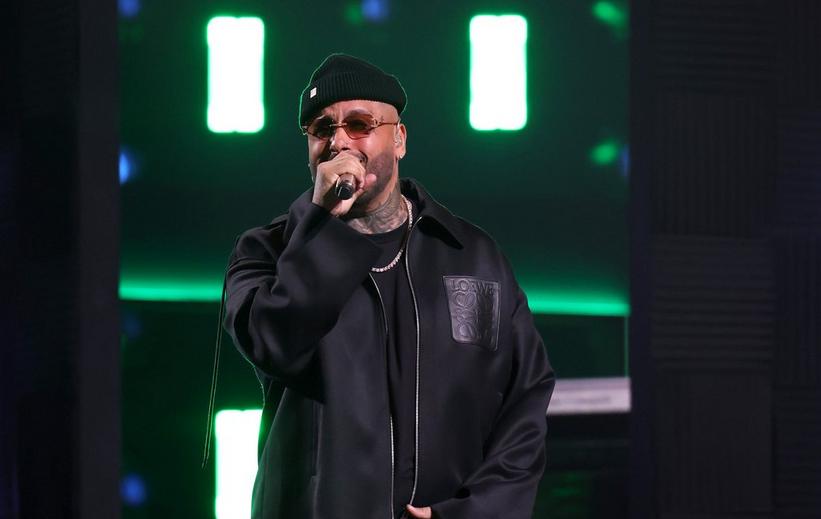 Nicky Jam performs with the Latin GRAMMY Cultural Foundation at the 23rd Annual Latin GRAMMY Awards.
news
Latin GRAMMY Cultural Foundation Launches The Nicky Jam Scholarship For Music Students In Need
Beginning in the 2023 fall semester, the Nicky Jam Scholarship provides up to $200,000 in financial aid for music students in need. Find out more about how to apply for all 2023 scholarships here.
Recording Academy
/
Dec 16, 2022 - 07:24 pm
Latin GRAMMY winner Nicky Jam is sponsoring the Prodigy Scholarship toward a bachelor's degree at Berklee College of Music starting in the fall 2023 semester. The four-year scholarship — this year, renamed the Nicky Jam Scholarship — is presented by the Latin GRAMMY Cultural Foundation.
The Foundation's scholarship provides up to $200,000 in financial aid for music students in need, aged 17 to 25. Created eight years ago, it has been co-sponsored by Latin artists Sofia Carson (2022), Juanes (2021) Julio Iglesias (2020), Emilio and Gloria Estefan (2019), Carlos Vives (2018), Miguel Bosé (2017), Juan Luis Guerra (2016), and Enrique Iglesias (2015).
"Music has always been there for me; it has been the fuel that has kept me going even during the hardest moments of my life," Nicky Jam said. "By providing the Prodigy Scholarship in partnership with the Latin GRAMMY Cultural Foundation, I get to share my passion for music and give back to the next generation of Latin music makers on their journey to achieving their dreams."
The Puerto Rican reggaeton and Latin trap singer pledged to support music students at the 23rd Annual Latin GRAMMY Awards, where he performed alongside Foundation scholarship winners. Watch the performance and see his special message here.
Additionally, CEO of La Industria Inc. Juan Diego Medina is sponsoring one of the Gifted Tuition Scholarships of up to $100,000.
Applications for all of the 2023 scholarships are now open, and are available to music students between the ages of 17 and 25. The scholarships available in addition to the Nicky Jam Scholarship are as follows:
Three (3) Gifted Tuition Scholarships of up to $100,000 each will be awarded to students to cover tuition costs towards a four-year bachelor's degree in music starting in fall 2023 at the university of their choice.

Forty (40) Tuition Assistance Scholarships of up to $10,000 each will be awarded to students pursuing a degree in music. This is a one-time award that will cover tuition costs over one year (fall 2023 and spring 2024 semesters).
To date, the Latin GRAMMY Cultural Foundation has awarded over $7.6 million in scholarships, grants and musical instrument donations through their global programs and events.
"When it comes to pursuing a career in music, finances should not be a deterrent to cultivating talent," said Raquel "Rocky" Egusquiza, Executive Director of the Latin GRAMMY Cultural Foundation. "We are grateful for Nicky Jam's generosity, which makes music education a reality for future generations of Latin music creators and preserves our legacy for years to come.
The Latin GRAMMY Cultural Foundation is accepting applications for all 2023 scholarships from Dec. 15, 2022 to April 10, 2023 at 11:59 p.m. EDT. Apply here with two audition videos, two letters of recommendation, two essays, and an acceptance letter from an accredited university. Materials can be submitted in English, Spanish or Portuguese.
For information and the latest news, please visit the official Latin GRAMMY Cultural Foundation website.
10 Moments From The 2022 Latin GRAMMY Awards: Rosalía's Big Wins, A 95-Year-Old Best New Artist & Christina Aguilera Goes Ranchera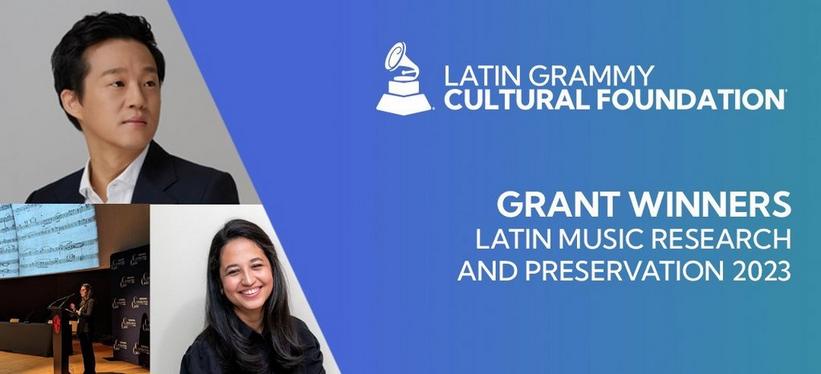 Photo courtesy of the Recording Academy
news
The Latin GRAMMY Cultural Foundation Announces Winners Of Its Research And Preservation Grant Program
This program provides grants to music institutions, nonprofit organizations, musicologists, and researchers around the world who are enhancing and preserving Latin music heritage.
Recording Academy
/
Feb 16, 2023 - 09:20 pm
The Latin Recording Academy may be most visible during the Latin GRAMMYs, but what they do during the other 364 days of the year is just as crucial — including this precious grant.
The Latin GRAMMY Cultural Foundation has announced the winners of its Research and Preservation Grant program. This program provides grants to music institutions, nonprofit organizations, musicologists, and researchers around the world who are enhancing and preserving Latin music heritage.
In 2023, an eclectic group of institutions and scholars will receive this support. The four grants, with a maximum value of $5,000 each, support diverse initiatives: The Preservation Grants fund the archiving and preservation of Latin music and its attendant customs, while the Research Grants support projects that emphasize historical and anthropological research, in addition to documenting traditions and Latin folklore.
"For the eighth consecutive year, we have the pleasure and privilege of awarding Research and Preservation Grants to deserving Latin music creators," said Raquel "Rocky" Egusquiza, the Executive Director of the Latin GRAMMY Cultural Foundation. "We are pleased to celebrate this year's honorees and their respective projects which seek to uphold the legacy of Latin music through their creative and innovative endeavors inspiring and educating future generations of creators." 
Awarded Presentation Grants:
Andrew Skinner, Clayton, GA, United States, and Daniel Zanessi, Mendoza, Argentina – Through the project "Preservation and Distribution of the Studio Zanessi Collection" (Rescate y Difusión de la Colección del Estudio Zanessi), the goal is to digitalize, promote, and distribute unpublished recordings of invaluable cultural and historical significance to Argentina's interior, archived in quarter-inch tape in Mendoza's historic music studio, Zanessi Studios. This collection has been declared of national interest by the Province of Mendoza, and as its tape nears 50 years old, it is in urgent need of being preserved. The musicians who recorded at Zanessi, from around western Argentina, were foundational in shaping the sound of contemporary Argentine folk music.
Many of these musicians formed part of the Nuevo Cancionero Movement, a social artistic movement founded in Mendoza in 1963 that sought to represent the lives and experiences of everyday Argentinians, promote Pan-Americanism, and bend traditional folk music rules. The movement, with the voice of Mercedes Sosa, the poetry of Armando Tejada Gómez, the melodies of Oscar Matus, and the compositions of virtuosic guitarist, Tito Francia, inspired and linked with other "New Song" movements around Latin America. The project to digitalize the Zanessi Collection is a collaboration between Andrew Skinner, a mastering engineer and Nuevo Cancionero researcher with the University of Cuyo, and Daniel Zanessi, the owner of Zanessi Studios, who helped record many of the sessions the team is now working to digitalize. They will work with the musicians or their descendants to publish the music alongside related photos and stories.
Gustavo Ahualli, Latin American Music Center, The Catholic University of America – For many years, the Latin American Music Center (LAMC) at the Catholic University of America has suffered from a lack of resources to devote the proper time and attention towards the process of cataloging and maintaining its specialized library of Latin American sheet music, books, and recordings. The LAMC has responded to this issue by developing a multi-phase project focused on the process of cataloging and digitizing the complete collection while preserving its fragile materials.
One of the primary goals of the LAMC is to continue to create opportunities for the broad dissemination of Latin American music and culture through the resources and multifaceted activities of the Center, which include numerous institutional collaborations, cultural exchanges and world-class musical performances. The complete cataloging of this unique collection is critical for the LAMC to move forward with its plan of digitizing and preserving the materials of the Center while making this important musical treasure available to the students and faculty and the worldwide community of musicians, researchers, and performing artists. In 2021, a Preservation Grant from the Latin GRAMMY Cultural Foundation supported the launch of Phase 1 of the LAMC's archival and preservation project.
Awarded Research Grants:
Gabriela Gómez Estévez, Louisiana State University – "Dicotomía: Contextualizing the Symphonic Works of Margarita Luna García" is a project that analyzes the life of Dominican composer and pedagogue Margarita Luna García, who was one of the most notable figures of avant-garde music in the Dominican Republic in the 20th century. Her works synthesize vernacular musical material and modernist techniques. The lack of availability of published materials restricts the performance of Luna's symphonic works. The study aims to produce performance and audiovisual materials to improve access to her music and promote its study and performance. This project is partially funded by the Dominican Studies Institute of the City University of New York through their Research Fellowship program in the amount of $10,000 which covers two thirds of the $15,000 total needed for the project.
Dr. Sang Woo Kang, Seoul, South Korea – Musical borrowing is a pervasive aspect of musical creation in all genres and periods. Musicologists use several terms to describe composers' uses of existing works, including borrowing, self-borrowing, transformative imitation, quotation, modeling, emulation, decomposition, influence and indebtedness. The goal of the project "Appropriation and Multiculturalism of Latin Influence in early American Music" will be to show Latin American influence on early American music through explanatory text and recordings while also highlighting the composer Louis M. Gottschalk, one of the founding fathers of classical music in the United States, including his influences and use of folk tunes, and the Latin composers who inspired him.
This project will provide a basis for discography and teaching resources for those interested in the study of diverse influences in early American music. Gottschalk was important to the development of American musical history during a time when many people were emigrating from Latin American countries. Scholars have discussed the importance of race and racialization especially in understanding popular music of the American south.
A committee of experts from Latin America, the Iberian Peninsula, and the United States selected the recipients among numerous qualified candidates. Since its inception in 2015, the program has awarded more than $175,000 in grants to support projects, one of which received a Latin GRAMMY and GRAMMY.
Keep checking RecordingAcademy.com for more information on how the Latin Recording Academy does important work to elevate all music people worldwide!
Latin GRAMMY Cultural Foundation Launches The Nicky Jam Scholarship For Music Students In Need