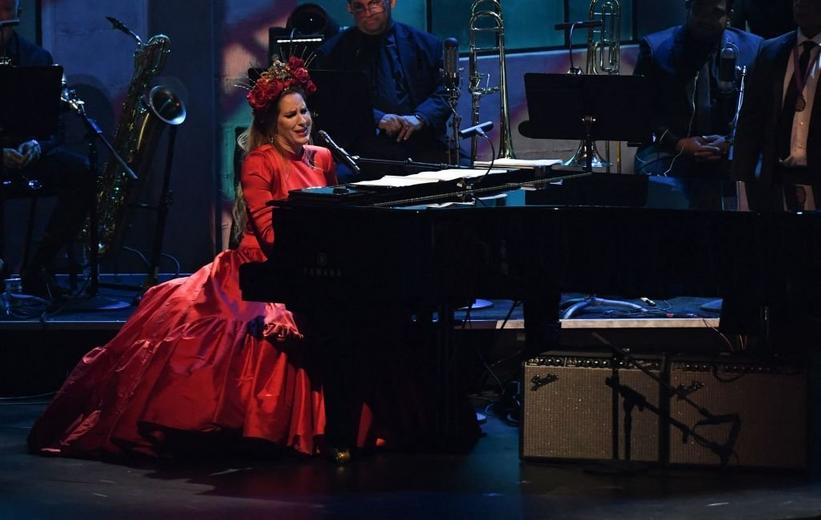 Maria Toledo performing at the 2021 Latin Recording Academy Person of the Year gala
Photo: VALERIE MACON/AFP via Getty Images
news
GRAMMY U's GRAMMY Report: Behind The Scenes With Producers & Artists At The Latin GRAMMYs & 64th GRAMMY Awards
Winners and nominees at the GRAMMY Awards and Latin GRAMMYs spoke with GRAMMY U Representative Alonda Lopez about their path to the golden gramophone.
Recording Academy
/
Jun 23, 2022 - 09:47 pm
This piece was written and reported by Alondra Lopez, a member of GRAMMY U's Los Angeles chapter, and Nicole Lewis, a member of GRAMMY U's Nashville chapter, ahead of the 2021 GRAMMY and Latin GRAMMY Awards.
I flew into Vegas for my first-ever visit on the night of November 17. The MGM Grand lobby was buzzing with excitement ahead of the 2021 Latin GRAMMYs as I headed up to my room. Shortly after settling in, I received a text from Los Angeles GRAMMY U Representative Alondra Lopez, asking if I would be available for a meeting the next morning with L.A. Chapter Executive Director Qiana Conley, and a few of the nominees for an interview. Without hesitation, I said I would be there and immediately got to bed, anxious for the big day ahead.
This would later lead to a longer project covering three 20th Latin GRAMMY-nominated creators including Daniel Galindo and Maria Toledo and three 64th GRAMMY Award nominees, Autumn Rowe, Jeff "Gitty" Gitleman, and Dale Becker. Little did I know at the time of the Latin GRAMMYs, that I would be right back at the MGM Grand in April for the 2022 GRAMMYs.
In the morning, the three of us sat down with GRAMMY nominated engineer Brian Lucey — whose vast credits include projects with the likes of Ryan Tedder and Michael Buble, as well as The Greatest Showman, In The Heights and more. The energy was high when Lucey sat down with us on the morning of the Latin GRAMMYs ahead of his win.
Not only is Lucey an extraordinary engineer, but he is also a teacher which was evident as he seamlessly explained complex technical and musical concepts over our casual lunch at the MGM Grand.
Lucey explained how he listens to music as an engineer — a practice of "whole body listening" which can be achieved through meditation or whatever helps you listen without bias. Listening to music as an engineer requires you to "get out of the way" so that you can. He goes on to explain that when working on music, it is important to have a larger frame of references to be able to understand what they are listening to in a macro sense. He continues to stress the importance of balance between physical, intellectual and emotional responses.
Engineer Daniel Galindo joined us over Zoom and recalled how, when he got the call about his Latin GRAMMY nomination for Juanes' Origen, he was worried it would be bad news. After feeling initially relieved when it was good news, he was also shocked as this was his first major award nomination. Engineering for Juanes also proved to be a full circle moment for Galindo, as he grew up listening to the Colombian singer/songwriter.
Flamenco artist Maria Toledo celebrated her fifth Latin GRAMMY nomination this past year for her EP El Rey. She has been singing and playing piano her entire life and is her own accompanist, a distinguishing factor for the artist/performer. Maria's hometown of Toledo, Spain has great influence on her music, which is why she chose to film her music video for "El Rey," in her beloved city at the Castillo de San Servando.
She explains that the coexistence of cultures in Toledo has played a large role in how she conducts her collaboration in her music and her great desire to achieve fusion in her sound. On her most recent project, Ranchera Flamenca, she collaborated with "mastermind" Mexican producer and writer, Chuco Rinco and his son Fabian who she claims gave the album "the Mexican touch we needed and on the other hand, with the production of Curro Carrasco and mine we have given that flamenco touch we were looking for."
When asked what advice she would give to her 18 year old self she said: "My advice is to be yourself and be clear at least what you don't want in your life. If you have security and firmness, you will always be able to do what is born in your heart.
"Constancy and passion will help you a lot on your way. I never wait, I always keep working and may life surprise me with what it has in store for me," she continued. "Here I continue to enjoy everything beautiful that music gives us every day. It is a gift to live, it is a gift to sing."
Autumn Rowe — who won the GRAMMY Award for Album Of The Year for her work on Jon Batiste's We Are — and I bonded over our roots in the Bronx. Autumn explained how monumental finding out about her nomination was as she has worked for this for her entire life.
Having attended a school in Manhattan for the talented and gifted, Autumn has always been a force to be reckoned with. At just 16 years old, she interned at Island Records, helping her discover that her passion in life was to create. The partnership with Batiste comes from years of friendship and collaboration, highlighting how important it is to build relationships in this industry.
Mastering engineer Dale Becker was nominated for his work on Doja Cat's "Planet Her," and spoke about "departing from the status quo" when it comes to trends in audio. In order to understand where trends in audio are heading, you must be actively consuming new music and creating relationships with other audio tastemakers.
He explains the dynamic nature of the music industry and said he is excited for the future and continuing to grow and learn. While "maintaining a finger on the pulse" is important, it's also crucial to not get stuck on the "newness." Becker considers balance, partnerships and work ethic to be the most valuable as a team member.
My final interview was with producer/writer/musician Jeff "Gitty" Gitelman, who called me on his way to Palm Springs for Coachella. The jazz prodigy shared his musical journey to his 2022 GRAMMY nominations for his work with H.E.R., who he's been working with for 12 years.
Gitty had his first big break playing guitar with Lauryn Hill and eventually landed a gig as Alicia Keys' touring guitar player. He and Keys began writing together, which led him to an epiphany that he was passionate about not just playing, but producing  and writing as well. He decided to leave touring life with Alicia to pursue a dream of his, starting his own rock band. After going through all of the trials and tribulations that one does in a major career pivot, he decided once again, to pivot, moving to Los Angeles and immediately booking a gig with the legendary Stevie Wonder.
Gitty spoke of the importance of mentorship and surrounding yourself with people who dare to dream. He says you must almost be "delusional with your dreams" to make them a reality, and stressed that confidence is a necessity in the industry. He explained that achieving confidence takes tremendous work, and having someone in your corner that sees your vision is instrumental. Throughout my time with Gitty, he demonstrated what we all hear and what we all seem to forget: that success is never linear.
Attending the awards and having the opportunity to interview thought leaders in the music industry are experiences that I will always remember. As a GRAMMY U representative, it was important for me to seek their advice for students who are just getting started in the industry and these nominees did not disappoint.
"Giving the next generation of music creators and professionals an opportunity to meet with, connect and from the very golden nominee and award winners they aspire to be, is one of the best highlights of the work we do at the Chapters with our beloved GRAMMY U membership," Qiana Conley says. 
GRAMMY U is currently accepting applications for Representatives. Learn more about the role and apply now.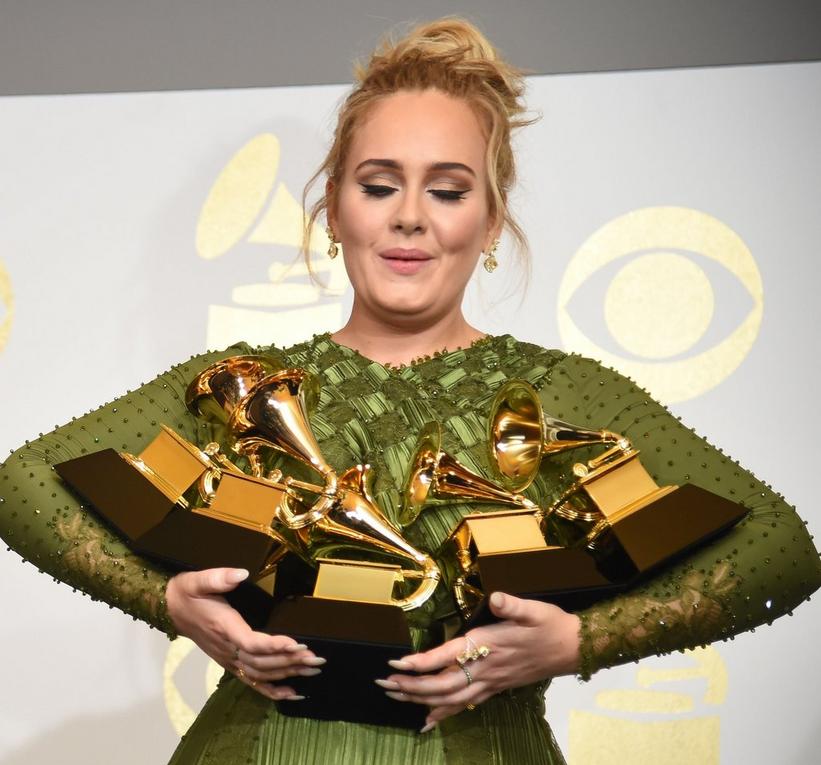 GRAMMY trophies at the 59th GRAMMY Awards in 2017
Photo: ROBYN BECK/AFP via Getty Images
news
The Recording Academy Announces Official GRAMMY Week 2021 Events
The virtual events during GRAMMY Week 2021 aim to celebrate this year's nominees and the music that unites us
Recording Academy
/
Feb 26, 2021 - 02:00 am
The Recording Academy has announced the events lineup for GRAMMY Week 2021 ahead of the 63rd GRAMMY Awards broadcasting Sunday, March 14, on CBS at 8 p.m. ET / 5 p.m. PT. All events will be virtual this year to ensure the safety of our staff and guests and to make the events as accessible as possible to attendees.
See the full GRAMMY Week 2021 lineup of confirmed events and additional details here and below:
MARCH 8
GRAMMY In The Schools Fest
This four-day virtual event, presented by MusicPower, will celebrate music and music education featuring performances by students and professionals along with engaging, educational panels by artists, educators and other music professionals and will conclude on March 11, 2021.
Free to the public for those who register in advance by clicking on this link.
Women In The Mix
This event will recognize the contributions of women in music and amplify female voices across the industry. Highlighting producers, engineers, artists and executives, this program champions women who set the tone for their own communities and work to close gender gaps on and off the stage.
The virtual event will take place publicly on GRAMMY.com.
MARCH 10
The Inaugural Black Music Collective GRAMMY Week Celebration
The historic event, presented by Mastercard, will feature an array of esteemed Black music creators and professionals known for amplifying Black voices in music and beyond.
The virtual event can be viewed on GRAMMY.com.
MARCH 11
GRAMMY U Masterclass With Tayla Parx
Join us for a masterclass with GRAMMY nominee, Tayla Parx, as she discusses the craft of songwriting and being a multi-faceted artist. A singer, songwriter, actress, and entrepreneur, Tayla has penned tracks for Ariana Grande, Janelle Monáe and Anderson.Paak, in addition to her successful solo career as an artist. This program is in collaboration with the Recording Academy's Black Music Collective and Powered by Mastercard.
The virtual event can be viewed on the Recording Academy's Facebook channel.
Producers & Engineers Wing 20th Anniversary Celebration
This hour-long program will celebrate the 20-year milestone of the Recording Academy Producers & Engineers Wing with highlights from the past two decades and a look into the future.
This is a private event.
MARCH 12
23rd Annual Entertainment Law Initiative
The event will honor the Black Entertainment and Sports Lawyers Association (BESLA) — a nationally recognized leader in legal education and professional development within the United States for lawyers and professionals in the entertainment, sports and related industries — with the 2021 Entertainment Law Initiative Service Award.
This is a private event.
MusiCares Music On A Mission
This virtual fundraiser will honor the resilience of the music community, which has been deeply impacted by the COVID-19 pandemic. The event will celebrate top moments in MusiCares' history, including legendary performances from the MusiCares' vaults and new performances from today's biggest stars.
Tickets are available to the public for $25 and are on sale now on MusiCares.org.
MARCH 14
63rd GRAMMY Awards Premiere Ceremony
Get ready for Music's Biggest Night by starting with Music's Biggest Day. The Premiere Ceremony will present more than 70 GRAMMY winners and feature a variety of exciting performances across genres.
Watch the live stream exclusively on GRAMMY.com.
63rd GRAMMY Awards
The 63rd GRAMMY Awards will broadcast live on the CBS Television Network, Sunday, March 14, at 8:00 p.m. ET/5:00 p.m. PT.
2021 GRAMMYs Awards Show: Complete Nominees List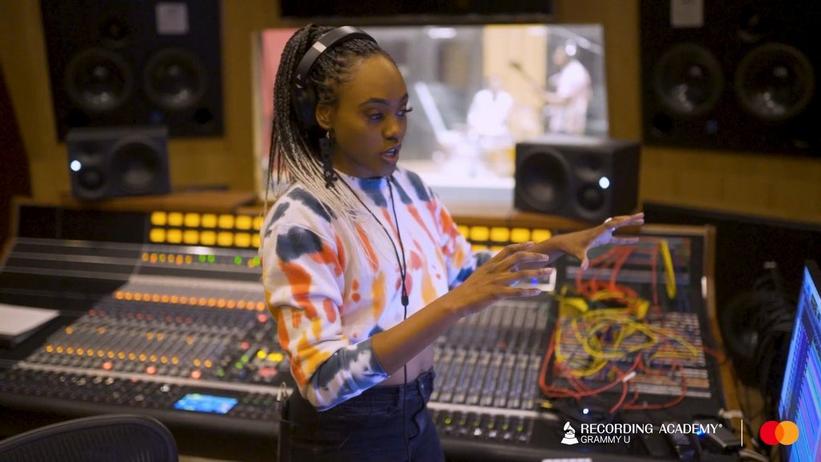 news
WATCH: Atlantic Records' Senior Engineer Ebonie Smith Walks Through The Recording Process, Shares Studio Advice In GRAMMY U Masterclass
With the help of Memphis duo the PRVLG, made up of Christopher and Christian Underwood, a former GRAMMY U member, Ebonie Smith gives a behind-the-scenes look at the recording process
Membership
/
Jul 1, 2021 - 03:31 am
In her GRAMMY U Masterclass, sponsored by Mastercard, Ebonie Smith walked through some of the engineering dos and don'ts when recording in the studio. The senior producer and engineer at Atlantic Records in New York went through her considerations when recording, including choosing certain types of cymbals for drums and preparing a room for recording. She also spoke about mic selections and placements for capturing quality sound.
With the help of Memphis duo the PRVLG, made up of Christopher and Christian Underwood, a former GRAMMY U member, Smith gives a behind-the-scenes look at the recording process.
Watch the video above to learn studio recording tips and advice directly from Ebonie Smith.
Tayla Parx Shares Industry Advice During Her GRAMMY U Masterclass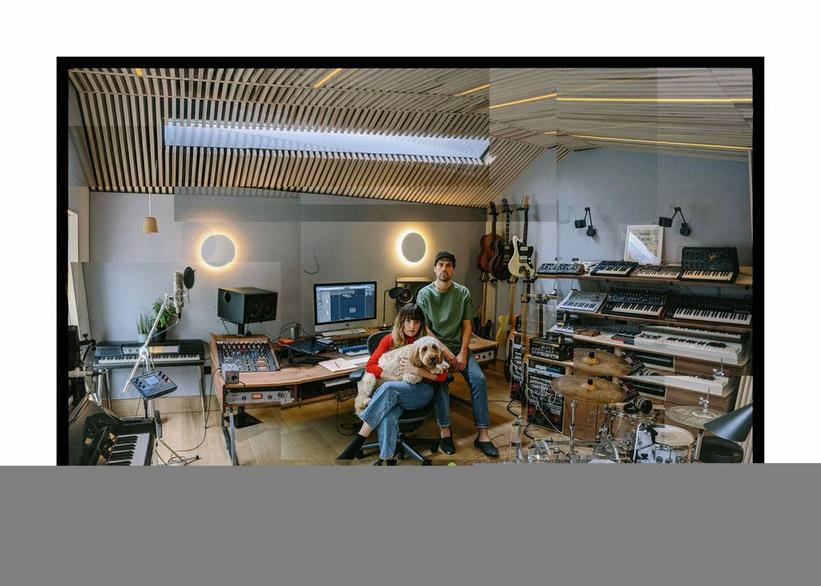 Photo: Courtesy of artist
news
GRAMMY U To Host First-Ever Virtual Conference With Oh Wonder, JoJo, Ruby Amanfu & More
"Stop the Stigma: Mental Health & Music," featuring Shanti Das and JoJo, will focus on "how to stay connected while in quarantine and on the road, growing up in the spotlight and the impact of social media on mental health"
Membership
/
Apr 13, 2020 - 11:22 pm
GRAMMY U, the Recording Academy's youngest membership group, is hosting their first-ever online conference, open to the public and streaming on the Recording Academy Facebook page next Fri., April 17 at 2 p.m. PST/4 p.m. CST/5 p.m. EST. The Virtual GRAMMY U Conference will be split into three parts: two panels—on mental health and music publishing, respectively—featuring industry experts and a conversation-plus-performance from U.K. alt-pop duo Oh Wonder.
The first panel, entitled "Stop the Stigma: Mental Health & Music" will focus on "how to stay connected while in quarantine and on the road, growing up in the spotlight and the impact of social media on mental health." This timely conversation will be led by music executive and Silence the Shame founder Shanti Das and powerhouse singer JoJo.
The other panel, "Publishing 101," will "break down the basics about publishing deals and royalties and the role publishers play in the careers of songwriters." The conversation will feature Ruby Amanfu, the Ghana-born, Nashville-based singer/songwriter who co-wrote H.E.R.'s GRAMMY-nominated "Hard Place," Jennifer Blakeman, NYU professor and President/CCO of One77, Al "Butter" McLean, Senior VP of Creative at Kobalt Music, Liz Rose, GRAMMY-winning songwriter and founder of Liz Rose Music Publishing; and Ana Rosa Santiago, VP of Latin Music at Universal Music Publishing Group.
The final segment, featuring Oh Wonder, will see the band discussing creativity during quarantine and the stories behind a few of their songs. They will also perform some of their new music—their latest LP, No One Else Can Wear Your Crown, was released in February, and their brand-new "Home Tapes" series sees them releasing new music from their home studio.
More GRAMMY U: Lauv Gets Real: "Focusing On Doing The Most Authentic Thing To You Is The Most Important"
The event was produced by GRAMMY U Reps from around the country, creating a fun and educational experience with their fellow music industry-aspiring peers in mind. They note that they'll feature student-submitted videos during the breaks in the programming as well as offer giveaways in the live chat during the conference.
Make sure to follow us on Facebook to stay in the loop on all things GRAMMY U, Recording Academy, MusiCares and music in the age of quarantine. And don't forget to tune in to our page on Fri., April 17 at 2 p.m. PST/4 p.m. CST/5 p.m. EST to watch and engage with the GU community during the Virtual GRAMMY U Conference.