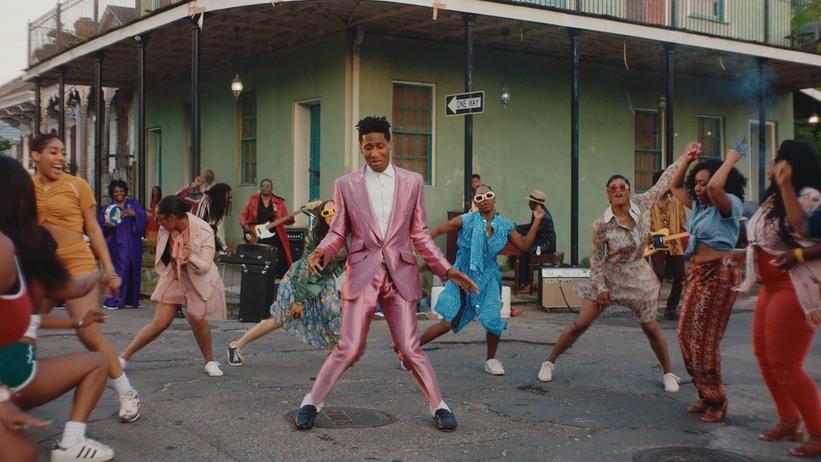 news
GRAMMY Museum Announces New York City Program Series, Kicking Off With Jon Batiste & Presented By City National Bank
The six-program series in partnership with the City of New York kicks off with Jon Batiste at the New York Public Library for the Performing Arts on June 17.
Recording Academy
/
May 26, 2022 - 07:56 pm
The GRAMMY Museum has announced a New York City program series titled "A New York Evening With…" presented by City National Bank, which includes bringing a slate of their renowned education and Public Programs to the East Coast in partnership with the City of New York Mayor's Office of Media and Entertainment. The New York City series kicks off with GRAMMY winner Jon Batiste at The New York Public Library for the Performing Arts at Lincoln Center on Friday, June 17. The Museum will present six programs through the end of 2022 at various venues throughout the city.
The partnership with the City of New York Mayor's Office of Media and Entertainment also includes bringing the Museum's education programming to the city with two Summer Sessions, which are free five-day songwriting workshops for students currently enrolled in high school. The program provides valuable resources to help build a solid foundation in songwriting. The Summer Sessions will be presented the weeks of July 11 and July 18 and will have 40 slots available for students. Each week-long session will take place at CUNY Graduate Center and is free of charge to students. More information on applications and sign-up are available here.
"The GRAMMY Museum prides itself on our unique and exceptional approach to celebrating music through our Public and Education Programs," said Michael Sticka, President/CEO of the GRAMMY Museum. "I'm thrilled that in partnership with the City of New York and Mayor's Office of Media and Entertainment, we can begin this new journey of what we aim to be a long-term programmatic presence in New York."
"I am thrilled to welcome the GRAMMY Museum's well respected educational and Public Program series to New York City this summer, kicking-off with none other than Jon Batiste," said New York City Mayor Eric Adams. "These efforts align perfectly, not only with our vision to support future musicians who might one day contribute to New York City's creative economy, but also with our city's own New York Music Month initiative, offering concerts, workshops and free rehearsal space throughout the month of June."
"City National Bank has long supported the entertainment industry and the arts – from music, to film, to Broadway and more," said Linda Duncombe, Chief Marketing, Product and Digital Officer of City National Bank. "We are proud to partner with the GRAMMY Museum and City of New York to offer programs like 'A New York Evening With...' to grow the music community of New York City."
Tickets for "A New York Evening With Jon Batiste" go on sale Weds, June 1. More artists and dates to be announced soon. For more information regarding advanced ticket reservations, please visit HERE.
Since the Museum first opened in 2008, it has offered more than 1,200 Public Programs with a diverse list of celebrated artists, both in its intimate 200-seat Clive Davis Theater in Los Angeles and viewed for free on the Museum's official online streaming service, COLLECTION:live.
GRAMMY Museum Appoints Jasen Emmons To Chief Curator & VP Of Curatorial Affairs
(L-R): Grace Yu and Li Yu
Photo Courtesy of Grace Yu and Li Yu
news
GRAMMY Museum Receives Generous Donation From Preferred Bank's Chairman Of The Board And Chief Executive Officer Li Yu
The generous donation from Preferred Bank Chairman of the Board and Chief Executive Officer Li Yu will go toward the GRAMMY Museum's music education programs.
Recording Academy
/
Jul 21, 2022 - 04:16 pm
The GRAMMY Museum received a generous donation from Preferred Bank (NASDAQ: PFBC)'s Chairman of the Board and Chief Executive Officer Li Yu and his wife Grace Yu. The GRAMMY Museum will immediately begin using this gift to further its mission of bringing music education to the community, with a particular focus on expanding access to the Museum and its programs to under-resourced students throughout Los Angeles County.
"We are incredibly grateful to Grace and Li Yu for their generosity and investment in our Music Education Programs," GRAMMY Museum President and CEO Michael Sticka said. "The GRAMMY Museum celebrates the music of yesterday and today to inspire the music of tomorrow. Mr. and Mrs. Yu's donation of $1 million is not only a philanthropic vote of confidence in our mission, but more importantly will help us to further scale our abilities to deliver impactful Music Education Programs."
Li Yu is the founder of Preferred Bank, but previously served as the chairman and president of the National Association of Chinese American Bankers. Yu's charitable focus includes support for music education, as well as diversity and inclusion within the music and arts worlds.
"Grace and I love music. Music touched our hearts and enriched our lives. Music is universal and makes this world a better place to live. Grace and I are thankful to have this opportunity to be helpful to music education," Yu said.
To recognize the Yus for their generosity, the GRAMMY Museum will name its lobby the Grace and Li Yu Lobby, which welcomes all visitors to the Museum and houses the Museum's popular gift shop.
GRAMMY Museum Grant Program Awards $200,000 For Music Research And Sound Preservation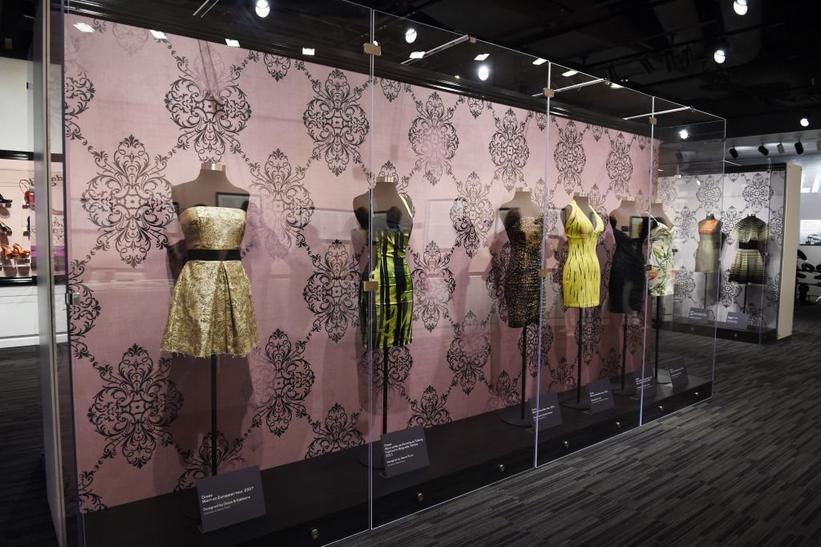 Opening Night Of The GRAMMY Museum Exhibit "Beyond Black - The Style Of Amy Winehouse"

Photo by Amanda Edwards/Getty Images
news
'Beyond Black: The Style of Amy Winehouse' Kicks Off At The GRAMMY Museum
The exhibit, running through April 13, pays tribute to the six-time GRAMMY Award-winning artist, whose iconic style is still defining fashion today
Recording Academy
/
Jan 21, 2020 - 11:55 pm
GRAMMY Week 2020 kicked off with a stylish bang on Monday, Jan. 20 at the GRAMMY Museum's grand opening event for their new Amy Winehouse exhibit, "Beyond Black — The Style of Amy Winehouse." The exhibit pays tribute to the six-time GRAMMY Award-winning artist, whose iconic style is still defining fashion today. The free public event, hosted by music journalist Eve Barlow, was fully booked, and the line of supporters began accumulating more than an hour early.
Longtime roommate and close friend of Amy Winehouse, Catriona Gourlay, and Winehouse's stylist, Naomi Parry, spoke with the Recording Academy before the event about their favorite dresses at the exhibit, how they came to know Winehouse, and the items on display that trigger the most personal memories.
"Amy and I met at a bar because my friend fancied her friend. We bonded over how we both backcombed our hair," Parry recalled with a smile. It wasn't until later though, that she came on board as Winehouse's stylist. "Amy already had the sort of rockabilly style. It started before she and I were working together." Though hesitant to take any credit, Gourlay, who met Amy through a mutual school friend, was in fact responsible for the rockabilly component of Winehouse's wardrobe.
"It was actually because of this vintage shop called Rocket in Camden that Catriona used to work at," Parry explains. "All the girls in there had the curls, tattoos, piercings, and little dresses. Amy was quite heavily influenced by them." Parry went on to describe how, when she came on board, she took it upon herself to modernize Winehouse's style without sacrificing anything the singer particularly identified with. Parry was responsible for introducing Winehouse to different brands and labels because she felt that that's what worked best with her music. "I wanted to make it a little more fashion. I didn't want her to be pigeon-holed in that rockabilly look."
Amy Winehouse's stylist Naomi Parry, Winehouse's close friend Catriona Gourlay and music journalist Eve Barlow participate in a panel discussion
Photo by Amanda Edwards/Getty Images
One dress that stuck out in both Gourlay's and Parry's minds as synonymous with Winehouse arriving at her true style is The Yellow Preen dress, which she wore at the 2007 Brit awards, and was paired with the red, heart-shaped bag that is also on display.
When asked which pieces in the exhibit trigger a particular memory, Gourlay responded first. "We've got some of her Laura Mercier chocolate body cream and her Givenchy Hot Couture perfume, and the combination of things really hits us still. It's that thing you can't have anymore. Smelling somebody again."
For Parry, the memory-triggering item is one not yet on display. "There is a dress which will arrive at the exhibit next week, the first one I did the print design for. It's a dress that's got two flamingos on it that are in sort of a heart shape." Parry explains how this design came to be while sitting in Winehouse's living room with her sketchbook. Deciding the heart shape may be a bit cheesy, she experimented with other flamingo ideas as Amy sat on the sofa opposite. "I'd [drawn] one of them with its head in the water. I was about to leave and she came over to see what I'd been doing. She was taken aback "It's got its head in the water — it looks like a brain!'" So, she changed it back to the heart-shaped flamingos.
Shoes and handbags worn by Amy Winehouse
Photo by Amanda Edwards/Getty Images
And it came as no surprise that Winehouse favored the heart-shaped flamingo design, given that the pages of lyrics and notes on display along the exhibition walls were decorated with heart doodles and illustrations of Winehouse's tattoo art. Winehouse, who liked to draw and write by hand, inspired the GRAMMY Museum to invite artists to give event-goers their own Winehouse doodle souvenirs to take home. Throughout the evening, a line wrapped the second-floor exhibits where guests were having caricature portraits done of themselves with Amy Winehouse.
During the pre-event panel, Parry and Gourlay shared additional stories and memories related to Winehouse's fashion choices. "She was keen to support emerging young designers," Naomi recalls, noting that this often presented a problem on the red carpet. "I would recite the designers' names with her over and over before her events," Parry explained, but Winehouse would draw a blank when she was on the red carpet. "One poor designer…Tina Kalivas, was introduced as 'Tina the Cleaner,'" Parry shared with a laugh.
Winehouse, who passed away in 2011 at age 27, had only released two albums during her short life. However, rather than dwelling on the darkness surrounding her passing as many Winehouse tributes have in the past, this exhibit celebrates Winehouse's colorful and unique style as well as her groundbreaking impact on both music and fashion history.
"It wasn't about how expensive something was, and she didn't mind wearing the same dress two, three, four times." Gourlay said. "It was about what she liked."
"Beyond Black — The Style of Amy Winehouse." opens to the public on Jan. 17 and will run through April 13, 2020. For more information, visit the GRAMMY Museum website.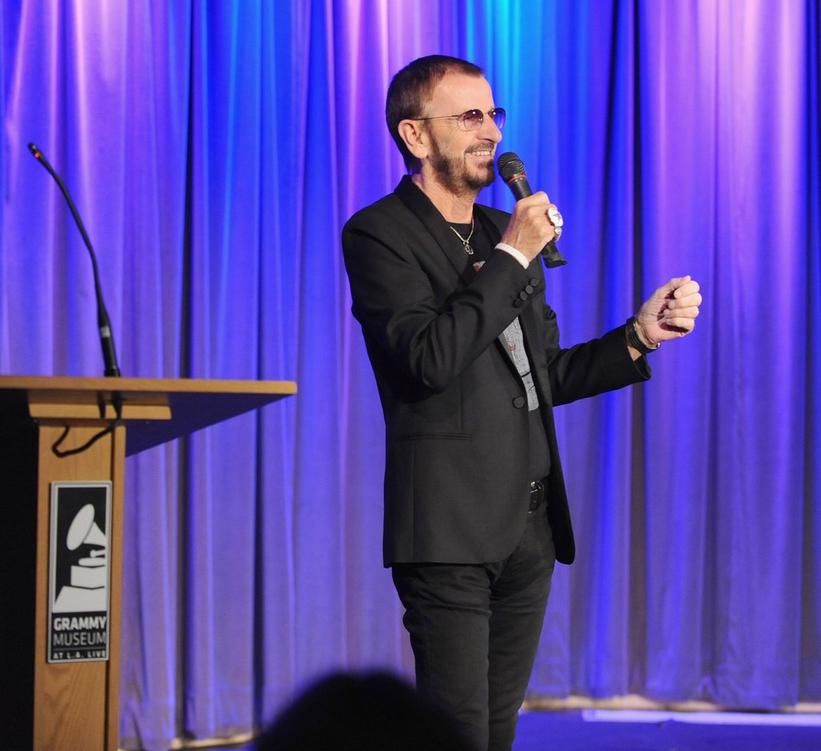 Ringo Starr
Photo: Mark Sullivan/WireImage
interview
Ringo Starr Talks GRAMMY Museum Exhibit, New Music & Embracing Technology
Legendary drummer on his Ringo: Peace & Love exhibit, using smartphones to document song ideas and his advice for aspiring musicians
Recording Academy
/
Mar 21, 2014 - 10:00 pm
February 9, 2014, marked the 50th anniversary of the Beatles' first appearance in America, and it's only fitting that their legacy be celebrated. That night, the Recording Academy in partnership with AEG Ehrlich Ventures and CBS presented "The Beatles: The Night That Changed America – A GRAMMY Salute," a celebration of the group's remarkable legacy and their groundbreaking first appearance on "The Ed Sullivan Show."
Leading up to the Beatles' television special, the GRAMMY Museum teamed up with Ringo Starr to bring visitors a new exhibit titled "Ringo: Peace & Love." The exhibit, which included artifacts from Starr's life, placed great importance on Starr's stint with the Beatles. At the exhibit's opening, GRAMMY.com caught up with Starr who walked us through his process of digging up old photos and paraphernalia. He also touched on embracing the modern age of music, his collaborative songwriting routine, and how his process of making an album has changed over the years.
Did putting together this exhibit together bring back a lot of memories?
Oh yeah. We started last year – just Barbara [Bach, Starr's wife] and I archiving my stuff. We thought this would be a good idea. As it happens in my life, suddenly Barb brings this idea of doing a Ringo GRAMMY Museum [exhibit]. Okay so that made us even get busier because we had a deadline then. Before that, it was sort of casual and seeing those photos. Really we got lucky. We found books of negatives, a box of photos, my mother's boxes I never opened after she died – she had stuff. Just because we were archiving, we found so much stuff and yeah of course it brings back memories.
Looking through all of your accomplishments, do you have a favorite memory of your career throughout the years?
Well there's always more than one. You can't nail that down. It's like your favorite one record. Oh God don't! I mean what happens is we're living our lives and there's a lot of it that is sort of in there but you're not dealing with it on a daily basis. One of the letters we found in my mom's stack was from Rory Storm [of English band the Hurricanes]. He sent me a letter that we had a gig. We knew we were playing Tuesday but this was like for Thursday so he said, "We're playing the Jive Hive. I'll bring your cymbals and your money." So I hadn't remembered that so that was a great letter that she'd kept, not me. So as we were doing this, it kept unfolding stuff, stuff, stuff. And a lot of it's out there. We've made it Ringo, the Musical, and of course the Beatles are heavily featured. Even that was interesting because there were some photos I'd taken of the boys that I'd actually forgot. A lot of stuff came out of the blue really and we were very lucky.
How does it feel to influence so many musicians?
Well you know I don't think we got up in the morning saying, "Oh we're going to be influential." We got up, we played music, and that's what we did. And the Beatles were the best band in the land, it's just how it is. It was great to be part of that. My dream was to play drums. I achieved that and to play with great players and I achieved that and still am with the All Stars so as a musician, my life has been great.
How has your process in the studio and on the road changed over the years? You've been there since the beginning and now everything is focused on social media and the digital world…
I'm Twittering away! I love that and I had a record out a couple of years ago and it was on a USB stick. I've downloaded – I'm paying of course. For me, what's great on iTunes is I can listen to a lot of new acts but I don't have to buy the CD. I can pick a track or leave a track but it's interesting because I get that opportunity to listen to what's out there.
So you're embracing the new technology?
I am embracing the modern age!
What's your gear of choice in the studio and out on the road?
It's still the basic kit. I have a Roland kit, which I play. It's really weird because when I play it – I call it the organic kit – there is my style but on the Roland, it's like another person takes over. It's really fun. It's like Jekyll and Hyde on the drums so I have a lot of fun on them but basically I like the real kit. That's what I play.
When you get an idea for new songs, do you use any technology to record them?
You can just put it down on the iPhone. It's great for wherever you are. You can just say, "Oh I've got a line." Pen and pencil—you don't need that anymore. You just say it. But I am old school. I do like to write it too because I say it and then I like to see what it looks like when I'm writing songs. I'm not a 100% new age guy but I have no problems with what it gets me.
Is there something that you haven't accomplished in your career yet that you'd like to take on?
Nothing. Mt. Everest? No I played with so many great players. I was in an incredible band, we made great music and that's still around. It's not like a play I want to be in. I just want to keep playing really. That's the dream and it's unfolded up to now so I see no reason why it should stop.
Are you going to continue to make albums? What are you working on right now?
That's part of me. You play in the band and then you make a record. What I don't do is I don't go to studios now. I've started a new record and it's all in the guesthouse here in L.A. and I've made the last two in the guesthouse and this is the next one that will be made here. Because there's so many great musicians here. They come up for a cup of tea or whatever and we write or we play so I put a basic track down and then write to that. That's how I've done the last ones, which is in reverse really because usually you'd write the song and then you'd create the music where I've enjoyed lately doing a basic track with the chords. What is great in the new age is sometimes I do stuff that, "OK that's a verse, that's a chorus, that will be a middle 8"—whatever, and then suddenly when you're writing with someone, the verse actually works better if we use it on the music that I designated as the chorus. These days, that's just a press of a button. It's not roll back the tape! So I like the speed of that.
Are you far along on the album now?
I've got 7 basic tracks already and this year touring changed. Usually I tour every summer but I toured in February in Australia and Japan and I'm having a summer holiday. I haven't had one in 4 years because we usually go out. That's when bands play and so November we do South America. And two days in Las Vegas. That's the end of the South American tour is Vegas.
Any musicians that you are planning to feature on the album?
No. A lot of it is random. People come over. I mean Joe Walsh will always come over so he's family so he's been on all the records. I have a set of writers that I call if they are in town. I love L.A. for that – musicians a lot of us hang out and we do a little bit of work and hang out. So there's no pressure of the studio where you've got a lot of people around you and a lot of time and a lot of money. You just hang out. That's how we do it.
What's the official Ringo Starr advice for aspiring musicians?
Well you've got to love what you do. Myself and a lot of the players that we play with we only wanted to play. We got blessed on the way, some of us. We did real good stuff and we made the big time so that's how it was but the main aim was not to be famous. The main aim was to play. That's the difference.
What are your feelings about the Beatles musical legacy that you helped create?
I'm really proud of the music that we made and it took a while but we were very serious and the results are still being played today and that's what's great. It's still going on. How great is that? The memories I have of those days -- I'd like to say every minute was great but it wasn't – but overall, the emotion was great. We worked hard. We only wanted to be musicians. We didn't sort of sit around and say, "Let's be famous." We said, "Let's be musicians." And as you know, unless you're from another planet, the Beatles became very famous. That was part of it but the music is the most important thing you do.
You've been a musical idol for so many people. Who was your idol?
Well, the major hero of mine was Lightnin' Hopkins. I love the blues. When I was 18, I went to the American consulate in Liverpool because I wanted to move to Houston, Texas because Lightnin' was from there. I worked in a factory at the time and was looking at factory jobs in Houston and we went to the embassy and they gave us all these forms to fill out. And we filled them out, this friend of mine and I, and we were 18. Anyway we filled them out, we went back, we gave them these forms we filled and then there were more forms. Well we were 18. We didn't ever go. But you don't know. Life has a strange path and you're just on it.
When you were collecting all these artifacts and going down memory lane, what did Richard Starkey learn about Ringo Starr?
He really learned he loves the drums. That's all I ever wanted to play. I didn't want to play anything else. When I was 13, I wanted to play drums. Several years later, I got some real drums. I made my own at the beginning. Bring in the violins! I was asked that the other day: What is your main thing? Is it drumming, singing, writing? And it's always playing the drums. That's what I do.