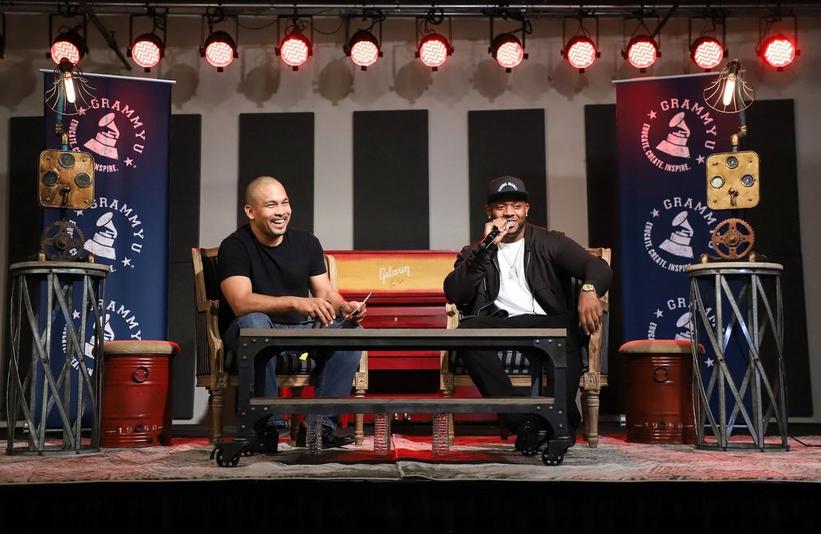 DJ GQ with keynote speaker Mack Maine at the inaugural GRAMMY U Conference
Photo courtesy of GRAMMY U
feature
GRAMMY U Conference Timeline: How The Student-Run Con Changed GRAMMY U For The Better
This year's GRAMMY U Conference presented by Nike will be the biggest one yet. Ahead of the conference, held on April 22, take a trip down memory lane to see how the music industry conference by and for students has evolved over the years.
Recording Academy
/
Apr 21, 2023 - 05:22 pm
The annual GRAMMY U Conference, this year presented by Nike, will be held on Saturday, April 22 at the Hilton Downtown Miami. Designed for aspiring music professionals, the conference is open to all GRAMMY U members and will be livestreamed in part.
With in-person activations, career development stations, and a star-studded list of panelists including Latin GRAMMY nominated artists GALE, Elena Rose, and Guaynaa, this year's event will be the biggest conference yet. 
Yet the GRAMMY U conference wasn't always this size and scope. Travel down memory lane with the GRAMMY U Reps and learn how the conference has evolved since its inception in 2018, as well as what it takes to grow from a local event to a national program.
GRAMMY U Conference Came From Humble Beginnings
The GRAMMY U program has always aimed to provide college students with much-needed access to the often exclusive music industry. Through initiatives like the mentorship program, "Meet the Board" mixers and SoundChecks with major artists, GRAMMY U has opened the door to future industry professionals. It also was created to foster those who would hopefully become the future of the Recording Academy. 
In 2017, GRAMMY U Director Jessie Allen (then the Florida Chapter Project Manager) sat down with Janette Becerra, a GRAMMY U Rep who is now the Academy's Latin Membership Manager at the Recording Academy, to discuss what they could bring to their Chapter's students. They came up with an idea to have a local conference for members in Florida. 
"We were looking for a better way to engage rather than just another Chapter event…the conference was a way that we could get the entire state involved," Becerra says.  
They planned for it to be held on a Saturday so members wouldn't have to miss school and devised a plan for a state-wide carpooling program. Along with former GRAMMY U Director Virginia Faddy, Becerra and Allen created a day of panels focusing on professional and creative development. The first year's panels featured artists and professionals such as Senior VP of Marketing and former GRAMMY U Campus Ambassador Salomon Palacios, artist Emily Estefan, legendary singer/songwriter Betty Wright, and keynote speaker Mack Maine, President of Young Money Records.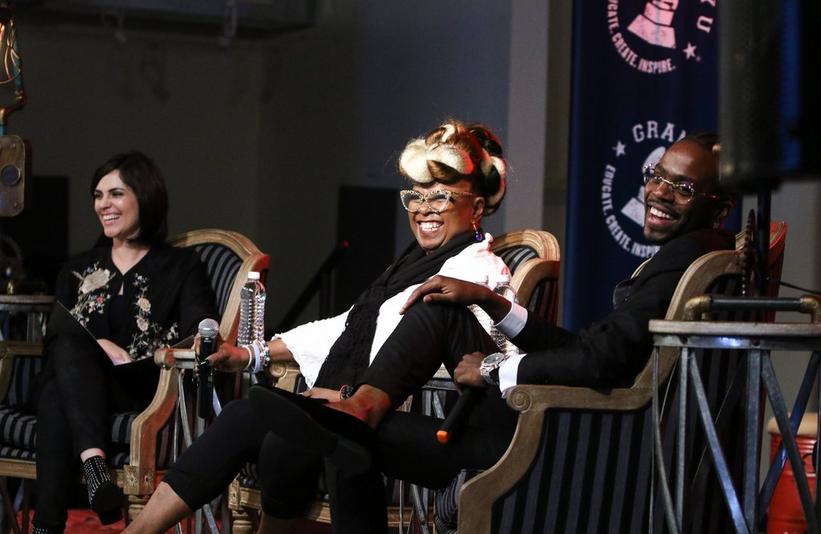 Engineer/Producer Maria Elisa Ayerbe, Betty Wright, and producer/remixer JonFX at the 2018 GRAMMY U Conference | GRAMMY U
The Florida team held another GRAMMY U Conference in 2019, and tried to find innovative ways to improve and expand upon the previous year. One new installation included private demo review sessions, where guests could submit their music for a chance to get feedback from top industry executives and producers. 
The conference also featured a mentorship mixer, where attendees could network with peers and professionals. The keynote speakers were Latin GRAMMY-nominated artists Mau y Ricky in a conversation moderated by fellow Latin GRAMMY nominee, Manu Manzo. Singer/songwriter Cuci Amador, actress and artist Jackie Cruz, and music video director Milcho were just a few the panelists who bestowed wisdom about sustaining a successful career in the music industry. 
Manu Manzo hosts the 2019 artist spotlight keynote with Mau y Ricky | GRAMMY U
Making The Move To The Virtual World
Organizers intended to expand the 2020 GRAMMY U Conference across multiple Chapters, but were met with the harsh realities of mandatory lockdowns and quarantines. Normal end-of-year Recording Academy events were now impossible not only for the Florida Chapter, but for Chapters across the country. 
GRAMMY U student representatives' terms were essentially cut short and, after working hard all year to inspire the next generation of industry professionals, were effectively ending their semesters on a discouraging note.
"We canceled our local conference venue. We already had a conference outline with tons of work being put into the 2020 event and the current Florida [GRAMMY U] Rep, Melanie McGrath, was completely dedicated to its execution," Allen notes. 
Allen and Faddy shared the sentiment that the 2019-2020 GRAMMY U season couldn't end this way. 
"We entertained the idea of uniting all Reps across the nation to reimagine this program as a virtual event that they could build together," Allen continues. "This would not only solve the issue of how 12 Reps would be able to host events during the pandemic, but also give us an amazing opportunity which would ultimately end up evolving GRAMMY U's structure to allow more community and collaboration."
Up until this point, GRAMMY U was predominantly Chapter-based, and members mostly had access to the events happening in their areas. Reps didn't have many opportunities to work with each other due to the distance, aside from monthly virtual meetings.
Thus was born the inaugural National GRAMMY U Virtual Conference — the first conference accessible via livestream to members and nonmembers. To create such a massive event, the Reps from various chapters were split up into smaller groups to develop various aspects of the event. 
"It felt like for the first time we were able to bring the same exciting experience everyone buzzed about in Florida to students all across the country," says Melanie McGrath, the GRAMMY U Florida Chapter Representative for 2019/2020. "It was exciting to work with the other Reps from different cities — I'm still close friends with most of them to this day! — as well as learn more about navigating video/content creation and project management."
The conference featured artists such as Jojo and Oh Wonder as well as industry professionals NYU professor and President/CCO of One77 Jennifer Blakeman, Liz Rose, GRAMMY-winning songwriter and founder of Liz Rose Music Publishing, VP of Latin Music at Universal Music Publishing Group Ana Rosa Santiago, Senior VP of Creative at Kobalt Music, Al "Butler" McLean and Ruby Amanfu, GRAMMY nominated singer/songwriter and producer. It was a major triumph for GRAMMY U as members, who tuned in from all over, and appropriately kicked off with music videos and messages from students.
The New GRAMMY U
In 2021, Jessie Allen stepped into her new position as GRAMMY U Director and wanted to continue this collaboration between Reps from different Chapters to produce national events. Today, GRAMMY U Reps are heavily involved in both local and national programs.
As the pandemic climate continued, the next two years of virtual Conferences featured keynote speakers Julia Michaels and Conan Gray, respectively. The overwhelming progress of the Conference during this time has put GRAMMY U on the map in the music industry, and resulted in new opportunities to hold larger national programs, including the GRAMMY Week Masterclass with Jacob Collier and Jessie Reyez during GRAMMY Week.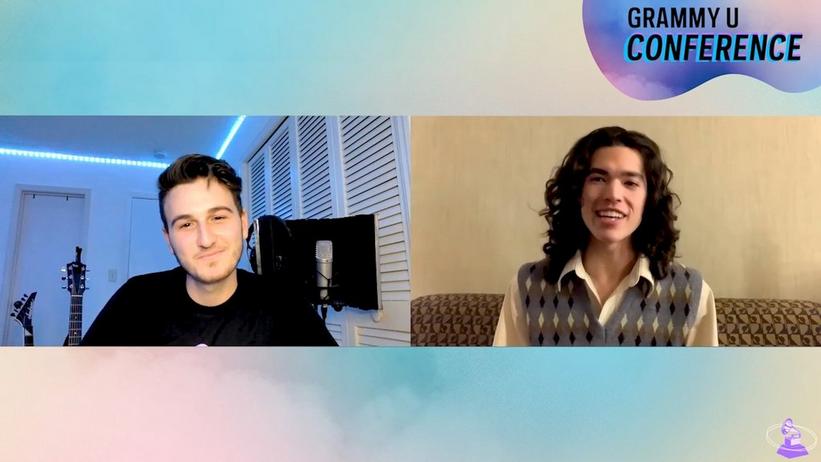 Singer/songwriter Conan Gray during the virtual GRAMMY U conference in 2022 with National GRAMMY U Rep Sam Merkin | GRAMMY U
Carlie Anderson, who has been the Florida GRAMMY U Representative the past two years, is one of the many reps who has been diligently juggling both Chapter and local programs. 
"Working on the GRAMMY U Conference has given me perspective into how much production, planning and teamwork goes into executing an event on this scale," she said when asked about how having these opportunities as a student has affected her career. Anderson said she now feels prepared to take whatever the industry throws at her when she enters the music business as a graduate.
Becerra, whose one spark of an idea set the stage for what GRAMMY U has become today, now gets to see her hard work going far beyond what she imagined. "It's cool to see something that started so small grow into what it is now." 
Presenting The 2023 GRAMMY U Conference
This long journey takes us to this year's conference at the Hilton Downtown Miami. 
After three years of completely virtual content, GRAMMY U is bringing its first national conference to an in-person audience! The event will feature a keynote with Latin GRAMMY-nominated artist Guaynaa in a conversation moderated by Emily Estefan. Panels include discussions on songwriting with artists Elena Rose, GALE and ISADORA, as well as a deep dive into personal branding with industry pros from TikTok, Spotify, and Beats Communications.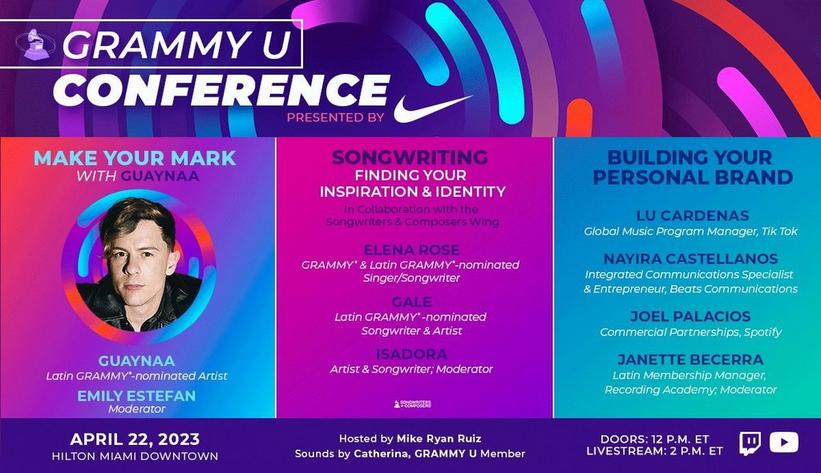 An industry mixer will enable GRAMMY U peers from all over the country to meet each other, along with Recording Academy and Nike executives, for a treasure trove's worth of experience and advice on building your career. Coupled with this mixer will be a special activation by Nike where guests can take one of a kind photos, a professional headshot station, and plenty of GRAMMY U-inspired snacks and merch. 
While the in-person activations are a wonderful luxury, we don't want to limit the benefits of the conference for our members who aren't able to make it out to Miami. The GRAMMY U Conference will be livestreamed on the Recording Academy's YouTube and Twitch channels, while a digital program book and virtual badges will be among the ways virtual attendees can engage. 
Music Education At Chicago's Senn High School: 6 Takeaways From The Chicago Chapter Board's Visit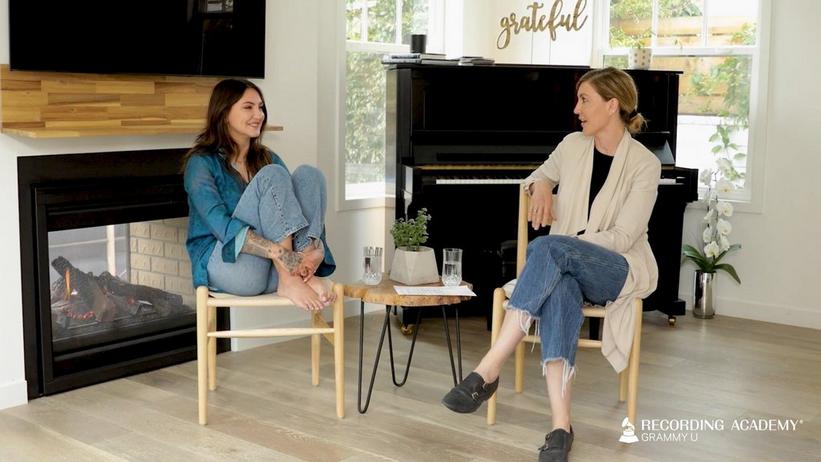 Julia Michaels and Beka Tischker
news
10 Valuable Takeaways From GRAMMY U's 2021 Virtual Conference Featuring Julia Michaels
Here are game-changing takeaways from the conference featuring insight from Julia Michaels and her team that can help students flourish into the next generation of leaders in music
Membership
/
May 8, 2021 - 04:12 am
GRAMMY U, the Recording Academy's university network, hosted their annual Virtual Conference produced by student representatives on May 7 featuring multi-GRAMMY-nominated singer/songwriter Julia Michaels as keynote speaker.
The 2021 GRAMMY U Virtual Conference was an engaging educational event for students aspiring to work in the music industry. The first segment focused on insight into managing an artist's career, finding a supportive network of music professionals, and best practices for securing job opportunities in the field.
Before an artist takes the world stage, there is a lot of behind-the-scenes collaboration that ensures all key components needed to help the musician thrive are in place, such as marketing, A&R, and management. In the case of Julia Michaels, her powerhouse team of music industry executives help her achieve her artistic vision and goals.
The GRAMMY U conference kicked off with a panel highlighting a few of the key players in Michaels' team. Moderated by GRAMMY U Los Angeles Chapter Representative Sierra Dudas, and Chicago Chapter Representative Allison Lapinsky, the 360° View: Exploring an Artist's Team panel featured Marisa Bianco, Senior Vice President of Media at Republic Records; Donna Gryn, Senior Vice president of Marketing at Republic Records; Wendy Goldstein, President of West Coast Creative; and Beka Tischker, CEO and artist manager at Wide Eyed Entertainment.
Below are five game-changing takeaways from the segment that can help students flourish into the next generation of leaders in music. Read on to catch the five takeaways from Michaels one-on-one conversation with her manager, Beka Tischker.
Fill In Where You Need To
As Michaels' manager, Tischker said she wears multiple hats in her job. If you are looking to be an artist manager, you might expect to be their emotional support one day and their guide on career breaking business opportunities the next. "There's no real job description that exists," said Tischker. She explained that it is important to keep an artist's well-being in mind, while also helping to maintain their growing career in a fast-paced industry.
Communication Is Everything
Working with an artist comes with cross-collaboration between several industry professionals. There will be some tasks that require feedback from other teammates. Gryn noted that she often goes to Bianco, Michaels' publicist, for advice and approval on digital strategies for new song releases —whether it be choosing the right time for a music video to premiere or deciding on album cover art. Even though these duties go outside the general marketing department role, Gryn said that she keeps an open mind. "There are some things that cross over, and that's okay," she said. In order to successfully execute your job, Gryn said to make it a point to be communicative with everyone so that there is a mutual agreement on all business strategies.
It All Starts With The Songs
As an A&R executive, Goldstein's responsibilities begin with taking the artist's songs and making them into a contemporary, competitive-sounding record. This comes with finding the right producers to work with that are able to consistently work with the artists during their career, while also finding innovative ways to push artistic boundaries. Next, she works out producer deals, publishing splits and sample clearances to get the songs ready for primetime. "People see records come out every day, but there is a lot of behind-the-scenes work that goes into making something absolutely perfect because it is going to be out there forever," she said.
Authenticity Matters
For up-and-coming musicians, Bianco emphasized the importance of integrity and honesty as an artist. It not only benefits the longevity of an artists' career, but it helps the team of professionals working for them grow and amplify their voice within various spaces of the industry. Bianco's job in media coincides with storytelling so when she sets up interviews or appearances for artists like Michaels she knows a story that portrays the artists' genuine intentions are welcomed by the public with open arms and has more impact. "People know what is real and what is fake," Bianco said. "What they want is real artists."
Look To Your Right And To Your Left
As music industry students, you can expect to be working with the music industry peers that you start out with for the rest of your career because the music industry is not as big as it seems. "One good lesson about the industry is that when you start out, you are working with all these new people, but what you do not realize is that you are all on the same journey," Bianco said. The person you might intern with right now may go on to be a music executive in a few years and you will be working hand in hand with them for years to come, so it is important to treat people kindly. Tischker echoed Bianco's advice by sharing a story during her college days when her professor told her class to "look to your right and to your left. These are the people that you will work with forever."
Julia Michaels And Beka Tischker Talk Music Industry Experience
Julia Michaels
Students tuning in also enjoyed an intimate and honest keynote conversation between Michaels and her longtime manager and friend, Beka Tischker, at the end of the conference.
The chat provided a broad scope of advice for students looking to go into any sector of the multifaceted music industry and was an exemplary conversation perfect to preface the highly anticipated keynote conversation.
Here are the final takeaways from the 2021 GRAMMY U virtual conference during the charming keynote segment featuring Julia Michaels and her manager Beka Tischker:
You Are Allowed To Say No
At age 18, Michaels signed to a small indie publisher and found herself in three songwriting sessions per day, which was a lot to take on at one time. "If I would say, 'I don't know if I could do this today,' it would be full of guilt trips," she said. However, as she began to progress in her career, she eventually met someone that gave her advice to find a manager who could advocate for her and say no to projects that she did not want to take on. That is when she got introduced to Tischker and they immediately clicked and started a working relationship that is nearing 10 years.
Sing Your Story
Michaels reflected on a time early in her career, before she became a signed artist when she wrote her hit single, "Issues," a vulnerable song she made after a hard break-up. She said that it did not feel right to hand it over to another artist because it was a personal message that would be hard to convey since the person would not know the painful experience behind the lyrics. "It was the first time I had put a lot of myself in something," Michaels said. "I'm used to doing [songwriting] for perspective and relatability."
Expect Fast Career Transitions
Tischker remembered the moment where Michaels went from being a behind-the-songwriter to performing on big stages such as the Billboard Music Awards. They expected her first live performance to be small, but one day after another, things changed quickly. "That was a scary time," said Michaels. She immediately went from writing in small studios to performing in front of the world.
RELATED: Learn All About How GRAMMY U's Virtual Conference Featuring Julia Michaels Hopes To Inspire Music Industry Grads
Balancing Multiple Roles Can Be Challenging
For Michaels, balancing songwriting for other artists while also building her career as an artist can be quite time-consuming. "I do love it," she said. However, she has had days where she has a packed day of interviews followed by a songwriting session, leaving her to come home tired from a long workday.
Be Self-Motivated
Not every songwriting session will produce a song that everyone will love. "You can write the best song in the whole world and for some reason people do not like it," said Tischker. That is when self-motivation should come into play in order to maintain a drive for inspiration. In addition, motivation can help in the studio when working hard to take a song to its maximum potential.
Their conversation came to a close by expressing their excitement for Michaels' debut album, Not in Chronological Order, which was released on April 30. The album marks a significant transition in Michaels' career and will open new doors for her as she continues to grow as a signed artist.
The conference ended with a student Q&A with Michaels and left students with important lessons on how to create a promising career path, whether they choose to become a label executive, artist manager, or a singer/songwriter.
You can now watch the conference by visiting the Recording Academy's YouTube channel or Facebook page. For more information on how to join GRAMMY U, visit the Recording Academy's membership website.
Julia Michaels On Her Long-Awaited Debut 'Not In Chronological Order' And How Being In Love Inspired It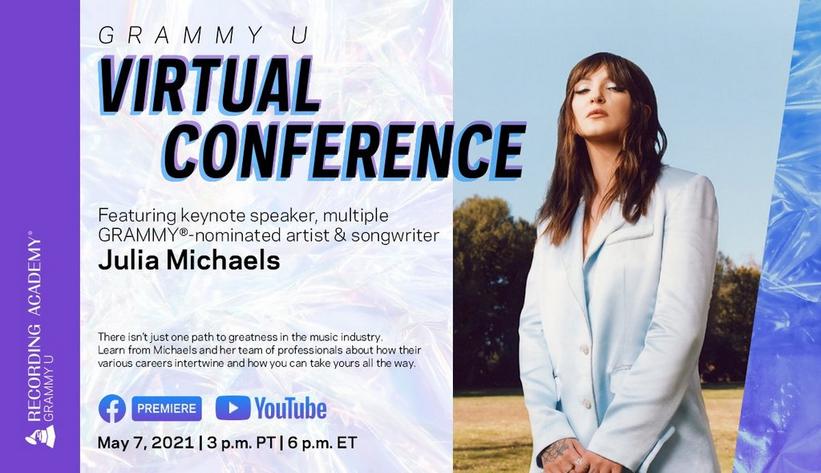 news
Learn All About How GRAMMY U's Virtual Conference Featuring Julia Michaels Hopes To Inspire Music Industry Grads
GRAMMY U, the Recording Academy's university network, came together to organize a conference aiming to provide hope and job insight for future music industry grads. Featuring singer/songwriter Julia Michaels, the conference will livestream May 7
Membership
/
May 5, 2021 - 02:42 am
As the world slowly begins to open again and the music industry continues to navigate this unprecedented time, GRAMMY U, the Recording Academy's university network, wants to make sure future graduates feel like the industry is still a landscape full of possibilities.
Over the last year, hiring freezes, concert venue closures and the shutdown of live music made stepping into a career in the music industry seem bleak.
"It has been a challenging year for the music industry [as a] whole, but it has brought a whole new level of uncertainty to students who aspire to work in this music ecosystem," Stefan Nixon, senior at Saint Mary's College of California and a San Francisco GRAMMY U representative, told GRAMMY.com. "The job market has been hit really hard right as we look at post-grad opportunities to continue our dreams."
To combat some of the hopelessness, GRAMMY U will dedicate its biggest event of the year to providing job insight for students across the country who are seeking job opportunities in the music industry. Through the second annual GRAMMY U Virtual Conference, taking place Friday, May 7, attendees will be able to hear from GRAMMY-nominated singer/songwriter Julia Michaels and her team on what it takes to be an artist and succeed in today's music industry.
The inaugural GRAMMY U virtual conference in 2020 featured two panels and a conversation with Jojo and Ruby Amanfu, among others, followed by a performance spotlighting U.K. alt-pop duo, Oh Wonder. This year, the conference is focusing on one artist and her team in order to provide students with an opportunity to learn about various careers in the industry, including management, A&R, marketing, and public relations. The 2021 edition of the conference will feature two panels, the first of which will start at 3 p.m. PT/6 p.m. ET and available to watch for free on the Recording Academy's Facebook and YouTube pages.
GRAMMY U representatives Allison Lapinski (Chicago Chapter) and Sierra Dudas (Los Angeles Chapter) will moderate the first segment: 360° View: Exploring an Artist's Team. The panel will spotlight the industry leaders who surround Michaels: Marisa Bianco, Senior Vice President of Media, Republic Records; Donna Gryn, Senior Vice President of Marketing, Republic Records; Wendy Goldstein, President of West Coast Creative; and Beka Tischker, CEO of Wide Eyed Entertainment and artist manager.
The second panel will feature a two-part conversation with the "All Your Exes" singer. The first will be a one-on-one chat with her long-time manager and friend, Tischker. The second will be a Q&A session in which Michaels will answer questions submitted by GRAMMY U students.
The event will be open to GRAMMY U members as well as non-members in an effort to maximize the event's uplifting message. "With this being an event open to non-members, we have been able to really extend our reach and showcase GRAMMY U to new audiences," Cassidy Zuver, Nashville Chapter representative and senior at Belmont University who worked on the student marketing team, said.
Much has changed since the last conference, and GRAMMY U representatives have organized the event with the present times in mind, especially given the effects of "Zoom fatigue," offering engaging ways for students to take in what the conference has to offer.
"A lot of students are simply burned out from constant screen time and are looking for something different from their typical panel or webinar," Nixon said. "What we did to try and overcome this was to take our time to brainstorm how we could put together an event that is unique and serves our student population best while still being entertaining and informative—simultaneously."
Nixon added that it was "a tight line to walk on," but he feels GRAMMY U got it just right.
"The other Reps and I have all been working really hard, and I'm already very excited about the way this event is coming together," Ella Sharp, a Pacific Northwest Chapter rep. who is finishing her last year at Shoreline Community College, said.
Sharp, Zuver and Nixon are just three of the 13 GRAMMY U representatives who have put the conference together.
For these students, working on the conference itself gave them hope. "Creating this conference during the current climate in the world just added even more of a special meaning to all of us," Zuver said. "Despite the negative factors in the world that are out of our control, we have managed to put together an uplifting showcase that can serve as inspiration and an escape for the viewers."
Nixon was driven by the belief that the conference can guide students toward their goals: "I think that our conference can shed some light on open doors, passions, and creative endeavors that students might not have thought of before and provide hope to many students who need it right now more than ever."
If the conference is anything like last year, Zuver is confident many will leave with something new. "[Last year,] whether they were an aspiring music industry creative or business professional, they were able to take what was presented to them and create their own magic," she said. "I believe that this year's conference will have the same effect."
GRAMMY U Representatives: Ally Stout (Atlanta), Allison Lapinski (Chicago), Melanie McGrath (Florida), Sierra Dudas (Los Angeles), Charles Seaton (Memphis), Dani Friedman (New York), Cyrus Burns (NOLA), Breana Phelps (Philadelphia), Alany Rodriguez (Texas), Nia Burnley (Washington D.C.), Cassidy Zuver (Nashville), Ella Sharp (Pacific Northwest), and Stefan Nixon (San Francisco).
Julia Michaels On Her Long-Awaited Debut, Not In Chronological Order, And How Being In Love Inspired It