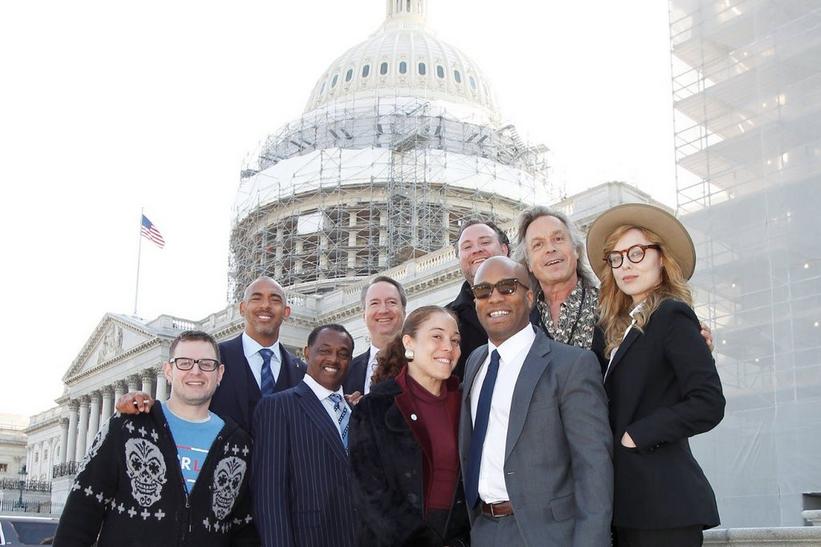 Photo: Paul Morigi/WireImage for the Recording Academy
news
Songwriters & Composers Wing: Celebrating Decades of Advocacy
In honor of the launch of the Academy's Songwriters & Composers Wing, let's reflect on the decades of advocacy by these creators.
Advocacy
/
Mar 14, 2021 - 04:45 pm
Congratulations to songwriters and composers on the establishment of the Recording Academy's Songwriters & Composers Wing!
For decades, these creatives have proven to be an instrumental part of the Academy's advocacy work. Together, we have fought for fair market rate standards, the modernization of the mechanical royalty collection process, and, most recently, financial relief to overcome the COVID-19 pandemic.
At a town hall in Los Angeles in 2017, the Academy partnered with MoZella, Om'Mas Keith, and Rodney Jerkins to educate songwriters and composers on the importance of advocacy. Topics included the importance of using your voice to create change, fighting for fair compensation, and pushing elected officials to enact positive legislative reform, among others. These conversations resulted in the upcoming District Advocate day, where creators from all corners of the country held meetings with members of Congress to stress the importance of these issues. Read more about this event in Billboard's article, "Recording Academy Urges Songwriter Activism to Ensure Music Industry's Future."
Songwriters and composers utilized the skills honed during past outreach to policymakers by advocating for the landmark Music Modernization Act (MMA). Once the legislation passed in 2018, songwriters and composers began to see their hard work materialize, which helped many creatives properly receive the funds they earned and established a new mechanical licensing collective. While the MMA made great progress, songwriters and composers continued to advocate for equitable implementation of the bill.
When proposed wording in the U.S. Copyright Office's (USCO) MMA update had the potential to negatively impact the songwriters it was striving to help, the Academy, representing its songwriter and composer constituency, sent an ex parte letter asking for the USCO to amend any language that could be "construed in any way that changes, diminishes, or alters termination rights, or in any way that makes a substantive determination about the nature of those rights." The letter's goal was to ensure that the USCO did not create an additional burden on songwriters attempting to rightfully reclaim their work.
The Recording Academy also assisted the USCO in designating the entity tasked with administering blanket mechanical licenses for digital streaming services, a key provision of the MMA. The Mechanical Licensing Collective, which started collecting and distributing royalties earlier this year, recently received $424 million in unmatched royalties from streaming services, which will then be distributed to songwriters for free. The Recording Academy hosted a webinar with MLC CEO Kris Ahrend and songwriter Tayla Parx last year to help explain the tremendous benefit of the collective for songwriters and composers.
From meeting with lawmakers on Capitol Hill to actually writing songs with them, let's take a look back at our years spent together fighting for the rights of songwriters and composers:
Above, the Honorable Doug Collins (Ga.) and songwriters Victoria Shaw and Gary Burr collaborate on a new anthem honoring the recently introduced Songwriter Equity Act, and performed the song at GRAMMYs On The Hill in 2014. Credit: Video by Recording Academy/Featured in Washington Post.
Stay Connected: Sign Up For the Academy's Advocacy Newsletter.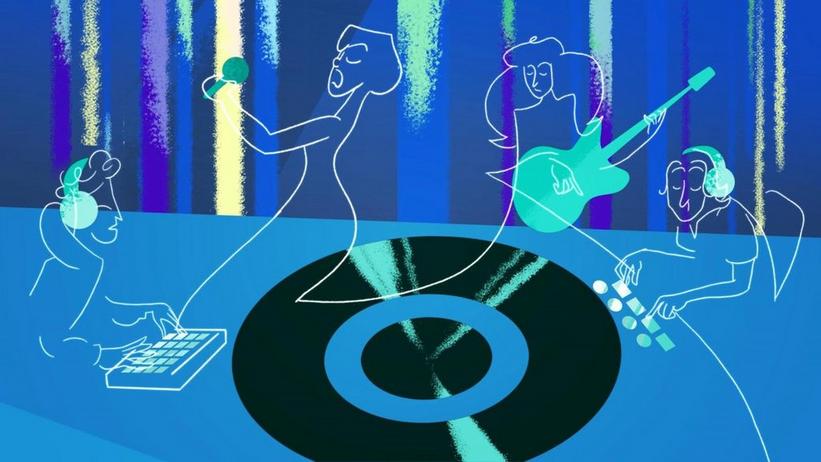 news
The Recording Academy Announces 3rd Annual "Behind The Record" Initiative To Continue To #GiveCredit To Creators In Music
This year, the Recording Academy's "Behind The Record" initiative, a global social media activation aimed at spotlighting the many creators in music, introduces Behind The Record Advocacy, a new virtual program to discus creators' needs with Congress
Recording Academy
/
Oct 12, 2021 - 05:00 pm
The Recording Academy has announced that it will continue giving credit where credit is due with its 3rd annual "Behind The Record" initiative, a global social media activation aimed at spotlighting the many producers, engineers, songwriters, composers, mixers, instrumentalists, and other creators who contribute to the music recording process. Taking place Friday, Oct. 15, the industry-wide conversation encourages artists across all music genres to celebrate their collaborators' incredible behind-the-scenes work on the tracks, records and albums loved by music fans around the world. This year's campaign features a short film, narrated by Recording Academy Board of Trustees Secretary/Treasurer Om'Mas Keith, illustrating that behind every hit song is an intricate dance of creativity that builds and builds to the final product.
A day before the social media activation's launch, on Thursday, Oct. 14, the Recording Academy will introduce Behind The Record Advocacy, a new virtual advocacy program to inform lawmakers about issues affecting the creators behind their favorite records. Building off the success of the Recording Academy's "Behind The Record" initiative, Academy members will meet virtually with members of Congress nationwide to discuss legislation that would have a direct impact on America's recording artists, songwriters and studio professionals, such as the HITS Act and the American Music Fairness Act. With nearly 200 meetings with congressional offices anticipated for Behind The Record Advocacy, members will focus on ensuring that the individuals behind the record are able to earn fair compensation for their work.
"It takes a village to create a recording, and as an organization that serves to support all music creators, we invite our peers to join us in spotlighting the many music professionals behind our favorite songs," Harvey Mason jr., CEO of the Recording Academy, said. "While we celebrate the music professionals behind the scenes, we also recognize the importance of fighting for fair treatment of creators. We're proud of the evolution of 'Behind The Record' to include an advocacy element this year as we continue our ongoing work to ensure all music creators flourish."
"Behind The Record" is supported by the Recording Academy's Advocacy Department, Producers & Engineers Wing and Songwriters & Composers Wing. Supporting all music creators—including the artists behind our favorite records—is an urgent initiative for the Recording Academy year-round. Within the past year alone, the Recording Academy established the Songwriters & Composers Wing to better represent the diverse community of music creators who provide the world with the gift of song. The Academy also reintroduced the HITS Act in the House and Senate, which would allow artists and record producers to deduct 100 percent of sound recording production expenses in the year they are incurred, and continued efforts to support women producers and engineers through its Women In The Mix initiative.
To help the Recording Academy further support creators working behind the scenes, artists can participate in "Behind The Record" by:
Emailing givecredit@recordingacademy.com to request an access code to the Credit Cover Generator Portal.
Posting your Credit Cover across social media channels and tagging those who worked on your project. Use hashtags #BehindTheRecord #GiveCredit #WeAreMusic.
Artists can create Credit Covers for a single track or album, and covers will live in a gallery on the "Behind The Record" website for music fans to view and discover the roles of creatives behind some of their favorite records.
For the third year, Jaxsta, the world's largest public-facing dedicated database of official music credits, provided credits for Warner Music, Sony Music, Universal Music Group, and Merlin releases.
For more information, please visit the "Behind The Record" website. Follow and join the global conversation on social media using the hashtags #BehindTheRecord, #GiveCredit and #WeAreMusic.
Learn More About The Recording Academy's "Behind The Record" Initiative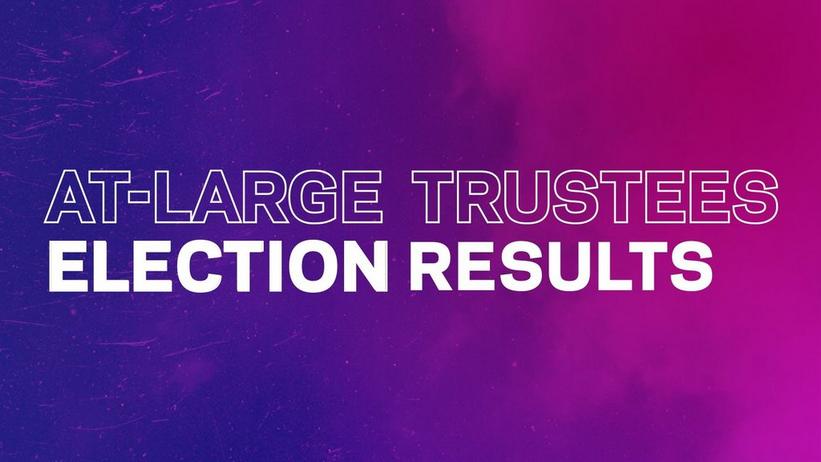 news
The Results Are In: People Of Color Dominate The Recording Academy Board Of Trustees For The First Time
According to a new breakdown by the Recording Academy, people of color account for 53% of the freshly constituted Board of Trustees
Recording Academy
/
Jul 10, 2021 - 02:25 am
The Recording Academy announced the results of its board elections on Friday (July 9), and the results mark a major leap forward for inter-Academy equality.
For the first time, people of color make up the majority of the Recording Academy's Board of Trustees, amounting to 53% of the freshly constituted board; people of Caucasian descent account for the remaining 47%.
As the gender breakdown goes, males account for 56% of the new board and women make up 44%.
The new board contains 45 people, including four officers previously announced: Tammy Hurt (from the Academy's Atlanta chapter), National Chair; Rico Love (Florida), Vice Chair; Om'Mas Keith (Los Angeles), Secretary/Treasurer; and Christine Albert (Texas), Chair Emeritus.
A third of the trustees are GRAMMY winners, including John Legend, Dave Cobb, Leslie Ann Jones, Yolanda Adams, Jimmy Douglass, Lisa Kaplan, Angelique Kidjo, Terri Lyne Carrington, PJ Morton, Chece Alara, Claudia Brant, David "Swagg R' Celious" Harris, Om'Mas Keith, and Julia Michels.
The Recording Academy welcomes this ongoing development of a more equitable Board of Trustees and looks forward to further milestones of inclusivity in the future.
Recording Academy Bolsters Membership With 2,710 Music Creators And Professionals Invited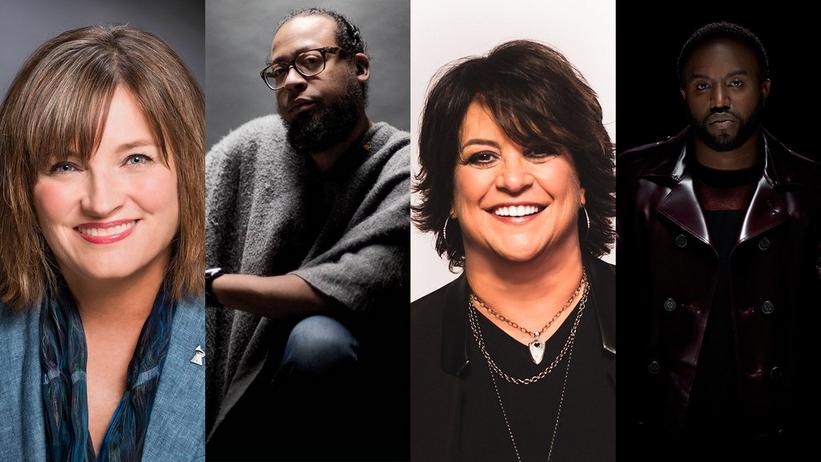 (L-R): Christine Albert, Om'Mas Keith, Tammy Hurt, Rico Love
Photo Credit (L-R): Brenda Ladd, Mark Peace, Rexway, Allen Benedikt
news
The Recording Academy Board Of Trustees Elects Tammy Hurt, Rico Love, Om'Mas Keith, And Christine Albert As National Officers
The Recording Academy has announced its newly elected national officers of the Board of Trustees, voted upon at the organization's annual spring Board of Trustees meeting in May, including Tammy Hurt, Rico Love, Om'Mas Keith, and Christine Albert
Recording Academy
/
Jun 2, 2021 - 10:06 pm
The Recording Academy announced today its newly elected national officers of the Board of Trustees, voted upon at the organization's annual spring Board of Trustees meeting in May. Tammy Hurt was elected as the Chair of the Board of Trustees, and Rico Love will serve as Vice Chair. Om'Mas Keith was elected Secretary/Treasurer and Christine Albert continues her role as Chair Emeritus. All officer appointments are effective immediately.
"I'm in awe of the amazingly talented group that's been elected to lead this new era of the Academy and really excited at the possibilities as I start this journey with Tammy, Rico, Om'Mas, and Christine," Harvey Mason jr., President/CEO of the Recording Academy, said. "I know this group is going to do great work as we continue to transform the Academy and support the music community."
ABOUT THE NATIONAL OFFICERS
Tammy Hurt
As an independent music industry veteran, Tammy Hurt has been a driving force in Atlanta's music scene for decades. An Emmy-nominated producer for her work with the Atlanta Symphony Orchestra, Hurt is the managing partner of Placement Music, a boutique entertainment firm specializing in custom music, scoring and licensing. FOX Sports commissioned the company for two consecutive Super Bowl broadcasts to create an original full orchestral score. Additional credits include Paramount Pictures, CBS, MTV, HBO, BET, Sony, Lifetime, Hallmark, NFL, NASCAR, "True Blood," "Dexter," "Drop Dead Diva," Mean Girls 2, and multiple custom placements in the indie film HITS, which debuted at the Sundance Film Festival.
Hurt's most recent project, Sonic Rebel - We Made This With Our Hands, is a five-song instrumental EP that is a mashup of electronic, rock, glitch, dub trap, and hip-hop elements, releasing summer 2021. Recorded at Big Trouble Recording in L5P Atlanta, the project features Dan Gleason and Ben Homola from Grouplove, engineer TJ Elias, multi-instrumentalist Kevin Spencer on guitar, and Hurt on the drums.
A co-founder of the nonprofit organization Georgia Music Partners, Hurt spearheaded the campaign to create and pass Georgia's first standalone music tax incentive, the Georgia Music Investment Act. She is a recipient of Catalyst Magazine's Top 25 Entrepreneurs and Ones to Watch Award and is an openly LGBTQ+ officer of the Recording Academy.
Rico Love
Rico Love is a three-time SESAC Songwriter of the Year recipient. He has written and produced hit records for artists such as David Guetta/Usher ("Without You"), Romeo Santos ("Promise"), Usher ("There Goes My Baby"), Nelly ("Just a Dream"), Trey Songz ("Heart Attack"), and Kelly Rowland ("Motivation"), and has contributed to GRAMMY-winning works such as Beyoncé's 2009 Best Contemporary R&B Album I Am... Sasha Fierce, Usher's 2010 Best Contemporary R&B Album Raymond v. Raymond, and Usher's 2010 Best Male R&B Vocal Performance for "There Goes My Baby." Love continues to enjoy success as a songwriter and producer, but is equally dedicated and passionate about his new music conference venture, We Love Music Conference, which is designed to educate, inspire and cultivate up-and-coming talent. His label, D1MG, has partnerships at Epic, Hitco and Sony.
Om'Mas Keith
GRAMMY-winning, multiplatinum-selling producer, engineer, composer, musician, performer, executive, and TV personality Om'Mas Keith is a Hollis, Queens, New York, native with a rich musical pedigree. He is one of the founding members of the avant-garde hip-hop/jazz trio Sa-Ra Creative Partners and has worked as a producer and songwriter with such artists as Erykah Badu, Jay-Z, Kanye West, John Legend, Anderson .Paak, Vic Mensa, Kali Uchis, and Frank Ocean.
Om'Mas began his service to the Recording Academy as a Los Angeles Chapter Board Advisor in 2015-2016. He's since served as a Los Angeles Chapter Board Governor & National Trustee. As Awards and Nominations Co-Chair, he oversaw historic positive and cultural change to the awards process. His participation as a team leader during the GRAMMYs on the Hill campaign for the passage of the Music Modernization Act was "a life-changing experience." As a founding member of the Recording Academy's Black Music Collective, he is passionate about its goals of increasing diversity and advocating for racial justice.
Christine Albert
Christine Albert is an independent recording artist and founder/CEO of Swan Songs, an Austin, Texas-based nonprofit that fulfills musical last wishes. She has released 12 independent albums as a solo artist and as part of the folk/Americana duo Albert and Gage. Albert and her husband and musical partner Chris Gage also own and operate MoonHouse Studio and MoonHouse Records in Austin. She is known for her "Texafrance" series of French/English recordings that combine her European heritage and Texas musical roots.
She has appeared on "Austin City Limits," was honored as Female Vocalist of the Year by the Kerrville Folk Festival Music Awards, and was awarded Superstar of Austin Music by the Austin Chamber of Commerce for her community service work. She was inducted into the Texas Songwriter's Association Texas Music Legends Hall of Fame in 2018.
In addition to her role as Chair Emeritus for the Recording Academy, she also currently serves on the Board of Trustees of the Latin Recording Academy and the Board of Directors of MusiCares.
These accomplished, elected officers, in partnership with the newly appointed President/CEO Harvey Mason jr., will lead the Board of Trustees and Recording Academy senior staff to strategically guide and shape the mission and policies of the Recording Academy and its affiliates.
The Recording Academy Appoints Harvey Mason Jr. As President/CEO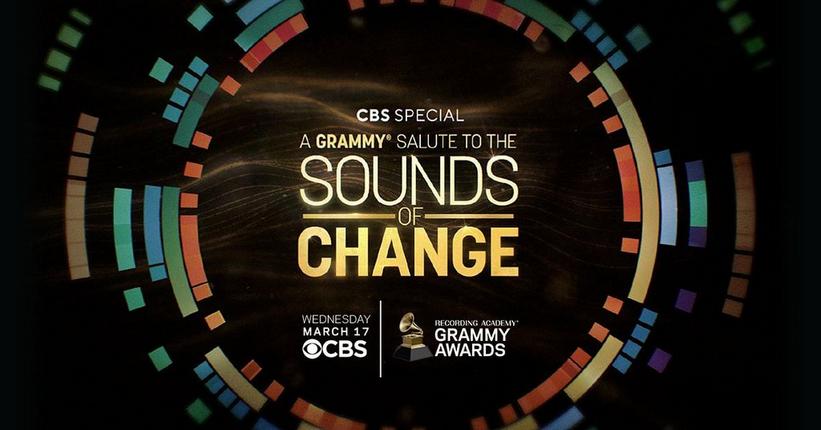 news
Here's What To Expect At "A GRAMMY Salute To The Sounds Of Change" 2021 Special
Hosted by three-time GRAMMY winner Common, "A GRAMMY Salute To The Sounds Of Change" will feature Gladys Knight, LeAnn Rimes, Patti LaBelle, Terrace Martin, Leon Bridges, Brad Paisley and more
Recording Academy
/
Mar 17, 2021 - 04:24 am
With the 2021 GRAMMY Awards show in the rearview and GRAMMY season winding down for the year, The Recording Academy and CBS will present "A GRAMMY Salute To The Sounds Of Change." The show will broadcast Wednesday, March 17, at 9–11p.m. ET/PT and will also be available via livestream and on-demand on Paramount+, ViacomCBS' newest global streaming service. The show will illuminate unforgettable songs that catalyzed social change, both reflecting and shaping their times.
Here's what to expect at "A GRAMMY Salute To The Sounds Of Change."
Common Will Host The Event
The three-time GRAMMY-nominated rapper Common will be the master of ceremonies.
Cynthia Erivo will perform a piano-led version of a solo Beatle classic.
John Prine Will Get His Due
As part of a section focused on environmentalism, the late John Prine will get the spotlight. (So will Marvin Gaye and Woody Guthrie.)
Two Generations Of Country Greats Will Meet
Chris Stapleton will perform a Willie Nelson classic.
Women's Empowerment Will Get The Spotlight
Expect classic GRAMMY performances from Shania Twain and Kesha.
Revisit A Classic Anti-Racist Anthem
Andra Day will sing a song Billie Holiday made immortal.
A Superstar Ensemble Will Sing A Prescient Classic
Gladys Knight, Sheila E. and more will join forces to perform a totemic Marvin Gaye tune.
The Recording Academy And CBS Announce "A GRAMMY Salute To The Sounds Of Change" Special: Gladys Knight, LeAnn Rimes, Cynthia Erivo, Brad Paisley, Chris Stapleton And More Confirmed