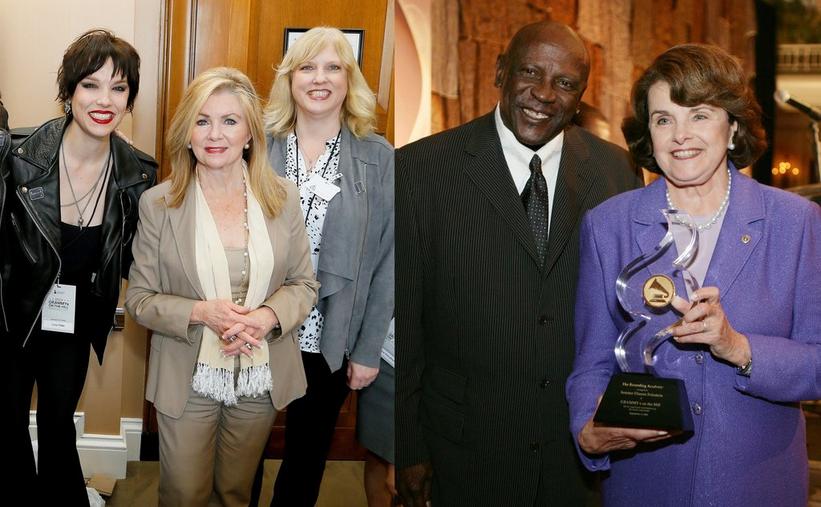 (L) Sen. Marsha Blackburn (R-Tenn.) and (R) Sen. Dianne Feinstein (D-Calif.)
Left Image by Paul Morigi/WireImage for The Recording Academy
news
Sens. Feinstein And Blackburn Introduce The HITS Act In The Senate
Today, Senators Dianne Feinstein (D-Calif.) and Marsha Blackburn (R-Tenn.) introduced the HITS Act in the Senate, serving as a companion to the version introduced in the House
Advocacy
/
Dec 4, 2020 - 03:22 am
Today, Sens. Dianne Feinstein (D-Calif.) and Marsha Blackburn (R-Tenn.) introduced the Help Independent Tracks Succeed (HITS) Act in the Senate. A small tax incentive to help get independent artists back in the studio, the HITS Act allows these artists to deduct 100% of their production expenses in the United States, up to $150,000, in the year expenses are incurred. The legislation serves as a companion bill to the House of Representatives version (H.R.7886), which was introduced by Reps. Linda Sánchez (D-Calif.) and Ron Estes (R-Kan.) earlier this year.
Recording Academy Chair and Interim President/CEO Harvey Mason jr. applauded Sens. Feinstein and Blackburn's legislation. "Today's introduction of the HITS Act in the Senate lays the groundwork for creators to produce new music and create jobs amidst a year filled with economic uncertainty. This change in the tax code – similar to the tax treatment of other creative industries -- will incentivize more music production. The Recording Academy thanks Senators Feinstein and Blackburn for their leadership on this issue and for introducing the Senate companion to the House bill, which already enjoys broad, bipartisan support."
In a joint press release, Sens. Feinstein and Blackburn stressed the importance of passing the HITS Act. "Because most large, public gatherings have been prohibited since the pandemic began, musicians and music producers have been among the hardest hit by the coronavirus," Senator Feinstein said about the HITS Act. "Our bill would provide relief by allowing independent musicians, technicians and producers to deduct their production expenses in the same year they occur, rather than forcing them to spread those deductions out over several years. This is in line with how expenses are treated for film, television and theater productions, and it makes sense to create parity for music productions."
"Singers and songwriters lift our spirits and now need our help to get past the pandemic," Senator Blackburn said. "These artists are the lifeblood of Nashville's creative community. This bipartisan legislation will provide additional tax deductions to ease the burden facing our creative community by allowing our independent artists to fully deduct the cost of producing their music."
The Recording Academy recently sent a letter to Congressional leadership advocating for the inclusion of pro-creator policies in future COVID-centric stimulus packages, including a call to pass the HITS Act. The letter, which was also signed by 21 organizations in the music community, argued that, "Congress must ensure that tax relief reaches musicians and workers in the performing arts by passing the Performing Artist Tax Parity Act and the HITS Act." The letter concludes with a call for Congress to take action before the conclusion of the year, stating, "We hope that with your leadership, Congress, in the upcoming lame duck session, will take this clear opportunity to save American music, culture, and countless small businesses."
Mason also called on Congress to pass the bipartisan and now bicameral HITS Act in a recent opinion piece featured in The Hill. A creator himself, Mason advocated for the positive financial benefit of this modest tax bill, especially in a post-pandemic music ecosystem. "With music venues remaining closed, music creators have struggled to find sustainable ways to earn a livable income. Instead, many are using this time to create and produce new music, with the goal of returning to the studio in order to record," argued Mason.
Let's hope Congress takes swift action on the HITS Act in order to provide relief to struggling creators before the conclusion of this year!
Read Harvey Mason jr.'s full opinion piece in The Hill.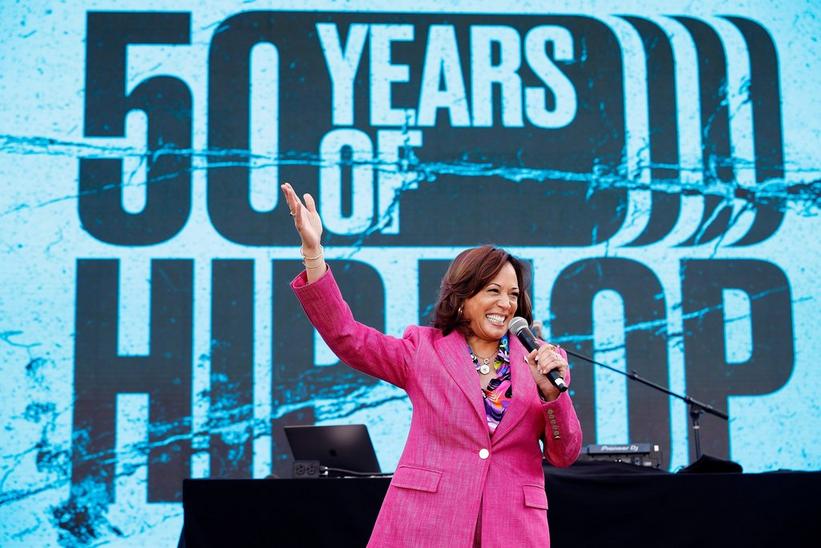 U.S. Vice President Kamala Harris speaks on stage during the 50th Anniversary of Hip-Hop Celebration
Photo: Tasos Katopodis/Getty Images for The Recording Academy
news
How Vice President Kamala Harris And The Recording Academy Celebrated The 50th Anniversary Of Hip-Hop: "Hip-Hop Culture Is America's Culture"
Presented by Live Nation Urban, the Recording Academy's Black Music Collective, and the U.S. Vice President's office, the once-in-a-lifetime event celebrated 50 years of hip-hop with multiple performances from Lil Wayne, Common and more hip-hop luminaries
Recording Academy
/
Sep 15, 2023 - 08:19 pm
"Welcome to the first-ever hip-hop house party at the home of the Vice President of the United States," U.S. Vice President Kamala Harris said excitedly from a lively stage propped up in her backyard. Her words reminded folks of the Notorious B.I.G.'s eternal lyrics: "You never thought that hip-hop would take it this far."
Indeed, as guests gathered at Vice President Harris' residence in Washington, D.C., on Saturday for a private, intimate event celebrating the 50th anniversary of hip-hop, a palpable sense of wonder and awe, mixed with waves of laughter and bliss, overtook the energized crowd. Here we were, honoring hip-hop in the home of the Vice President, with rap classics blasting from the stage as the unrelenting D.C. sun kept attendees beaming and alive.
The celebration, co-presented by Live Nation Urban and the Recording Academy's Black Music Collective, recognized hip-hop's global influence, evolution and long-lasting impact and brought together music industry professionals, U.S. Senators and Governors, politicians, and celebrated rappers — all true fans of and believers in the power of hip-hop. 
Among them, Vice President Harris was perhaps the most vocal hip-hop supporter of them all. In an impassioned, heartfelt speech, she boasted of the immeasurable impact hip-hop has made on American culture. 
"Hip-hop is the ultimate American art form … Hip-hop now shapes nearly every aspect of America's popular culture," she said. "And it reflects the incredible diversity and ingenuity of the American people. 
"Hip-hop culture is America's culture," she continued. "It is a genre. It is music, melody and rhyme. And hip-hop is also an ethos of strength and self-determination, of ambition and aspiration, of pride, power, and purpose." 
Second Gentleman Douglas Emhoff, who confirmed with the audience that his home with Vice President Harris is, as a matter of fact, a "hip-hop household," echoed the sentiment in his opening remarks, emphasizing that the event aimed to "celebrate the legends who pioneered the music we love, the next generations who will carry on their legacy, and the artists and producers who use the power of music to create change."
For the Recording Academy, the celebration was a historic milestone in the evolution of hip-hop music and culture as a whole and the latest installment in the organization's year-long celebration of 50 years of hip-hop. In February, hip-hop took over the 2023 GRAMMYs with a special, star-studded tribute to hip-hop's 50th anniversary featuring performances from rap pioneers (Grandmaster Flash, Run-D.M.C., Chuck D, Flavor Flav), modern legends (Busta Rhymes, Missy Elliott, Lil Wayne), and next-gen stars (GloRilla, Lil Baby). Now, from the GRAMMYs stage to the Vice President's backyard, hip-hop is everywhere, and the genre's impact has touched virtually every aspect of global pop culture. 
"Now, fifty years later, there's not a single genre of music that hasn't absorbed something essential from hip-hop," Recording Academy CEO Harvey Mason jr. said in a speech as he introduced "the first Vice President of the hip-hop generation."
"Our Vice President was rooted in hip-hop. It is essential to who she is. And — as today shows — she has brought hip-hop with her to the White House," he continued.
The multifaceted event featured a variety of performances and speeches celebrating the five core pillars of hip-hop: MCing, DJing, breakdancing, graffiti and beatboxing. As performers like legendary beatboxer Doug E. Fresh, DJ Dom and DJ D-Nice commanded the stage, Bboy Gravity and his breakdance crew wowed the audience with their neck-breaking moves; throughout the event, a graffiti artist completed a live graffiti mural wall painting from beginning to end.
"This event perfectly embodied everything that we at the Black Music Collective are about, and it's been the honor of a lifetime to work alongside other industry leaders and Vice President Kamala Harris to curate this historic celebration," Ryan Butler, the Recording Academy's Vice President of Diversity, Equity & Inclusion, said in a statement. "We chose to focus on five key pillars of hip-hop — MC, DJ, breakdance, graffiti and beatbox — which allowed us to celebrate all of the distinct elements of such a culturally significant movement."
A powerful lineup of artists further framed the five elements of hip-hop. Remy Ma, MC Lyte and Roxanne Shanté showcased some of the many ways women have influenced hip-hop culture, while Bay Area rapper Too $hort represented the West Coast with his performance of his classic hits "Life is Too $hort" and "Blow the Whistle." Common's freestyle-fueled performance exemplified the higher-learning, conscious-expression aspect of hip-hop, while fellow Chicago rapper Saba held it down for the fresh faces of hip-hop. The event also featured performances by legendary rappers Fat Joe, Slick Rick, Doug E. Fresh, D.C.'s own Wale, Jeezy, who performed his fitting hit "My President," and Lil Wayne, who delivered a show-stopping, career-spanning closing set.
As the event ended, an ominous thunderstorm loomed up in the clouds, but that didn't stop attendees from basking in the afterglow, snapping their final selfies and videos of what was truly a once-in-a-lifetime experience. 
Too $hort best summed up that sense of unbelievable astonishment.
"The journey of hip-hop was not projected to be this," Too $hort said during an on-site interview. "It's a beautiful thing that the image of the culture has changed enough to be used as a tool … Every aspect of life is influenced by hip-hop. Nobody expected that … But at the same time, we were relentless enough to keep doing our craft, and now we're here — we're here! I can't believe I'm here."
— With additional reporting from John Ochoa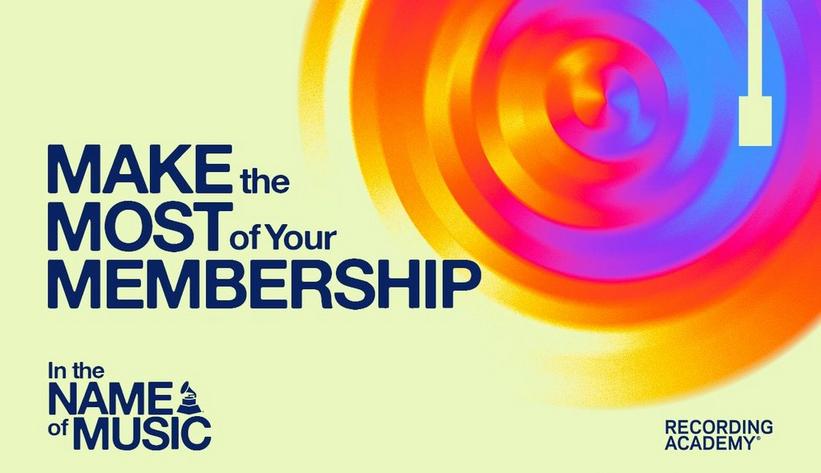 Recording Academy Membership
Graphic Courtesy of the Recording Academy
list
4 Ways To Maximize Your Recording Academy Membership
Here is a thorough guide to the primary ways all Recording Academy members can use their platform, maximize their membership, and get involved with the Academy's various divisions and initiatives.
Recording Academy
/
Aug 9, 2023 - 07:29 pm
If you're reading this, chances are you've decided to become a member of the Recording Academy. You are to be commended for this decision!
As part of the world's leading society of music people, you are in a unique position to make your voice heard — and effect change that not only manifests during the GRAMMYs show, but ripples throughout the music industry and world at large.
As such, becoming a member is merely the first step: it's time to use your platform to the fullest and get involved with the Academy's various divisions and initiatives. Below is a handy guide to the primary ways you can maximize your Recording Academy membership.
Fight For Music Creator's Rights
One of the most crucial divisions of the Recording Academy is Advocacy, which fights to protect the rights of music makers and advance their interests in the realms of /ocal, state and federal policy.
Additionally, Advocacy works to educate the public about key legislation and policy issues that affect everyone in the music community.
As an Academy member, you can get involved with Advocacy in a number of ways. One is by familiarizing yourself with GRAMMYs On The Hill, a two-day event consisting of the GRAMMYs on the Hill Awards and subsequent Advocacy Day.
Over the course of these events, music creators come together with Members of Congress to celebrate those who have been exceptional in their support of creator's rights and to advocate for the passage of legislation that will further improve those rights.
Read More: Everything You Need To Know About GRAMMYs On The Hill 2023: What It Is, Who It Benefits & What It Has Accomplished
Another important component of Advocacy is District Advocate, the largest grassroots advocacy movement for music and its makers.
This manifests every year in District Advocate Day, where Recording Academy members across the U.S. met virtually with their Senators and Congressional Representatives to fight for change for the music community.
Other facets of Advocacy to get acquainted with include the GRAMMY Fund For Music Creators and the quarterly advocacy newsletter and annual magazine. Furthermore, click here for a helpful landing page that features practical routes to support Advocacy initiatives.
Support The Next Generation of Music
The GRAMMY Museum's education initiatives aim to keep music in our schools and introduce music as a profession to young people.
Here are four ways they do this:
Education
The GRAMMY Museum's K-12 educational outreach and funding efforts ensure the future of music is only as strong as the next generation of creators. Last year alone, the Museum reached more than 700,000+ students through their free virtual education programming by way of GRAMMY Museum At Home and online streaming service, COLLECTION:live. 
Community Engagement
Their many public programs range from panels on the state of the music industry to intimate performances.
On-Site Exhibits
The Museum's Los Angeles location offers a variety of interactive and educational experiences that provide insights into artists who have shaped music history — as well as the creative process itself.
COLLECTION:live
Re:live Music Moments on COLLECTION:live, the official streaming service from the GRAMMY Museum featuring artist interviews, performances, and livestreams.
Support Music Makers
As a freshly minted member of the Recording Academy, you can help spread awareness of resources that aid all music makers in need.
Founded by the Recording Academy in 1989, MusiCares is an independent 501(c)(3) non-profit dedicated to supporting the health and welfare of the music community through preventative care, crisis relief and recovery support.
Here are just some of the ways MusiCares is here to support you and your peers in the music community:
Mental Health & Addiction Recovery Services
Support, referrals, and emergency financial assistance for counseling, psychiatric care, inpatient treatment, coaching, intensive outpatient care, group therapy, sober living and more.
Health Services
Financial assistance during medical crises and preventive services such as dental and medical screenings, hearing clinics, vocal health workshops, and assistance obtaining low-cost health insurance.
Human Services
MusiCares provides humanitarian disaster relief, and emergency financial assistance for basic living expenses like rent, utilities, car payments and insurance premiums. 
They can also assist with funeral costs, or instrument replacement/repair if stolen or damaged in a natural disaster — excluding wear and tear. 
The human services team also offers preventive programs addressing financial literacy, affordable housing, career development, legal issues, and senior services.
Support The Academy's Future & Evolution
As a member, you have the ability to make big moves at the Academy by:
Recommending fellow music peers to become members

Submitting projects for GRAMMY Awards consideration

Proposing amendments to GRAMMY Awards rules

Voting in the GRAMMY Awards process (if you're a voting member; key dates here)

Getting involved in the Academy's DEI efforts

Running for a Recording Academy board and/or participating on advisory committees

Joining local chapters and voting in chapter elections

Participating in members-only programs

Supporting the Producers & Engineers (P&E) and Songwriters & Composers (S&C) wings
Additionally, you can become eligible to purchase GRAMMYs tickets and join the Latin Recording Academy as a dual member.
The Recording Academy is thrilled to have you as a member — whether you've already joined, or plan to join in the future! Watch this space for further news about Recording Academy membership and all other goings-on with the world's leading society of music people.
The Online Entry Process For The 2024 GRAMMYs Explained: How To Submit, Upcoming Deadlines & Webinars, GRAMMY Nominations & Voting Process, And More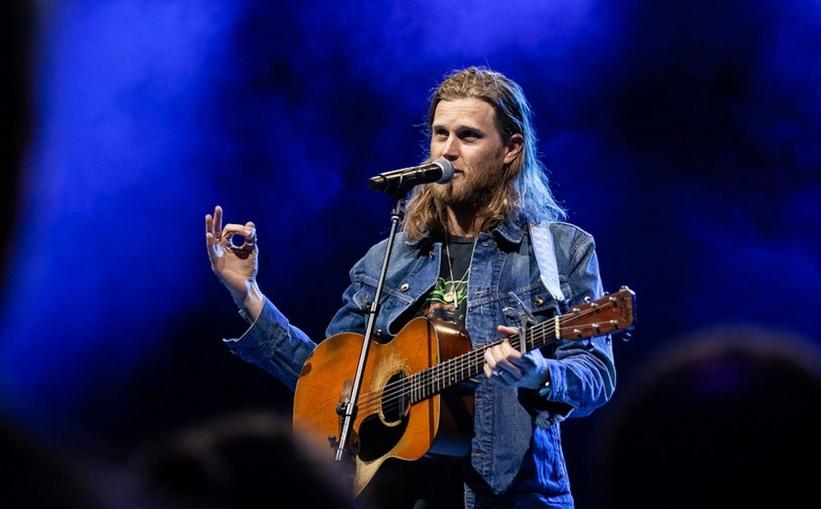 Wesley Schultz of the Lumineers performing at the Right Here, Right Now Mini Global Climate Concert Series at the Boulder Theater in Colorado on April 13, 2023
list
How The Recording Academy And United Nations Human Rights Are Tackling Climate Change: 5 Takeaways From The Right Here, Right Now Mini Global Climate Concert Series
The first activation of the Recording Academy's collaboration with United Nations Human Rights featured impassioned speeches about climate change and unforgettable performances from the Lumineers frontman Wesley Schultz and special guest Yola.
Recording Academy
/
Apr 28, 2023 - 04:58 pm
For centuries, music has soundtracked the fight for societal change and revolutions around the world. From the protest anthems of the Civil Rights Movement to the powerful songs fueling the protests in Iran, music has remained an essential ingredient in the ongoing battle for progress and universal equality. Now, the Recording Academy, in partnership with United Nations Human Rights, continues this long tradition of championing progress via music.
This month, the Recording Academy announced a partnership with several United Nations Human Rights-supported global initiatives that aims to promote global social justice via the power of music. The multifaceted campaign will invite leading artists to use their talents and platforms to advocate for United Nations Human Rights goals, including advocating for the rights of women and the LGBTQ+ community as well as a host of other human rights issues, including gender equality and climate justice.
The Right Here, Right Now Music initiative — a partnership between the Recording Academy and the Right Here, Right Now Global Climate Alliance (Right Here, Right Now) — aims to combat the human rights crisis resulting from climate change, a timely issue impacting vurnerable communities around the world.
The Right Here, Right Now Mini Global Climate Concert Series, the first activation in this newly announced partnership, addressed this important issue head-on. The concert, held in Colorado's iconic Boulder Theater on Thursday, April 13, enlisted major artists, including the Lumineerslead singer and co-founder Wesley Schultz and special guestYola, as well as leaders in the music and intergovernmental industries to call attention to the human rights implications of climate change.
The powerful performances from Yola and Schultz — combined with speeches addressing the importance of utilizing music as a tool to combat climate change — created an atmosphere of longing with an undercurrent of hope for the future.
"I wanted to show our support for these hosts, the Recording Academy and the United Nations [Human Rights], at this forum that addressed the interconnectedness of human rights and climate change," Schultz told the Recording Academy via email about his involvement in the Right Here, Right Now Mini Global Climate Concert Series. "As touring musicians, we can raise awareness about sustainable goals and inspire dialogue about the global climate crisis. As touring musicians, we can raise awareness and amplify calls to action for governments, education, businesses, and individuals to fight the global climate crisis.
"It is everyone's responsibility to help battle climate change," he continued. "But as touring musicians, we must work to seek out real solutions to the sizable carbon footprint that being on the road causes. That's why I'm working with an organization like Sound Future, who are working on finding systemic fixes to help touring become more carbon neutral."
The Recording Academy attended the inaugural Right Here, Right Now Mini Global Climate Concert Series in person. Below are five key takeaways from the collaborative launch event.
The Event's Location Was Chosen Deliberately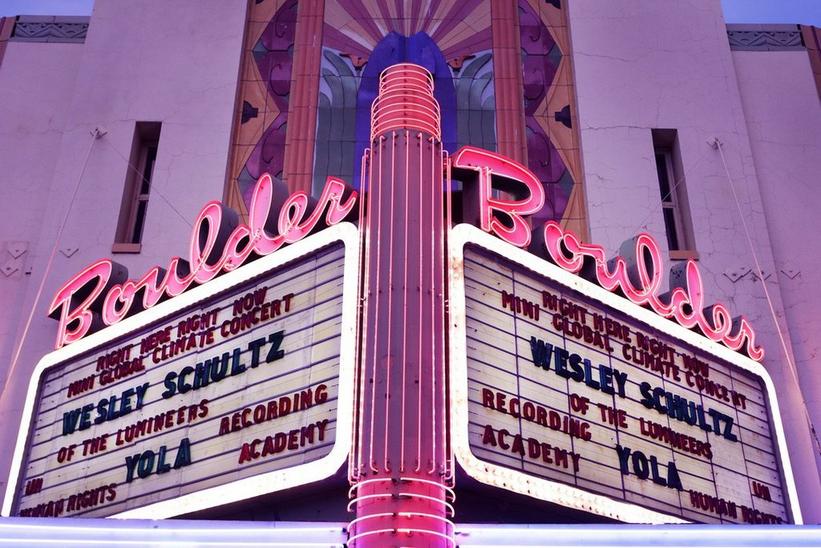 Outdoor marquee sign at the Boulder Theater in Colorado for the Right Here, Right Now Mini Global Climate Concert Series on April 13, 2023 | Photo: David Rose
David Clark, founder and CEO of Right Here, Right Now Global Climate Alliance, explained that launching the Mini Global Climate Concert Series in Boulder, Colorado, an area he described as a "hotbed" for climate justice, was a very conscious choice.
"We've got amazing national labs that are coming up with cutting-edge technology, cutting-edge data, research that's shaping the climate dialogue around the world," he said at the concert.
Boulder was also the home of last year's Right Here, Right Now Global Climate Summit, which hosted experts from over 100 nations, including Mary Robinson, the former U.N. High Commissioner for Human Rights and the President of Ireland.
The Climate Crisis Is A Human Crisis
The climate crisis already disproportionately impacts socially vulnerable groups: women, children, low-income families, and other historically marginalized communities.
"Human-caused climate change has already caused substantial and irreversible damage to ecosystems and livelihoods with disproportionate impacts on people in ongoing situations," Benjamin Schachter, UN Human Rights Team Leader for Environment and Climate Change, explained from the stage.
Schachter emphasized that countless lives have been lost due to the climate crisis already, and millions of people are displaced by climate and weather-related disasters annually.
Music Creates Powerful Connections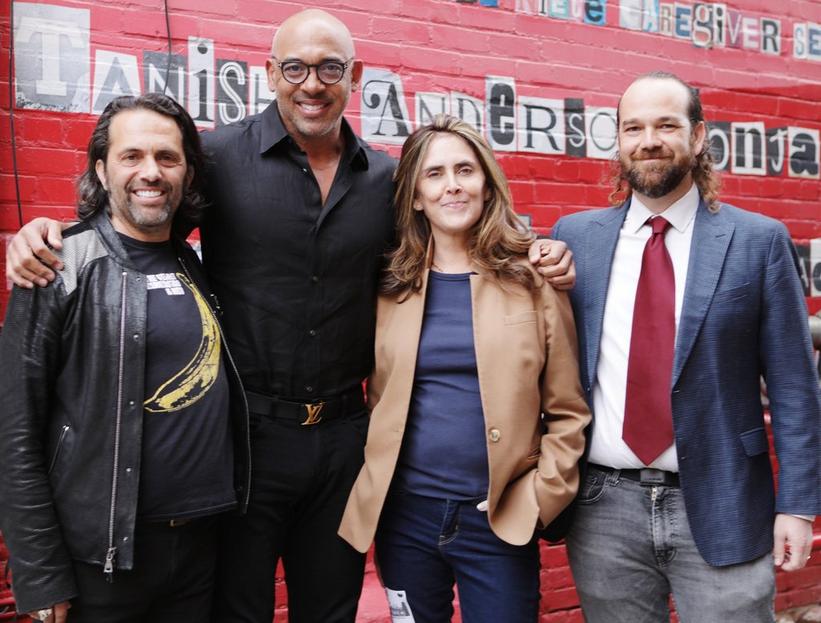 (L-R) David Clark, Harvey Mason jr., Chantel Sausedo, Benjamin Schachter | Photo: David Rose
The Recording Academy has a long history of championing change through the power of music — a point highlighted throughout the Right Here, Right Now Mini Global Climate Concert Series.
"Music is a crucial means of [catalyzing transformative action]," Schachter said. "It constitutes a common language, a means of expression."
"Music has some special abilities," Harvey Mason jr., CEO of the Recording Academy, explained in an impassioned speech from the stage. "It has the ability to give a voice to those that have none, to shine a light on injustices that exist in our world, and to inspire us all to take action."
Mason jr. also amplified an impactful message that reflected the theme of the night: Music is not just a means for entertainment, but a "powerful tool to galvanize social movements to speak the truth, the power to create community and to bring disparate people together for a common cause."
The World Must Band Together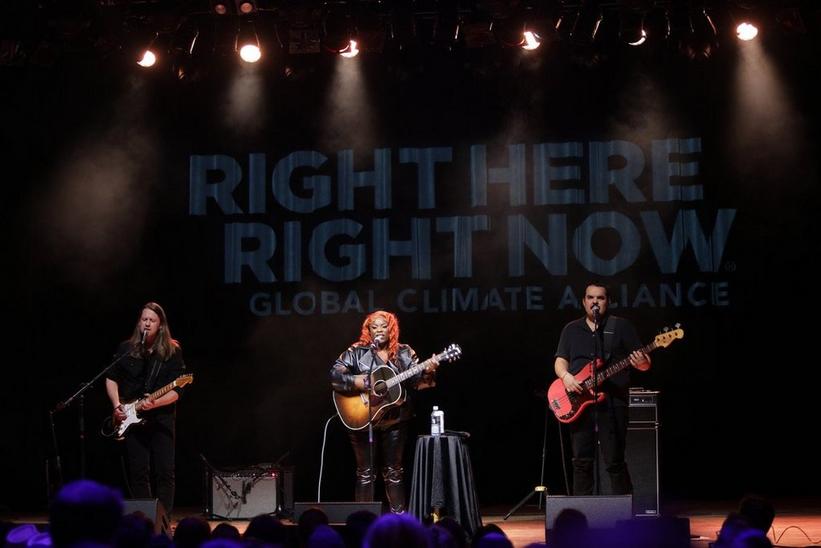 Yola performing at the Right Here, Right Now Mini Global Climate Concert Series at the Boulder Theater in Colorado on April 13, 2023 | Photo: David Rose
Internationally acclaimed and GRAMMY-nominated guest artist Yola performed a no-frills set of raw, vocally driven songs intertwined with the mellow strum of her acoustic guitar. Many of Yola's songs spoke to her newfound strength to stand up for herself, a concept she explored on her 2021 album, Stand For Myself, and clap back at those in power — an appropriate theme that resonated throughout the environmental justice concert.
"This next one might be a little on the nose," Yola chuckled on stage as she introduced her aptly named, GRAMMY-nominated song, "Diamond Studded Shoes," and described the diamond-studded heels of a politician who was "slapping the meals out of kids' hands." The song's moving lyrics — "For the life and soul of the world we know/Fight, 'cause the promise is never gonna be enough" — and theme fully captured the message of the night: Even if things might be bad, resistance is possible and "it'll be fine if we just band together," she said.
Small Actions Lead To Impactful Change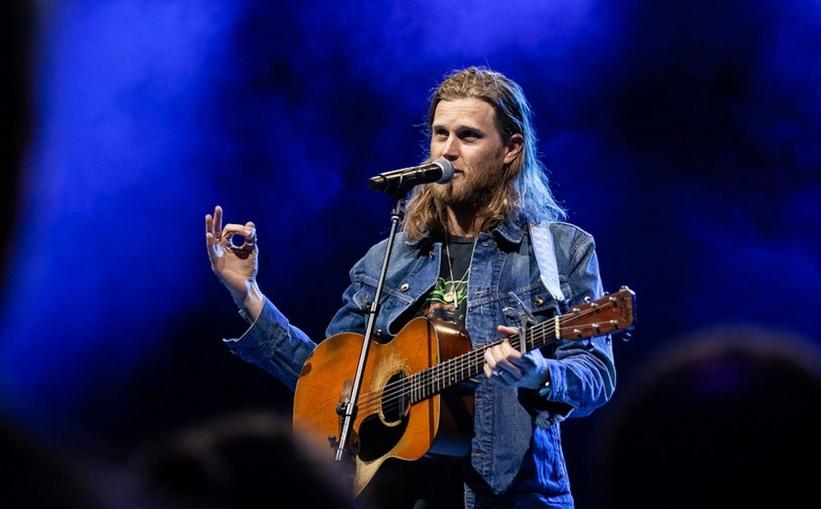 Wesley Schultz of the Lumineers performing at the Right Here, Right Now Mini Global Climate Concert Series at the Boulder Theater in Colorado on April 13, 2023 | Photo: Dave Arnold
Wesley Schultz of the Lumineers took the stage to thunderous applause. Like Yola, Schultz's performance was an unedited glimpse at his raw talent: a 45-minute set composed of just his voice and an acoustic guitar.
Between songs – some of which were covers, others originals – Schultz shared stirring glimpses into his personal life, from his dad's death to a psychedelic-infused trip he had with his wife.
Schultz also shared that his wife, Brandy, is a co-founder of Sound Future, a nonprofit focused on "accelerating climate innovation for the live event industry," according to the organization's website. He explained how Sound Future used flexible solar panels and the heat of the Texas sun to power the stage at Willie Nelson's concert in Luck, Texas.
"It's a very simple idea, right? That we can turn certain things that seem really daunting into something that's very doable," Schultz reflected on the stage. "I think we can all make these little steps here and there, [combined] with the brilliant minds that people have out there, to make some innovation, to make [live shows] a little more friendly on the environment."
Learn more about the Recording Academy's and United Nations Human Rights' partnership, and stay tuned for future news and developments.
Fight The Power: 11 Powerful Protest Songs Advocating For Racial Justice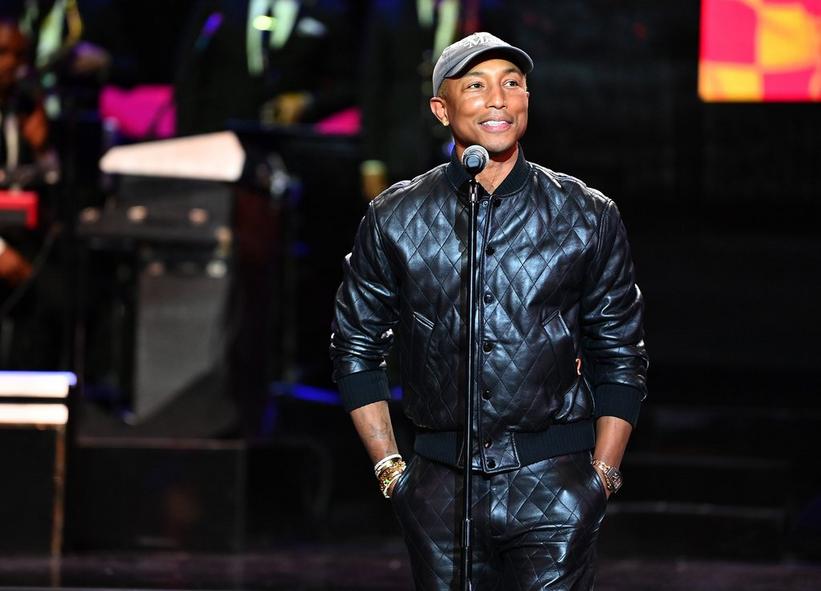 Pharrell Williams speaks at the TV One Urban One Honors in December 2022.
Photo: Paras Griffin/Getty Images for Urban One Honors
list
4 Ways Pharrell Williams Has Made An Impact: Supporting The Music Industry, Amplifying Social Issues & More
From advocacy and activism to music education and philanthropy, trailblazing superproducer Pharrell Williams uses his global reach to enact social change and inspire the masses — which is exactly why he's a 2023 GRAMMYs On The Hill honoree.
Recording Academy
/
Apr 20, 2023 - 04:40 pm
Thirteen-time GRAMMY winner Pharrell Williams understands how to wield his influence for the betterment of humanity. When he's not in the studio making award-winning music, the prolific multihyphenate spends his time supporting causes like education, sustainable fashion, conservation, and human rights, and leverages his platform to make change happen — creating a blueprint for merging passions with social causes.
The visionary's philanthropic reach is awe-inspiring. Since establishing his first non-profit, From One Hand to AnOTHER, in 2008 — a six-week summer camp that offers learning programs focused on science, technology and the arts to children from low-income families — Williams has given a host of communities access to resources, tools and life-changing opportunities. He's helped build an after-school center in his hometown of Virginia Beach, offered internships to students from Harlem, New York, and launched a non-profit initiative for Black and Latinx entrepreneurs on the heels of the 2020 racial justice protests.
Ultimately, the mega-producer wants to make the world a better place for future generations, which shines through in his dedication to education, climate action and equality. By taking action to tackle these big-picture issues, Williams is showing others in his position that it's possible to do what you love and make a difference in the world.
To mark Williams' efforts and their impacts, the multihyphenate will be honored alongside U.S. Senate Majority Leader Chuck Schumer (D-N.Y.) and Sen. Bill Cassidy (R-La.) at this year's GRAMMYs On The Hill in Washington D.C. The annual event spotlights congressional leaders and music makers who have worked together to raise awareness and pass legislation to help ensure fair pay and equal rights for creators. 
Ahead of the event on April 26 and 27, take a look at four ways Williams has supported the music industry — and beyond. 
He Advocates For The Protection Of Creators' Rights
Williams has made a concerted effort to negotiate with labels for control of his music, and he uses his platform to help fight for equality and equity for all artists. "I shouldn't be the only one with this preferred deal," Williams said to the head of Columbia Records after negotiating a deal to own his masters in 2015. "All artists should own their intellectual property — otherwise you're just working for someone else. It's really weird: They own the fields where you and God have laid the seeds; you do the harvesting, but they have the ownership."
Williams has consistently highlighted the importance of ownership in music, and his push to usher in new protections for artists extends to the virtual world. In 2021, the music mogul joined the advisory council of CXIP DAO, a decentralized organization that allows creators to protect their copyrights and manage their digital assets.   
Read More: Everything You Need To Know About GRAMMYs On The Hill 2023: What It Is, Who It Benefits & What It Has Accomplished
He Supports And Funds Arts & Music Education Programs
Williams got his musical start as a drummer in elementary school before taking band in middle school, where he met a similarly music-minded classmate named Chad Hugo, his future production partner in the Neptunes. Along with support from his grandmother, this educational experience shaped Williams into the innovator he is today, and encouraged him to center much of his philanthropy on the arts and education as a whole.
"I want all children to have access to that kind of creative growth, access, and support. All kids, not just my own," Pharrell told Billboard in 2019. 
His actions have shown just that: In 2009, Williams' non-profit launched a Summer of Innovation camp in association with NASA. His foundation would go on to donate school supplies and offer free after-school programs and camps to kids from his hometown areas. 
In 2018, the "Happy" singer partnered with American Express Platinum for The Yellow Ball, a fundraising event at the Brooklyn Museum to benefit Young Audiences Arts for Learning. Soon after, he joined forces with Verizon to launch a tech-forward music curriculum for underserved middle schools all over the country, which provides students with access to virtual reality, 3D printers and other emerging technology. 
He Launched A Private School
Back in 2021, Williams took his education advocacy to the next level when he announced the launch of Yellowhab, a tuition-free private school for third to sixth graders from low-income families in his home state of Virginia. Always innovating, Williams's micro-school takes "a future-forward approach" to learning that includes using tech and other methods to immerse students in the educational process.   
"If the system is fixed and unfair, then it needs to be broken," Williams said in a press release.  "We don't want lockstep learning where so many kids fall behind; we want bespoke learning designed for each child, where the things that make a child different are the same things that will make a child rise up and take flight."
He Uses Fashion To Help Global Causes
The fashion influencer has created a number of clothing and accessory lines throughout his career, from the Billionaire Boys Club label to its many offshoots. He's partnered with high-profile brands to create collections that raise awareness and funding for socially conscious causes; in December 2022, his global lifestyle brand ICECREAM collabed with Mini USA for a capsule collection whose proceeds went to Polar Bears International, a non-profit that works to protect the endangered species.
But with eight million metric tons of plastic in the ocean, his sustainable denim collection with Bionic Yarns may be his most socially impactful. Over a two-year period, this collaboration converted an estimated seven million plastic bottles into clothing items.
"We are trying to infiltrate the entire spectrum of fashion, high-end and low. It's a part of sustainability and the cause is to never throw anything [plastics and trash] into the ocean again," Williams told Women's Wear Daily in 2014. "The ocean is just one part of the earth we're concentrating on, but the world is made up of 75 to 80 percent water. It's a huge place to start."
Inside GRAMMYs On The Hill 2023: How The Recording Academy Will Fight For Creator's Rights