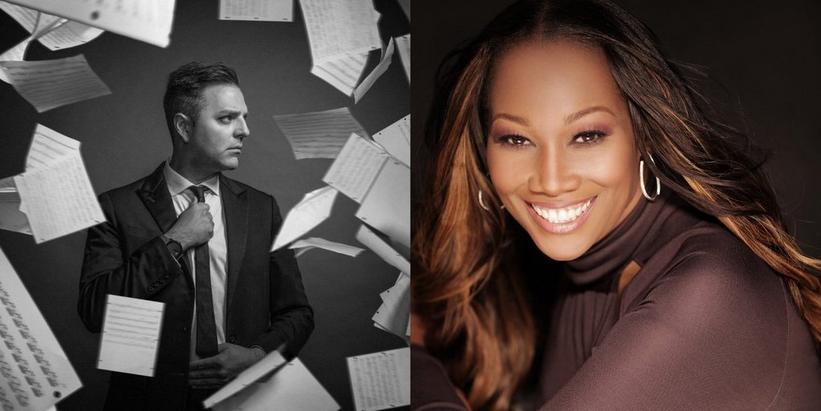 Andrew Joslyn & Yolanda Adams
Photos: Carlos Cruz | Courtesy of Roy Cox
news
Award-Winning Musical Polymath Andrew Joslyn Joins Continuing Co-Chair Yolanda Adams To Lead Recording Academy National Advocacy Committee
New and returning Committee members will advocate for economic fairness for creators and ongoing music industry recovery efforts
Advocacy
/
Nov 11, 2021 - 07:00 pm
On Nov. 11, the Recording Academy announced that composer, orchestrator, violinist, and award-winning musical polymath Andrew Joslyn will join four-time GRAMMY-winning artist Yolanda Adams as Co-Chair of the Academy's National Advocacy Committee. Additionally, independent music industry veteran and Chair of the Academy's Board of Trustees Tammy Hurt and GRAMMY-nominated artist, songwriter and producer Rico Love will join the Committee.
Serving as the voice for all music creators alongside the Academy's Advocacy team in Washington, D.C., the committee is composed of leading performers, producers, songwriters, and studio engineers, and works to determine specific policy positions of the Recording Academy and advance the interests of all music creators.
Advocacy Committee members include founding member and Chair of the Songwriters & Composers Wing, multi-platinum songwriter and producer Evan Bogart; GRAMMY-winning composer, producer and singer Claudia Brant; and 2021 NEA Jazz Master and three-time GRAMMY-winning drummer, composer, producer, and educator Terri Lyne Carrington. CEO of the Recording Academy Harvey Mason jr. will serve as an ex officio member.
"The breadth of experience brought to the Recording Academy's National Advocacy Committee by Andrew Joslyn will be an invaluable asset alongside the exceptional Yolanda Adams as we strive for economic fairness for all creators," said Mason. "Every creator that contributes to the music recording process is facing their own unique set of challenges, and we look forward to continuing the success of the past year in producing meaningful change and advancement of key priorities."
Joslyn is an avid music advocate who brings a prolific resume to the committee. His passion for collaboration has led him to work with a remarkably diverse group of world-class artists, touring the world, performing, co-writing, and arranging music on over 400 songs throughout his career.
The Advocacy Committee will continue its work toward economic fairness and recovery for all music creators, building on the success of the past year and recent Behind The Record Advocacy meetings, during which hundreds of creators across the country advocated virtually to their representatives in support of key priorities, including pending legislation:
The Help Independent Tracks Succeed (HITS) Act, which allows an individual to fully expense for tax purposes the cost of new studio recordings on their taxes, up to $150,000, within the same year of production;
The American Music Fairness Act (AMFA), which enables artists and producers to finally collect royalties when their music is broadcast on AM/FM radio, while establishing key protections for local and public broadcasters.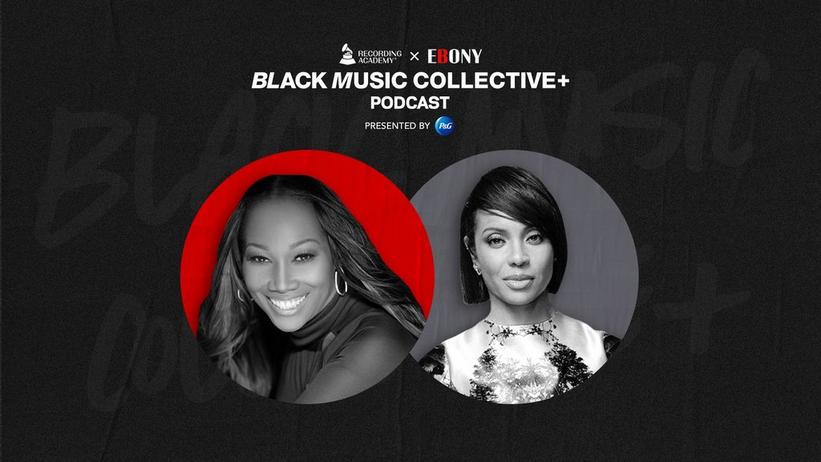 Yolanda Adams (L) & MC Lyte (R)
Yolanda Adams Photo Credit: Courtesy of Roy Cox / MC Lyte Photo Credit: D'Andre Michael
news
Black Music Collective Podcast: How Yolanda Adams Became A Global Icon In Gospel Music
In the latest episode of the "Black Music Collective Podcast," four-time GRAMMY-winning artist Yolanda Adams discusses her journey to becoming a household name in the gospel world and the power of faith
Recording Academy
/
Oct 29, 2021 - 12:29 am
In the newest episode of the "Recording Academy x EBONY: Black Music Collective Podcast," a new podcast series presented by Procter & Gamble, host and two-time GRAMMY nominee MC Lyte chats with gospel music icon Yolanda Adams.
Recognized by Billboard as one of the Top Gospel Artists of the last decade, Adams is a four-time GRAMMY-winning artist who believes her music heals, encourages and inspires others to trust more than themselves. She has triumphantly carried the torch for contemporary gospel and inspirational music across her impressive discography.
In addition to her storied music career, which has seen the Houston, Texas, native pivot from school teacher to part-time model to platinum-selling artist, Adams is also an author, designer, record company executive, mother, and host of her award-winning, nationally syndicated radio show, "The Yolanda Adams Morning Show."
An active member within the Recording Academy family and Trustee of the Texas Chapter, Adams currently serves on the distinguished leadership council of the Recording Academy's Black Music Collective.
Listen to Yolanda Adams discuss her journey to becoming a household name in the gospel world and the power of faith in the newest episode of the "Recording Academy x EBONY: Black Music Collective Podcast" above.
About The Recording Academy x EBONY: Black Music Collective Podcast:
The "Recording Academy x EBONY: Black Music Collective Podcast" is a six-part podcast series presented by Procter & Gamble. Hosted by MC Lyte, the series includes various members of the Recording Academy's Black Music Collective (BMC), a group of prominent Black music creators and professionals who share the common goal of amplifying Black voices within the Academy and beyond, who discuss their contributions and impact within the community and the music industry at large.
The "Recording Academy x EBONY: Black Music Collective Podcast" streams every Thursday at 8 p.m. ET / 5 p.m. PT through July 29 on EBONY.com and EBONY's YouTube channel and Facebook page, as well as on GRAMMY.com/BlackMusicCollectivePodcast and the Recording Academy's official Facebook page and YouTube channel.
Black Music Collective Podcast: Watch Jimmy Jam & Terry Lewis Discuss Their Legendary Legacy As GRAMMY-Winning Producers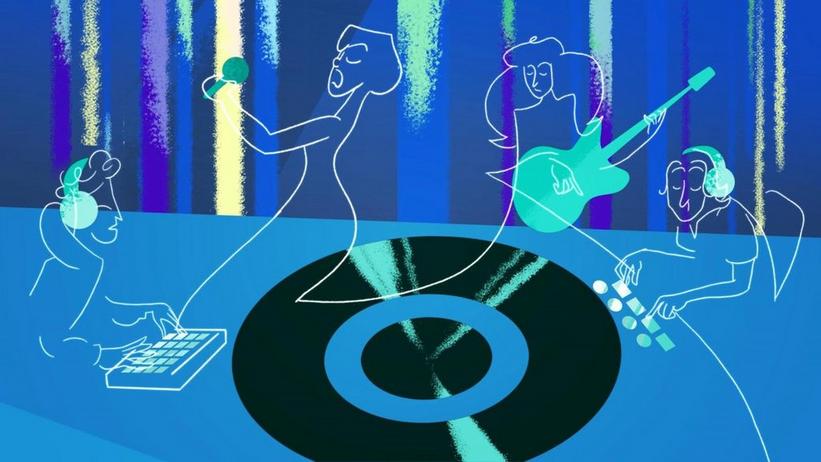 news
The Recording Academy Announces 3rd Annual "Behind The Record" Initiative To Continue To #GiveCredit To Creators In Music
This year, the Recording Academy's "Behind The Record" initiative, a global social media activation aimed at spotlighting the many creators in music, introduces Behind The Record Advocacy, a new virtual program to discus creators' needs with Congress
Recording Academy
/
Oct 12, 2021 - 05:00 pm
The Recording Academy has announced that it will continue giving credit where credit is due with its 3rd annual "Behind The Record" initiative, a global social media activation aimed at spotlighting the many producers, engineers, songwriters, composers, mixers, instrumentalists, and other creators who contribute to the music recording process. Taking place Friday, Oct. 15, the industry-wide conversation encourages artists across all music genres to celebrate their collaborators' incredible behind-the-scenes work on the tracks, records and albums loved by music fans around the world. This year's campaign features a short film, narrated by Recording Academy Board of Trustees Secretary/Treasurer Om'Mas Keith, illustrating that behind every hit song is an intricate dance of creativity that builds and builds to the final product.
A day before the social media activation's launch, on Thursday, Oct. 14, the Recording Academy will introduce Behind The Record Advocacy, a new virtual advocacy program to inform lawmakers about issues affecting the creators behind their favorite records. Building off the success of the Recording Academy's "Behind The Record" initiative, Academy members will meet virtually with members of Congress nationwide to discuss legislation that would have a direct impact on America's recording artists, songwriters and studio professionals, such as the HITS Act and the American Music Fairness Act. With nearly 200 meetings with congressional offices anticipated for Behind The Record Advocacy, members will focus on ensuring that the individuals behind the record are able to earn fair compensation for their work.
"It takes a village to create a recording, and as an organization that serves to support all music creators, we invite our peers to join us in spotlighting the many music professionals behind our favorite songs," Harvey Mason jr., CEO of the Recording Academy, said. "While we celebrate the music professionals behind the scenes, we also recognize the importance of fighting for fair treatment of creators. We're proud of the evolution of 'Behind The Record' to include an advocacy element this year as we continue our ongoing work to ensure all music creators flourish."
"Behind The Record" is supported by the Recording Academy's Advocacy Department, Producers & Engineers Wing and Songwriters & Composers Wing. Supporting all music creators—including the artists behind our favorite records—is an urgent initiative for the Recording Academy year-round. Within the past year alone, the Recording Academy established the Songwriters & Composers Wing to better represent the diverse community of music creators who provide the world with the gift of song. The Academy also reintroduced the HITS Act in the House and Senate, which would allow artists and record producers to deduct 100 percent of sound recording production expenses in the year they are incurred, and continued efforts to support women producers and engineers through its Women In The Mix initiative.
To help the Recording Academy further support creators working behind the scenes, artists can participate in "Behind The Record" by:
Emailing givecredit@recordingacademy.com to request an access code to the Credit Cover Generator Portal.
Posting your Credit Cover across social media channels and tagging those who worked on your project. Use hashtags #BehindTheRecord #GiveCredit #WeAreMusic.
Artists can create Credit Covers for a single track or album, and covers will live in a gallery on the "Behind The Record" website for music fans to view and discover the roles of creatives behind some of their favorite records.
For the third year, Jaxsta, the world's largest public-facing dedicated database of official music credits, provided credits for Warner Music, Sony Music, Universal Music Group, and Merlin releases.
For more information, please visit the "Behind The Record" website. Follow and join the global conversation on social media using the hashtags #BehindTheRecord, #GiveCredit and #WeAreMusic.
Learn More About The Recording Academy's "Behind The Record" Initiative
news
A Message To The Future Of The Music Industry
Recording Academy
/
Dec 3, 2014 - 05:06 am
Neil Portnow's keynote speech at the 2007 GRAMMYs on the Hill event
How does it feel to turn 50? For some in the room, it may be a fond memory. For The Recording Academy and the GRAMMY Awards, on our 50th Anniversary, we're using the tagline: "For some it's a milestone — but we're just getting started."
To a large extent, what that means to us is looking ahead to the next 50 years, and that includes preparing to turn over the reins to the next generation. And for that next generation of music makers, creators, executives, legislators and fans, these next 50 years will define the future of the music industry and indeed, the future of our entire cultural landscape.
As I travel, I meet students from our GRAMMY Signature Schools from all across the country and I can tell you, they make me very optimistic about the future of the music industry. They are bright, passionate and who knows — maybe one of them even dreams of growing up to be a music lobbyist.
For all these reasons, I want to particularly recognize our guests from Chesnee High School's music department, whom you just met. To them I say, keep up the great work, use this grant and recognition wisely, and know that the current generation of music leaders is relying on you to carry the future of our business to even greater heights. As I add my personal congratulations to each of our GRAMMYs on the Hill honorees for their impressive achievements which have allowed all of our lives to be enriched through music, I'd like to direct my comments tonight to music students everywhere, and particularly to the music students of Chesnee High School and the students from all of our GRAMMY Signature Schools, each of whom will receive a podcast of these remarks.
I know to many of you in high school music programs, it looks like we don't have a clue. Technology is changing faster than we can manage it, and you — the young music lovers — have mastered it far better than we have. It may even appear as if we are fighting new technologies, trying to hold them back. And I can certainly understand how it might look that way.
But let me assure you that every music industry leader in this room, every member of Congress here tonight, every technologist present, and every legislative staffer here with us, is working as hard as they can to prepare for and adjust to the new world of music.
We may not always get it right. But our overriding concern is a noble one — protecting the intellectual property of music makers and copyright owners so that music creation can and will continue. And if it appears that we are treading too slowly into the new world, it is because that concern is paramount in our minds and certainly is not easy or simple to address.
You should also know that technology entrepreneurs and music industry leaders are working together each day to solve these issues and hasten the digital transition. And I'd like to share with you — publicly for the first time — one such place where this occurred at an entirely new level.
Last year at this podium, I spoke about the so-called music and technology war. Rhetorical battles were creating an environment in which cooperation was difficult. I called for a truce, and offered The Recording Academy as the facilitator of a high-level summit between music and technology leaders.
That summit actually took place this summer — at George Lucas's Skywalker Ranch in Marin County, Calif. Why at Skywalker? No, it wasn't because each side saw the other as the evil empire.
It was because Lucas's operation is one that seamlessly — you might even say "magically" — melds content and technology to produce results that are at once artistic, popular — and profitable.
Sitting at a conference table in the cavernous Skywalker soundstage where so many innovative films were scored, we were inspired by what can happen when music and technology work together toward a common goal.
So, we gathered our participants for a two-day retreat. To keep us honest, we mixed in four music creators: Ronnie Dunn of Brooks & Dunn, Leslie Ann Jones of Skywalker Sound, and two of the industry's most successful producers — who are here with us tonight — Jimmy Jam and Phil Ramone.
Guided by our expert moderators, technology guru Ted Cohen and digital entertainment attorney Bobby Rosenbloum — and, I should disclose, under the watchful eye of an antitrust attorney — the participants set out to find common ground.
Presidents, CEOs and other high-level leaders dedicated significant time to this unprecedented discussion. Executives from digital music services such as Rhapsody, Napster, eMusic, SNOCAP and Pandora; from technology manufacturers such as Microsoft and Sandisk; from retailers including Best Buy and Amazon; from major and independent music publishers; and from all four major labels came to Skywalker for the retreat.
Many of these executives were meeting face to face for the first time and to us, that alone was important. That they engaged in such an honest and open dialogue was even more fulfilling. That they all agreed to continue the discussion beyond the retreat was gratifying all the more. But perhaps paramount was their contributions to several guiding philosophies, which we're calling the GRAMMY Music & Technology Principles. These include:
First and foremost, music creators are the foundation of the music business and must be adequately compensated regardless of the technology. We must ensure that whatever technology is used to bring music to the public, creators are paid, period.
Similarly, meeting the needs of consumers is critical, and the music and technology industries must provide a wide array of business models that appeal to consumers and value compensation to creators and copyright owners. Ultimately, consumers will tell us how they wish to enjoy music. Our job is to provide them with legitimate choices that value creators' rights.
Third, new technologies are essential to the future of the music business, therefore an environment for experimentation and innovation — that respects copyright and music creators — should be fostered. Content providers must give entrepreneurs the freedom to explore new and untested business models — but in return, those innovations must build in an appreciation and respect of copyright.
Fourth, interoperability across hardware and services is essential to the consumer experience and should be a priority in the digital music space. We cannot continue to frustrate and confuse our customers. They know any DVD they buy plays on every DVD player, and every CD plays on every CD player. Music files must do the same.
Fifth, the best defense against music piracy is a vibrant, complete and legal digital marketplace. Yes, legislation, litigation, and education all play important roles. But without giving the consumer legal options that provide the same deep catalogue as pirate sites, we will never solve the problem of piracy.
Sixth, the industry must make faster rights clearances a higher priority in order to grow the legal digital distribution of music and to more effectively compete with the volume of titles available through illegitimate sources. Now, we all recognize that music licensing is complicated by nature, and streamlining the process would help grow the business. Since the retreat, rights owners already have started to compile a "roadmap" document to make the process clearer.
Seventh, the music economy is not a zero-sum game; music and technology sectors can both benefit as the business grows. Perhaps the biggest disservice of the rhetoric wars is framing the debate as though if content wins, technology loses and vice versa. The leaders at our retreat understood that this truly can be a win-win game.
Finally, and perhaps most importantly, continued dialogue among music and technology leaders is essential to facilitating growth in the marketplace. That these very busy leaders of their industries left the retreat committed to continuing the dialogue is perhaps the most gratifying principle of all.
Now, we realize that these principles are just a first step in greater cooperation between the music and technology sectors. There will continue to be hurdles and challenges ahead as we adapt to the new marketplace. But I have great respect for these leaders who came to Skywalker to build consensus, and I believe the entire industry should follow their example and the standards they have set forth.
So, to the music students listening: know that we are working to create an environment for music that recognizes the value of both creators and consumers, an environment that rejects a winner-take-all approach, and one that encourages innovation and experimentation. Even though the music industry you will manage will look very different from the one we have today, these concepts will remain constant.
Our generation will do its part to live by the GRAMMY Music & Technology Principles, and we hope you will too. We're counting on all of you to ensure that in another 50 years, the GRAMMYs' centennial will be a time to rejoice and celebrate a music industry and a culture that we all can be proud of.
news
Neil Portnow's 49th GRAMMYs Telecast Remarks
Recording Academy
/
Dec 3, 2014 - 05:06 am
What if the GRAMMYs had to give up the Best New Artist category because there weren't any? Well, as long as The Recording Academy has anything to say about it, that's not going to happen! Tonight, we've already met some of this year's remarkable Best New Artist nominees, and in a few minutes, we'll see a fresh new face experience her "ultimate" GRAMMY Moment provided by The Academy.
When I was just 6 years old, I watched Elvis on TV, and knew what I wanted to do with my life. And thanks to my parents and the dedicated music teachers at school, I realized my dream of a career in music. Now, we need to make sure that others have that same chance.
Let me show you exactly what I'm talking about. Meet Anne Lee, a very talented 15-year-old public school music student, and Christian Sands, a 17 year old who won a spot in our GRAMMY Jazz Ensemble.
Our GRAMMY Foundation programs like GRAMMY in the Schools and GRAMMY Camp teach and encourage thousands of kids who love music, and whose lives are better for it. This underscores the most fundamental point — every child deserves exposure to music and the arts in school!
There are some encouraging signs out there. Just this year, The Recording Academy and the music community rallied their forces here in California to reverse the trend of reduced funding. The result: more than 100 million dollars for music education with millions more for instruments in schools.
The time is now to contact your elected leaders. Tell them that music is just as essential to the next generation's development as any other subject. We'll make it easy for you — go to GRAMMY.com. We'll connect you directly to your representatives so your voice can be heard.
You're here — or out there — because music is an important part of your life. Together let us all ensure that music stays just as vital and alive for generations still to come.