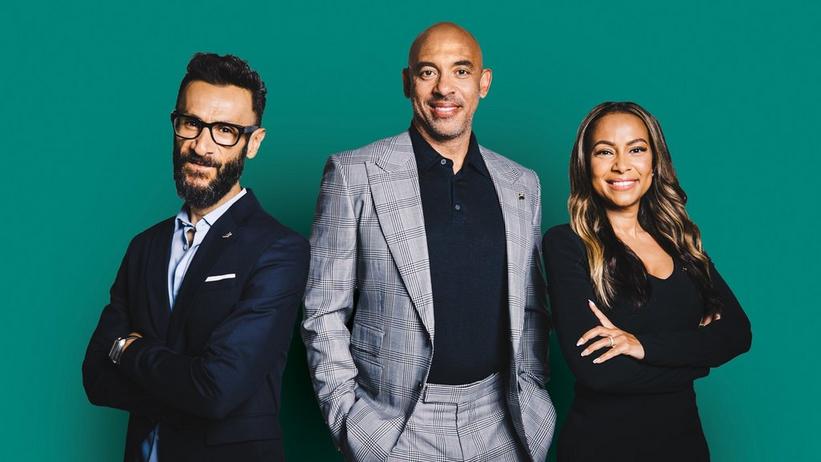 (L-R) Panos A. Panay, Harvey Mason jr. and Valeisha Butterfield Jones
Photo Courtesy of the Recording Academy®/photo by Matt Winkelmeyer by Getty Images © 2021
news
The Recording Academy Turns 65: A Nod To Its Beginnings And A Commitment To A New Era
This weekend brings a happy milestone: The Recording Academy will turn 65. Together, let's remind ourselves of the organization's beginnings and redouble our commitment to all music people going forward.
Recording Academy
/
May 27, 2022 - 08:00 pm
Over the weekend, the Recording Academy will hit a quiet yet significant milestone: 65 years will have passed since its inception. How does one even come to terms with the enormity of this legacy?
No online post could encapsulate everything that's happened with the Recording Academy since 1957 — a year Eisenhower was president, Elvis reigned in the charts, and the Space Race heated up.
Still, it's worth pausing and considering how the seeds were sown all those years ago and how the Recording Academy is flourishing as a renewed organization in 2022.
1955: The First Seeds
In response to a request from the Hollywood Beautification Committee, five top L.A.-based record executives met on April 28 to determine names of artists worthy of their own star on the Hollywood Boulevard Walk of Fame.
In attendance were Paul Weston of Columbia, Lloyd Dunn of Capitol, Sonny Burke of Decca, Jesse Kaye of MGM, and Dennis Farnon of RCA Victor. The focus was to develop criteria to use as a "yardstick" to determine which names should be submitted.
This meeting also illustrated the growing importance of having a "proper means for rewarding people on an artistic level" — similar to the motion picture and TV groups. This group later became known as the Founder's Committee.
On May 20, Paul Weston presented criteria on how to best determine which artists should receive a star to the other members of the Founder's Committee. The total number of record sales was the primary benchmark used to select artists for this project.
1957: The Academy's Beginning
On May 28, The Founder's Committee met again: "A Group to Form a Record Award Society" convened at the Brown Derby Restaurant in Hollywood.
The meeting opened with a general discussion of the classifications for which awards should be given and current procedures. The name agreed upon for this new organization? The Academy of Recording Arts and Sciences.
Mr. Dunn made the motion that "James Conkling become temporary chairman of the committee for the formation of the Academy of Recording Arts and Sciences." The motion was seconded by Mr. Weston and carried unanimously.
Questions and concerns regarding the criteria to be used as a benchmark for the Hollywood Beautification Committee were discussed — and in attendance with the Founder's Committee was former Columbia Records president James B. Conkling.
Flash Forward To 2022
When asked about the incredible strides the Recording Academy has made in recent years, CEO Harvey Mason Jr. offered a rejoinder.
"That'll take up the whole interview — we don't have time for all the positive developments!" he told RecordingAcademy.com with a smile. "The great work that MusiCares has been doing over the last however many months during COVID. The way we're changing our membership. The way we're inviting members. The way we're constituting our boardroom. The way we're working in education initiatives. Our internship program; the Black Music Collective; our advocacy work at the GRAMMY Museum."
Mason went on to touch on a crucial tentpole of the Recording Academy: diversity, equity and inclusion (DEI). This commitment to giving all music people a fair shake manifests in communications, artist outreach, leadership, and so many other avenues.
For more information on the Recording Academy's astounding developments in service to the global music community, check out the article "New Vision, New Era, One Academy" in the 2022 GRAMMYs program book on page 130.
And this weekend, let's ring in the Recording Academy's 65th birthday — both with a nod to the past, but a renewed commitment to render service to all music people in the years to come.
Everything You Need To Know About The Recording Academy's 2022 Chapter Board Elections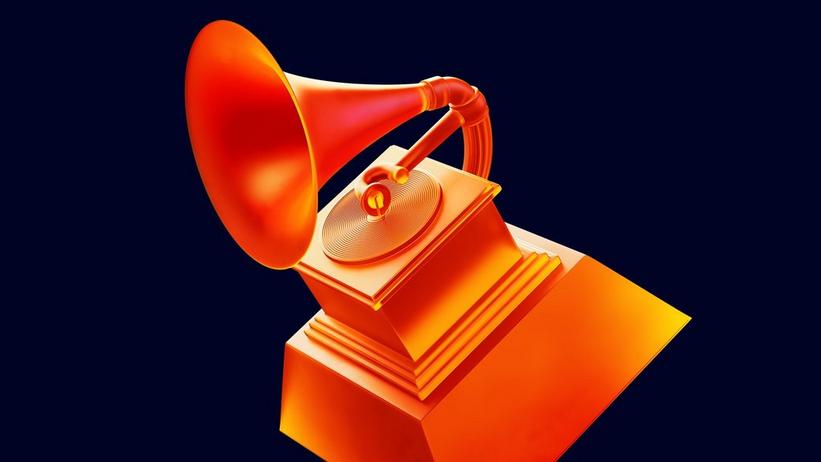 Photo courtesy of the Recording Academy
news
The Recording Academy Congratulates All Of The Winners & Nominees At The 2023 GRAMMYs: "Keep Shaking Up The World With Your Music"
As the 2023 GRAMMYs season comes to a close, Recording Academy executives sign off on a historic GRAMMY season with messages of gratitude to all of the winners and nominees at this year's GRAMMY Awards.
Recording Academy
/
Mar 1, 2023 - 10:55 pm
Every GRAMMY ceremony is a history-making event. But the 2023 GRAMMYs did so for very specific reasons — ones that had an indelible impact on the music industry and cultural landscape worldwide.
Among the most talked-about milestones for the GRAMMYs' big return to Los Angeles as an in-person ceremony: Beyoncé became the person with the most GRAMMYs of all time. Kim Petras scored a big win for the transgender community with her GRAMMY win for Best Pop Duo/Group Performance alongside Sam Smith; she's the first transgender woman to win in that category. Dr. Dre was the inaugural recipient of his namesake Dr. Dre Global Impact Award.
Equally significant were the five new GRAMMY Awards categories debuted and awarded at the 2023 GRAMMYs, making those five recipients the first to receive their respective honors. These inaugural winners, who were awarded at the Premiere Ceremony, included: Tobias Jesso Jr. (Songwriter Of The Year, Non-Classical); Stephanie Economou (Best Score Soundtrack For Video Games And Other Interactive Media for "Assassin's Creed Valhalla: Dawn Of Ragnarok"); Wet Leg (Best Alternative Music Performance for "Chaise Longue"); Bonnie Raitt (Best Americana Performance for "Made Up Mind"); and J. Ivy (Best Spoken Word Poetry Album for The Poet Who Sat By The Door). On top of that, 57% of this year's Grammy winners were Black artists or from other underrepresented communities, and 48% were women.
For Recording Academy executives, the 2023 GRAMMYs marked a banner year for Music's Biggest Night — and the music community writ large.
"I'm most proud of the range and diversity of our 91 awards, which continue to evolve and to inspire," Ruby Marchand, Chief Awards & Industry Officer for the Recording Academy, says. "Music as a powerful force for change within our culture and our lives was what struck me as the show unfolded."
Kelley Purcell, the Recording Academy's Vice President of Membership & Industry Relations, echoes the sentiment: "It was inspiring to see a diverse array of artists grace the GRAMMY stage, showing off the beautiful depth and breadth of our industry."
As one of the organization's leaders bridging the inner workings of GRAMMY voting with the wider music industry, Purcell is also inspired by the Recording Academy's esteemed voting membership, who make their voices heard when voting for the nominees and ultimate winners each year during GRAMMY season.
"From submitting eligible recordings to voting and tuning in to watch the GRAMMYs, Recording Academy members know that the GRAMMY process is strongest when every member is involved," she says. "It is always inspiring to witness Recording Academy members take their participation in the GRAMMY process seriously."
"I was inspired to see our members dedicate themselves to every step of the Awards process and celebrate musical excellence as peers," Marchand adds.
As the 2023 GRAMMYs season comes to a close, the Recording Academy is extending a mighty, heartfelt congratulations to all of this year's GRAMMY winners and nominees. Your well-earned achievements, along with the full-fledged commitment of the Academy's wider membership, brought this year's GRAMMY ceremony to life. The Recording Academy will continue to celebrate all GRAMMY winners and nominees this year and beyond.
"To my wonderful colleagues: Your dedication, professionalism, and heart for our GRAMMY Awards and our amazing musical community is at the heart of what makes our Academy such a special home," Marchand reflects.
"Keep shaking up the world with your music," Purcell adds. "The world needs it."
2023 GRAMMY Nominations: See The Complete Winners & Nominees List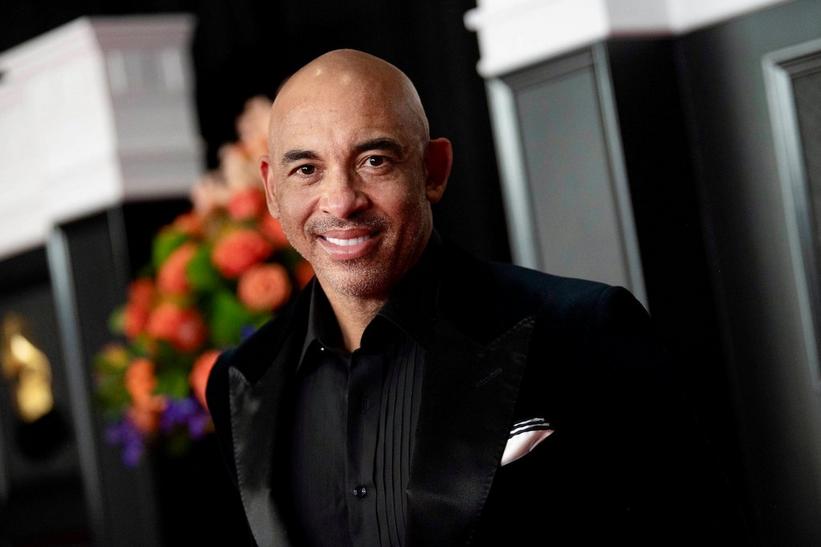 Harvey Mason jr
Photo: Emma McIntyre/Getty Images, Courtesy of Recording Academy 
interview
Looking Forward To 2023: Recording Academy CEO Harvey Mason Jr. On Rebuilding, Laying The Groundwork & Paving The Road Ahead
With Final Round GRAMMY Voting coming to a close, Recording Academy CEO Harvey Mason jr. is looking forward to the GRAMMYs' return to L.A., making the Academy even more diverse and equitable, and building reach-for-the-sky initiatives in 2023 and beyond.
Recording Academy
/
Jan 4, 2023 - 01:05 am
At the top of 2022, Recording Academy CEO Harvey Mason jr. told the world it was a "new day" at the Recording Academy. Now surveying the organization at the dawn of 2023, it's clear he wasn't joking.
Last June, the Recording Academy announced five new GRAMMY categories to be debuted at the 2023 GRAMMYs and awarded onward: Songwriter Of The Year, Non-Classical; Best Alternative Music Performance; Best Americana Performance; Best Score Soundtrack For Video Games And Other Interactive Media; and Best Spoken Word Poetry Album. Additionally, a highly anticipated Special Merit Award for Best Song For Social Change was added, along with various category amendments and procedural updates.
Elsewhere, the Recording Academy continued its wider mission to create a more inclusive and equitable music industry, starting with major developments from within. 
Last September, the Academy further diversified our membership body with the inauguration of the 2022 New Member Class. Of the nearly 2,000 newest Recording Academy members, 44 percent are from traditionally underrepresented communities; 47 percent are under the age of 40; 32 percent are women; and 52 percent are male; the remaining 16 percent are composed of individuals who identify as non-binary and those who opted not to disclose. The 2022 New Member Class, our most diverse class to date, further helped the Academy reach our goal of adding 2,500 women voting members by 2025; having added 1,913 women to its voting membership since 2019, we are now 77 percent of the way to reaching this goal.
The Academy's commitment to cultivating a community that embodies the ethnicities, genres and crafts that power the music industry is also reflected in the nominees at the 2023 GRAMMYs: more than half of the songs nominated for Record Of The Year and Song Of The Year are by solo female artists; half of the albums nominated for Album Of The Year are by solo female artists; and nearly half of this year's leading nominees are women and more than half are people of color.
For Mason jr., these significant developments perfectly reflect the great year of continued change the Recording Academy experienced in 2022, a notable evolution he promises to progress this year and onward.
"Last year, we made a lot of progress. We've implemented a lot of change," he says in an exclusive interview. "It was a year of rebuilding, investing and laying groundwork for the road ahead.
"2022 was a great setup year," he continues. "It got us to a point where we're in a better position, and now we can really start to do some of the important work that I know the Academy can do."
Mason jr. also had some personally transformative experiences last year, including a trip to Africa, which he describes as, "Mind-bending. Game-changing. Eye-opening." 
"Being in Africa was a profound learning trip. It was an opportunity to listen, see and interact — a chance to meet and talk to artists from that region," he reflects. "It also helped me learn how the Academy can be involved there and globally. How can we be helpful? How can we make sure that we're furthering our mission in music — not just in the U.S., but around the world?
With the 2023 GRAMMYs right around the corner, Mason jr. opened up for an in-depth interview in which he reflected on seismic shifts in the Recording Academy and mapped out the road ahead in the ongoing fight for all music people.
This interview has been edited for clarity.
Final Round GRAMMY Voting is underway, and nearly 17,000 eligible entries were submitted for GRAMMY consideration for the 2023 GRAMMYs. All in all, more than 11,000 Recording Academy members voted during the GRAMMY Awards process. What would you like to communicate to members involved in this vital and precious process regarding the power of their vote?
I would say, very simply, that the reason the GRAMMY is what it is — which, I believe, is the most prestigious music award you can win as a creator — is precisely because it's determined by the voting body of your peers. 
Voting is important because in order to maintain the importance and significance of the GRAMMY, and what it can do for someone's career, or music, or for the genre, we have to make sure that the voting body is voting with intent and is well-informed; that way the GRAMMY remains relevant, and we can honor the deserving people, records and projects every year.
For us, everything comes down to voting. Voting determines the GRAMMY nominations, the nominations impact the GRAMMY winners, the GRAMMY winners impact the show. 
And the show ultimately allows us to do all the really important work we do year-round on an ongoing annual basis: supporting music people. That's MusiCares. That's education via the GRAMMY Museum and GRAMMY U. That's Advocacy in Washington, D.C. All that ultimately relies on members voting.
Read More: Everything You Need To Know About The 2023 GRAMMYs & GRAMMY Nominations: How To Watch, How Voting Works & More
Let's go through some of the new GRAMMY categories and developments being introduced at the 2023 GRAMMYs. What can you say about the magnitude of the new Best Spoken Word Poetry Album category?
I think the category is going to be really important this year. Bifurcating the Spoken Word Field into two categories, along with Best Audio Book, Narration, and Storytelling Recording, is going to make a big difference for us.
We heard from that group of people, who said they weren't being recognized nor accurately evaluated and nominated. Now, from the looks of these nominations, it's been a sea change for us. Whereas before, artists and poets were competing with books on tape and other narration. 
Now, it's purely spoken word; that's really exciting.
How about the expansion of the Best New Age Album category into Best New Age, Ambient Or Chant?
A lot of the time, with categories like this, we really needed to hear from the community and people who are working in that genre and space. These last two years, we've been really intent on listening and learning. 
So, when a group of creators comes to us and says something needs to be changed or altered in their category — whether it's a name change, definition change, or sometimes an all-new category — we listen. 
This is one of those cases: the New Age Field needed some attention. We heard from them, and I think we made a good refinement.
How about the added Best Score Soundtrack For Video Games And Other Interactive Media GRAMMY category?
This award is exciting because it points us toward the future, to some degree. There's so much music being created in the gaming space, and again, it's a community of creators that wasn't being fairly or accurately represented by the Academy.
Having their own category gives us a chance to really get a good number of submissions in, and also gives our voters an opportunity to listen to that music through the lens of peer-voted submissions specifically in that category instead of a video game score coming across in another category.
There's intention around that style and genre of music. It's a forward-looking category. We now have a community being created around that space, so we're really proud of this development.
The new Songwriter Of The Year, Non-Classical GRAMMY category is a monumental development for the songwriter community.
The underpinning of what we do as an Academy is built on songs. I started out as a songwriter myself, so the idea of honoring someone who is truly a professional songwriter and craftsperson is special. 
This award celebrates the songwriting aspect of the music industry, as opposed to artists who write some of their own songs. There was some back-and-forth on what was the fairest and best way to honor this community. As it stands now, we're really pleased with the way we set it up. The inaugural nominees are writing songs for other artists, and I think it's a chance for us to celebrate true songwriters, one of the main pillars of our industry.
This year, the Recording Academy is introducing a new Special Merit Award for Best Song For Social Change. What's notable about this development?
This Special Merit Award, which honors a song based on the impact and ability to make a difference in the world, is something that is a first for the Academy, and something I think we're all excited about and proud of. 
This is one of the purposes of music: to make a difference in the world. And a social change impact award for a song highlights those songs, or that one song, that has a massive impact. 
I don't want anybody to misconstrue this award as something that's just singling out one song of impact or importance. Because we know every year, there are a lot of songs that have so much value and impact. But this is a chance for us to celebrate a short list of songs, and ultimately one song, that we feel has made a big impact.
You went to Africa last year. What inspired this excursion, and what did you learn from your trip?
I would describe my trip to Africa as: Mind-bending. Game-changing. Eye-opening. There's so much music, so much creativity over there. Africa is the birthplace of, well, everything, but definitely music. It was a chance to learn about the history, heritage and beginnings of music and rhythm and dance and singing.
Also, given what's happening there today, it was a chance to hear from the people who are really having a huge impact on a genre that's on the rise around the world. Afrobeats and other genres from that region are definitely making their way into the international consciousness.
Things are so different now. Ten years ago, or even a few years ago, before streaming, an artist would release a song in Africa and we wouldn't necessarily know about it in America. It wouldn't travel so quickly from country to country, or continent to continent. Now, with streaming, somebody in any country in the world can release music, and we're listening to it in America. 
If we're going to be an Academy that's evaluating and celebrating and uplifting music, I think it's incumbent on us to understand all the different genres. As I said, we're not all going to be experts. But we have to acknowledge them. We have to be aware that things are happening. We have to see around the corner.
For us as an Academy, we always want to be aware of the trends — what's happening now and what's coming next — so we can stay plugged into today's music scene and global music community and continue to honor the music that's being made around the world. 
So for me, being in Africa was a profound learning trip. It was an opportunity to listen, see and interact — a chance to meet and talk to artists from that region. It also helped me learn how the Academy can be involved there and globally. How we can be helpful. Really, how do we make sure that we're furthering our mission in music — not just in the U.S., but around the world.
Read More: Your Vote, Your Voice: 6 Reasons Why Your GRAMMY Vote Matters
One of the driving themes for the Recording Academy is diversity. In 2022, nearly 2,000 music industry professionals and creatives joined the Recording Academy as members, with a significant percentage of that new class coming from traditionally underrepresented and gender-diverse communities. How does this reflect the Recording Academy's wider mission to create an inclusive and equitable music industry?
I think it directly correlates with our forward-looking mission, and that's to be more reflective, more accurate, more representative of the music ecosystem. As we know, the biggest percentage of music consumed is Black music. Also, achieving more gender equity is important. We know that there are so many important, influential creatives who are women. So, making sure our membership reflects that is really important to me and important to everyone at the Academy.
We have some very specific goals for what we want to accomplish with our membership in regards to diversity — for race diversity, but also gender diversity, regional diversity, genre diversity … There are a lot of goals for our Diversity, Equity & Inclusion group that we want to make sure we get right.
And it's in our Membership. It's in our Awards. It's in our staff. It's in our boards. It's in our committees. It's smart practice to be doing things in a more diverse way. I know the outcomes are better. We get better information; we get better collaboration. We get more nuanced and deeper thoughts about things, and we see things from different angles. Music is one of the most diverse endeavors in the world, and I think we have to represent that across the Recording Academy and the music industry at-large.
Read More: Meet Some Of The Music Industry Leaders Who Just Joined The Recording Academy's 2022 New Member Class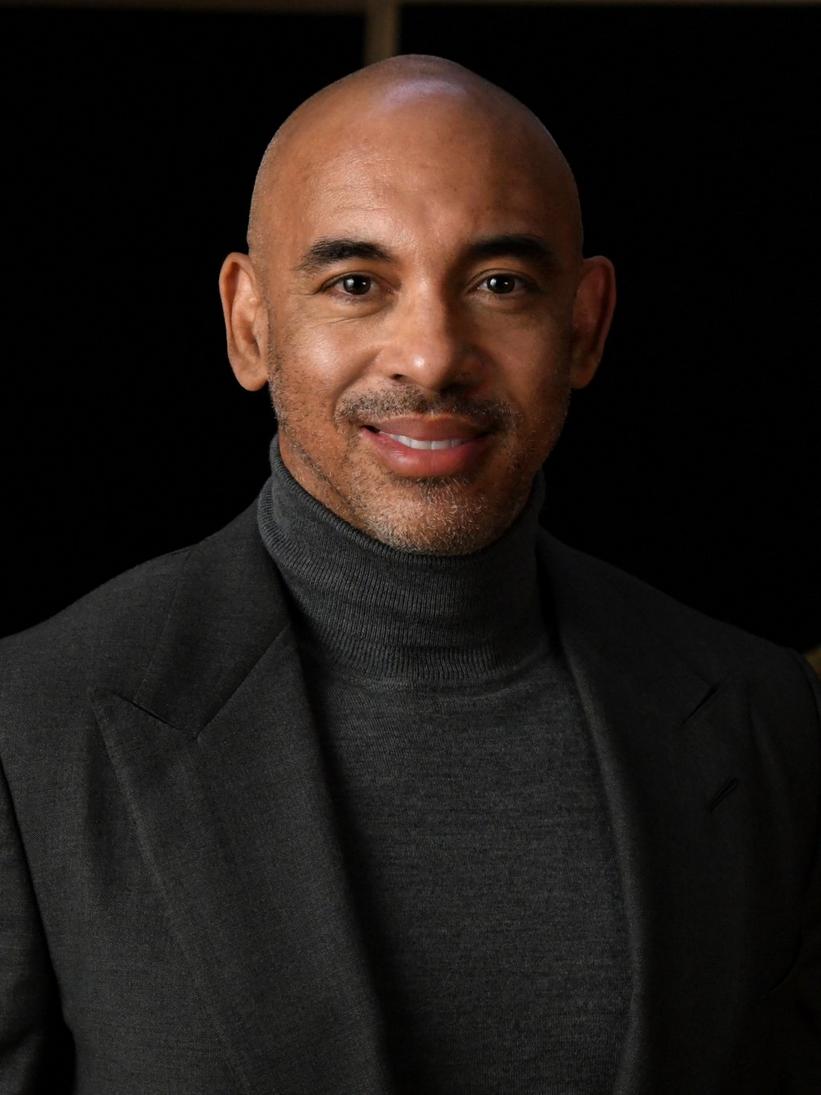 Recording Academy CEO Harvey Mason jr. | Photo: Michael Kovac
The 2023 GRAMMYs are right around the corner. This year, the show returns to its home base at the Crypto.com Arena, formerly the Staples Center, in Los Angeles. What are you most excited about for the upcoming GRAMMYs?
I'm excited about being in L.A. I'm excited about having a full audience again. I'm excited about all the incredible music that we're celebrating this year. I'm looking forward to coming together to celebrate. 
I look forward to the creative industry and the music industry coming together to celebrate each other and lift each other up. To shine a light on excellence and greatness and talk about the things we all have in common. To tell our stories and let the world see the great music that was created this year.
GRAMMY Week, which takes place across L.A. in the days before GRAMMY night, is a fun time to celebrate music and celebrate each other. I think you see the full power of music during GRAMMY week, maybe more so than at any other time. 
But the idea of music bringing about change — music being for good, music creating a better world — these are all big, overarching concepts. Those are the things I'm most excited about seeing. 
Last June, you celebrated your first anniversary as CEO of the Recording Academy. Any words or reflections about the Recording Academy's accomplishments last year?
Last year, we made a lot of progress. We've implemented a lot of change. It was a year of rebuilding, investing and laying groundwork for the road ahead. 
I believe we still have a lot of work to do, so I don't, by any means, think 2022 was the be-all, end-all. 2022 was a great setup year. It got us to a point where we're in a better position, and now we can really start to do some of the important work that I know the Academy can do.
In my role as CEO of the Recording Academy, it's the coolest job in the world. I grew up as a creator — as a songwriter and producer. I continue to write and produce. So, I feel like I'm of the community that we serve. 
You've heard me say it before, but the music community is so important to evolving our society and changing the world. The privilege to serve the music community is an honor and makes me very excited every day to wake up and do the work. 
What are you most looking forward to regarding the Recording Academy's growth and evolution in 2023 and beyond?
I'm really looking forward to celebrating more music, and more types of music from different places around the world. I'm really looking forward to serving more music people, in more ways.
I'm excited about the ongoing evolution of where we go as an Academy and continuing to build on new ideas so that we can accomplish all of our goals while creating new goals along the way. I'm excited about, obviously, the GRAMMYs show, and getting back to the other 364 days of the year when we're giving back to the music community that we serve and support each and every day.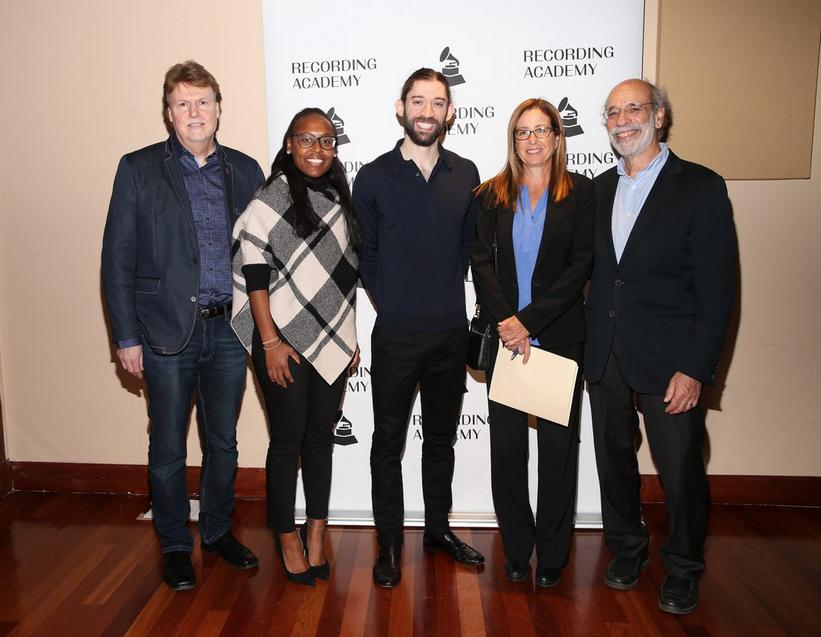 (L-R) Neil Crilly, Sharde Simpson, Ben Landry, Sandra Crawshaw-Sparks and Elliot Groffman attend "The Evolution of the Record Contract: Where it's Been, Where it Is, Where it's Going" at Eisner & Lubin Auditorium on November 8, 2022 in New York City.
Photo: Rob Kim/Getty Images for The Recording Academy
news
How The Entertainment Law Initiative's "The Evolution Of The Record Contract" Panel Analyzed The Essentials Of Record Deals
Featuring a panel representing both the artist and label sides of record deals, the lively discussion yielded numerous key takeaways regarding the ins and outs of contracts.
Recording Academy
/
Nov 22, 2022 - 09:24 pm
With tectonic shifts in the music business — TikTok's domination and virality; the "Taylor effect" of Swift's re-recordings, among other things — contractual procedures can and do change incredibly quickly.
It's difficult for an artist to keep track, let alone know what type of record deal to sign… or when. To unpack this topic, the Recording Academy's Entertainment Law Initiative (ELI), a program aimed at bolstering discussion and debate around legal affairs and their impact on the music industry and creative community, held a Professional Education Event titled "The Evolution of the Record Contract" at NYU's Kimmel Center for University Life on Nov. 8, 2022.
The panel, sponsored by NYU Steinhardt Music Business Program and First Horizon Bank, was moderated by Sandra Craswshaw-Sparks, Partner at Proskauer Rose LLP and Chair of the Entertainment, Copyright & Media Practice Group. Participating attorneys included Shardé Simpson, Vice President of Operations, Dream Chaser Records and founding partner of Simpson and Reed PLLC; Elliot Groffman of Carroll Guido Groffman Cohen Bar & Karalian; and Ben Landry, Senior Vice President, Business & Legal Affairs, Atlantic Records. Practicing attorneys received 1.0 credit hour of Continuing Legal Education (CLE) credit from Proskauer Rose LLP in the Professional Practice (NY)/General (CA/IL) category for their attendance.
In his opening remarks, Neil Crilly, Managing Director of Industry Leader Engagement & Chapter Operations for the Recording Academy and one of the event's organizers, presented an overview of the 2023 Entertainment Law Initiative Writing Contest. The annual contest invites current law students to identify and research a pressing legal issue facing the music industry today and outline a proposed solution in a 3,000-word essay. The winner, decided upon a nationwide panel of music law experts and to be recognized at the 25th Annual ELI event to be held during GRAMMY Week 2023, will receive a $10,000 cash scholarship, among many other prizes; each of the two contest runners-up will receive a $2,500 cash scholarship. Learn more about the 2023 Entertainment Law Initiative Writing Contest, read the official contest rules, and spread the word to eligible applicants via our Social Media Toolkit.
Representing both the artist side (Groffman) and the label side of record deals (Landry, and Simpson, who works on both the artist and label side), the lively discussion yielded numerous key takeaways regarding the ins and outs of contracts. Kanye West's business dealings even came into play — in a positive way!
One topic of note: when it comes to an artist signing a recording contract, short-term is king.
"There's only one clause that counts when you're representing a new artist, and that's the length of the term. And we like it to be short," says Groffman. But as he warns, "Just short doesn't mean good, either." Back in the day, artists were committing to 10-album deals; now two or three records is the desired norm.
From the label POV, Atlantic's Landry concurs, adding, "We've seen more leverage given back to the artists. I think that's a result of a lot of barriers to entry to the market being removed. It's easier to release music these days than maybe it ever has been before."
If an artist becomes successful, it seems that more money, more creative control and more benefits should follow. In that case, being locked in a long-term contract signed can be detrimental.
"You'll see [artists] two, three albums down the road, blowing up, and they're noticing that there were certain restrictions in their agreement that didn't allow them to do certain things," says Simpson. "Then we're fast forwarding five, 10 years, and they're still in these deals. So that's definitely a disadvantage."
Renegotiate that deal, rock star. 
Ye worked his early career and contracts in a way that allowed for growth and renegotiation: As Kanye West, "after his first few albums, he renegotiated his deal, and that turned into a profit split," Landry, who studied the now-mogul's contract, explains. 
"Later in his career it turned into a distribution arrangement where he got 100% of the proceeds," he continues. "And he got reversions; ownership rights for some of his albums. That's sort of a life-cycle. If you can't come in and get the deal that you want from the beginning, and you find success, we expect and happily welcome those renegotiations."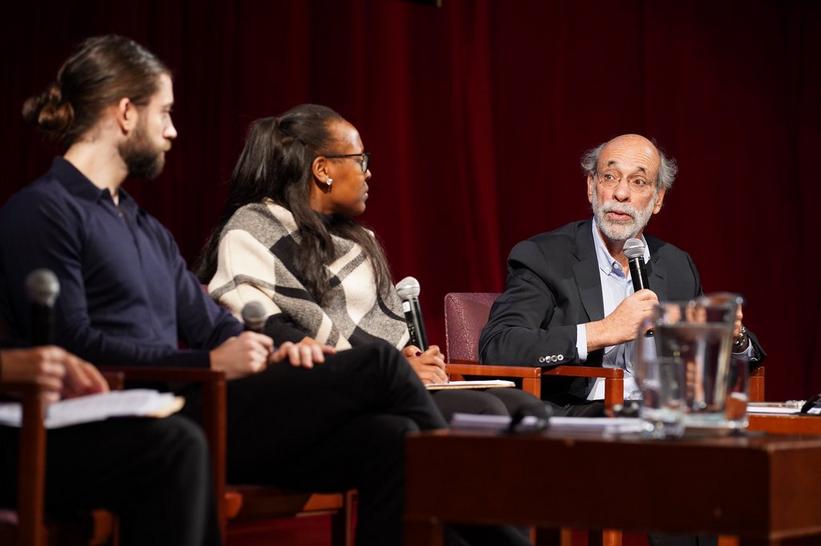 (L-R): Ben Landry, Sharde Simpson & Elliot Groffman | Photo: Rob Kim/Getty Images for The Recording Academy
Of course, sustained success is the key to those re-negotiations. And deal terms are viewed differently as star status changes. "As for the all-in royalty rate, as artists grow, the royalty rate does matter. When they're initially signing as baby or junior artists, I don't think they care as much. But as they grow, that royalty rate makes a huge difference in terms of income, especially as they start to be multimillionaires," Simpson says.
Artists should consider a distribution deal instead of a record deal, he adds.
As he lays out, signing a "traditional" record deal with a major label offers the advantage of being part of the "machine" and its infrastructure of marketing, publicity, a radio promo team and more.  Sometimes, though, traditional old-school deals happen because the artist goes for the biggest initial payday/investment rather than looking to the long-term.
"Labels can operate as a bank of sorts; provide those advances," Simpson says, "Ultimately, though, If I had to pick between an all-in royalty rate or a profit split, I would tell the artists to definitely do a profit-split or net-receipts type of situation. If you can go into a deal like that, you should. And that's usually a distribution situation."
Distribution deals are often a beneficial position to be in, "especially if you have a distribution company that's really good at marketing, and they can provide you with a great marketing advance," Simpson says. "And maybe you don't need the advance to be tied to anything else. I think in those situations, it might be beneficial for the artists to take it."
Beware of signing to a production deal, he adds. Because it's tempting for a creative to acquiesce when someone says they can handle all the business around securing a deal… and then shield/advocate for the artist at the major label. "Oftentimes a baby artist will have a manager or person close to them sign them to a  'production deal,' which is sort of a makeshift label deal," he says — and that can lock the artist down financially.
Production deals "can cause problems for a number of reasons," Landry believes. "As artists starting out, they don't have a lot of leverage, and they're very, very eager to get things going." And a production deal may fast-track that process, but then? "I think artists sometimes be into these deals, and then they become household names and stars, and they start looking askance at their production deals."
If the band or artist is unhappy with the amount of money they're making from a label, "imagine having to split that with a production company," Landry says. "Maybe by then [the artist] is working directly with the label, so it's like, 'Why am I paying this person over here half of my money?'"
Many production deals, he surmises, are due to the ease with which almost anyone can "set up distribution and provide basic label services to an artist starting out."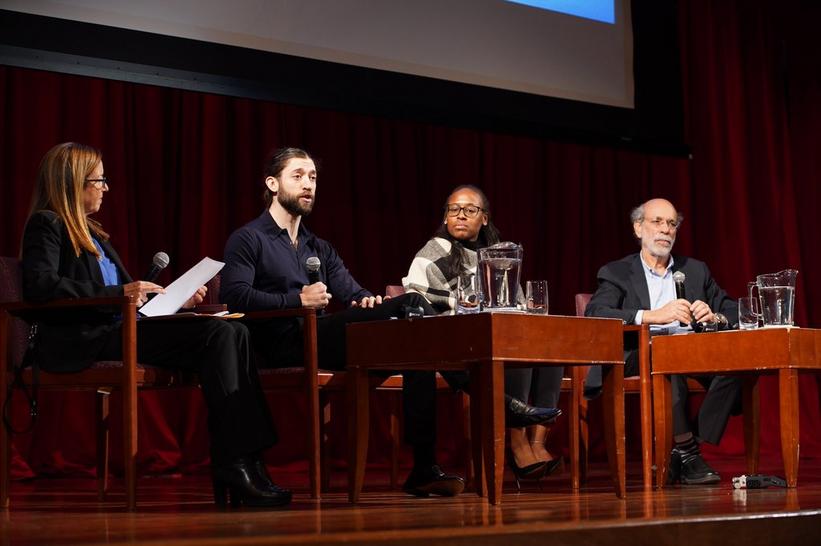 (L-R): Sandra Crawshaw-Sparks, Landry, Simpson & Groffman | Photo: Rob Kim/Getty Images for The Recording Academy
That's not to say there aren't mutually beneficial production deals. "There could be a good reason [for signing one]; it could be that the person was a producer or writer who found somebody, groomed them and worked a deal," adds Groffman.
Work as hard as you can and wait as long as you can before signing any record contract, Landry says.
"I think that major labels are extremely good at taking a three and going to 10. I think the magic often is zero to three," he explains. That kickstart that usually happens with [the artist] and their "really smart, enterprising friends, managers, lawyers working together to create these moments and create a buzz.
"So, the longer you can hold out and get more leverage, of course, the more labels are going to be interested. It's less risk," Landry continues. In that case, the majors can take a chance and do a riskier (i.e., higher money deal for the artist) deal, since the "proof of concept" has already been established from the creative side.
Leverage is key when going into an initial major-label label negotiation, agrees Groffman.
"The longer you wait before you engage with a major label system, the more negotiating power you're gonna have. I'm not saying don't do deals with majors, but arm yourself. If you come in there too soon, you're going to be giving up five albums, not three.
"You'll be doing 360 stuff [an exclusive contract between a label and an artist where the label not only takes a share of the artist's music sales, but also percentages of revenue touring, merchandise, publishing or more], even with good shelters and all the things that [attorneys] negotiate," he adds.
Yet even distribution deals aren't easy, Groffman says. "As Ben said, monies that a major label will pay are recoupable, but not returnable. Distribution deals, you over-manufacture, you overspend, guess what? You're paying for that. And you know, the splits look much better on paper."
How The Entertainment Law Initiative Tackles Today's Leading Law Issues & Fosters The Next Generation Of Legal Innovators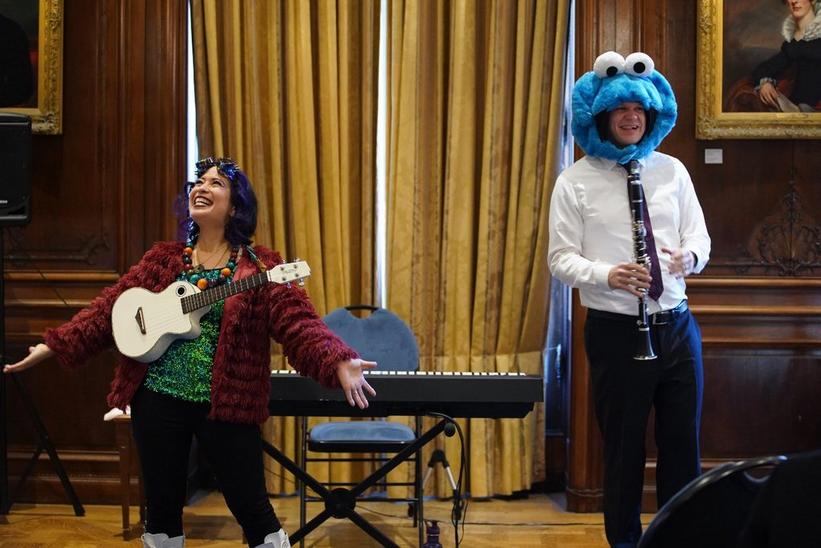 (L-R) Lucy Kalantari, Linus Wyrsch
Photo courtesy of the artist
news
How The Recording Academy New York Chapter Day Of Service Inspired Community Building & Service
The events and panel talks held during the Recording Academy New York Chapter Day Of Service aimed to build community, bestow knowledge, and pass along the power and passion that drive the music industry.
Recording Academy
/
Nov 3, 2022 - 08:42 pm
The New York Society Library not only holds the distinction of being the oldest library in the Big Apple; it was the de facto Library of Congress during the United States' early years. Filled with dusty, leather-bound books and centuries-old oil paintings, its ornate rooms are imbued with a sense of history.
The event space on the second floor is normally a place for quiet reflection and historical ponderance — but on Oct. 27, it burst with jubilant energy and rapport.
As the sun beamed through its antique windows, the GRAMMY-winning Lucy Kalantari stood before an audience of boisterous, captivated kids hanging on her every word.
"My mommy is a mummy," she playfully sang, tapping on a keyboard along with the clarinet stylings of GRAMMY winner Linus Wyrsch, a member of her band, the Jazz Cats. Children and parents alike danced about, regularly shouting out to the receptive performer, entranced by the live music unfolding before them.
It's an enchanting, heartwarming moment, and it's all part of the Recording Academy New York Chapter Day Of Service, a new initiative that encourages Recording Academy members and music industry professionals from across the New York Chapter's regions to volunteer at service opportunities. The goal is simple: to give back to the region through a series of events and panel talks meant to build community, bestow knowledge, and pass along the power and passion that drive the music industry.
The Day Of Service included panel discussions, school visits, and free kids programming — like the event that singer, composer and producer Kalantari hosted.
Read More: Meet Some Of The Music Industry Leaders Who Just Joined The Recording Academy's 2022 New Member Class
"As a performer, this event is an opportunity to help shape children for our future," Kalantari explains. "The Recording Academy reached out about the Day Of Service, and I was thrilled to say an absolute yes."
A celebrated family music artist and performer, who most recently won the GRAMMY for Best Children's Music Album at the 63rd GRAMMY Awards in 2021, Kalantari has built her career on the formative power of music and how it can positively impact and shape young minds.
But regarding the sphere often referred to as "children's music," Kalantari is quick to point out one overarching idea: "It's not just about having sweet or cute songs."
No doubt, her music can be described using those two adjectives. But Kalantari also uses her platform to paint a sophisticated musical portrait — one that teaches children heavier topics, like the fundamentals of jazz, in a lighter way.
"There's content there for them to grow up and live by, from lyrics to sound and how they move," she says. "They get to immerse themselves in it and there's no holding back; this is real jazz. It's really wonderful to see kids experience this kind of sound."
Clarinetist Wyrsch echoes that mission of enlightening young minds. "The minds of children are like little sponges," he says. "They really absorb it, so it's important they are exposed to jazz and improvised music as much as any other music."
Events like the Day Of Service are what spurred Kalantari to join the Recording Academy's New York Chapter back in 2014. "I thought the organization was just for the superstars, like Beyoncé," she says with a laugh. "But a friend of mine said, 'There's a Chapter in New York you can join, and it's really for musicians, creatives and producers.
"I met so many people locally and abroad, including mentees through the GRAMMY U student mentorship program," she continues. "It's been really fun to see what these connections can bring, even if it's just support or a little bit of encouragement."
It's that spirit that also spurred fellow member Amy Birnbaum to join. As the Director of Artist Relations, PR and Marketing at Round Hill Music, Birnbaum helped organize a Day Of Service panel on Zoom in partnership with the NVAK Foundation, a nonprofit that helps educate people around the globe about careers in the music industry.
The event assembled people from all over the world to ask questions, hear stories, and receive tips from a diverse group of heavy hitters in music, from Kurt Duestch (the President of Ghostlight Records and Senior Vice President of Theatrical and Catalog Development at Warner Chappell Music) to Tracey Jordan (Senior Director, Talent, Music/Entertainment Relations at SiriusXM).

"One silver lining of the pandemic is the fact that we have had the opportunity to take on mentorship roles on a global scale," Birnbaum says of the panel and its mission. "With NVAK, we were able to put together a nice group of young people from all different corners of the world who heard from great professionalswith diverse experience levels who were able to provide anecdotes and insights."
As a result, students in the Day Of Service's global classroom heard invaluable information, especially for those in under-resourced communities. "The women I work with in Malawi say they don't even have the bandwidth to do a video conference," Birnbaum says. She notes that for someone dreaming of having a career in this industry, something as simple as general access to professionals therein can mean a world of difference.
"These are young students, so I'm not going to get into the nuts and bolts of music publishing," Birnbaum adds. "Something like asking [panel member] Dahlia, 'How do you source talent?' She said it's just knowing people, finding the people you trust, and talking to them."
Students on the panel also heard insight from the recording artist DAVIE. "[It was about] giving voice to the process behind the scenes," he says. "I wanted to give voice to the hard work it takes to create your sound, your band, and ultimately create the art that impacts people all at once."
DAVIE is frank about the various, complicated facets of being a recording artist. Events like the Day Of Service make things easier, he says.
"There's power in sharing information and mentorship," he adds. "It's important to encourage others in your music community to just keep going."
Birnbaum expressed the true spirit behind the Day Of Service best. "From a networking standpoint, I love to be a community member," she says. "It's everything I live for, and any way I can be involved in my community is a thrill and an honor."
How The Recording Academy's 2022 New Membership Class Reflects Its Ongoing Commitment To Diversity, Equity & Inclusion