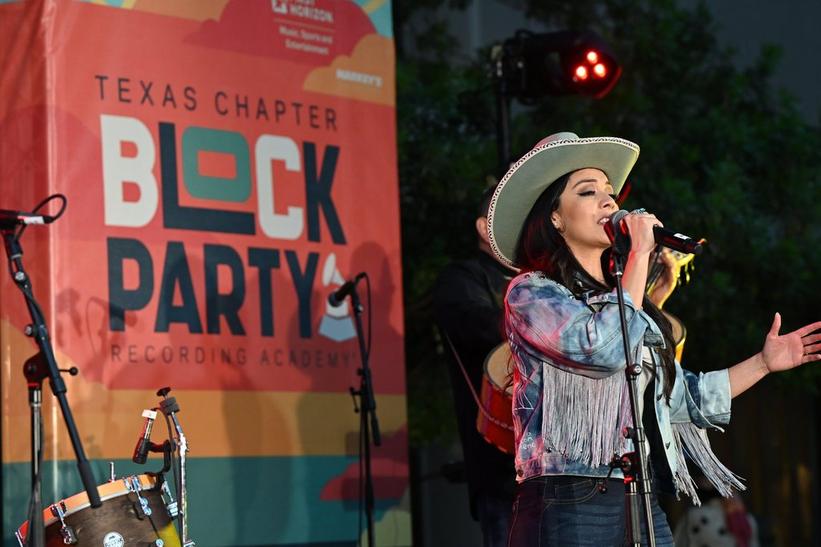 Lupita Infante performs at the Texas Chapter Block Party
Photo: Saha Haageensen/Getty Images
news
Relive The Recording Academy's Block Party At SXSW 2023
The annual Texas Chapter Block Party was held during South by Southwest for a night of music, mingling and advocacy.
Recording Academy
/
Mar 28, 2023 - 09:45 pm
The Recording Academy's Texas Chapter brought the party to SXSW again this year, drawing hundreds of music industry professionals to its annual block party. Held under a twinkle-lit tree canopy at the Four Seasons Austin, the March 15 event was filled with great conversations and a diverse array of musical acts. 
The Four Seasons was turned into a gorgeous Recording Academy soiree from their floral-covered signature gramophone statue to the buffet of delicious bites. Guests lined up to show off their amazing fits on the blue carpet, where they each got a moment to feel like a superstar. 
Alongside all the mingling and networking, the Mechanical Licensing Collective — a nonprofit that aims to make sure songwriters, composers, lyricists and publishers receive their royalties — educated attendees on the strides they're making in the industry. Their presence demonstrated how the Texas Chapter, and the Recording Academy at large, are invested in advocacy efforts for a variety of music industry professionals.
Bands took to the stage throughout the night, beginning with Houst-Orleanian artist Sugar Joiko, who opened up the night with a soulful set. Dakota Cohen — a student at Berklee College of Music, was the winner of the national GRAMMY U Texas Chapter Block Party Performer Contest — followed with her signature pop-funk sounds. She brought all five members of her band to represent all of GRAMMY U, and together the band wowed the audience with their electric performance.
GRAMMY-nominated singer Lupita Infante also performed, and her powerful vocals spiced up the night. She is well-known for bringing her modern twists to traditional Mexican music, and never fails to bring the house down with an unforgettable set. Eight-piece group the Superfonicos wrapped up the night with their danceable Colombian funk/caribe soul set. 
10 Moments From SXSW 2023: Life Lessons With Killer Mike, Acoustic Sets & New Music From Kx5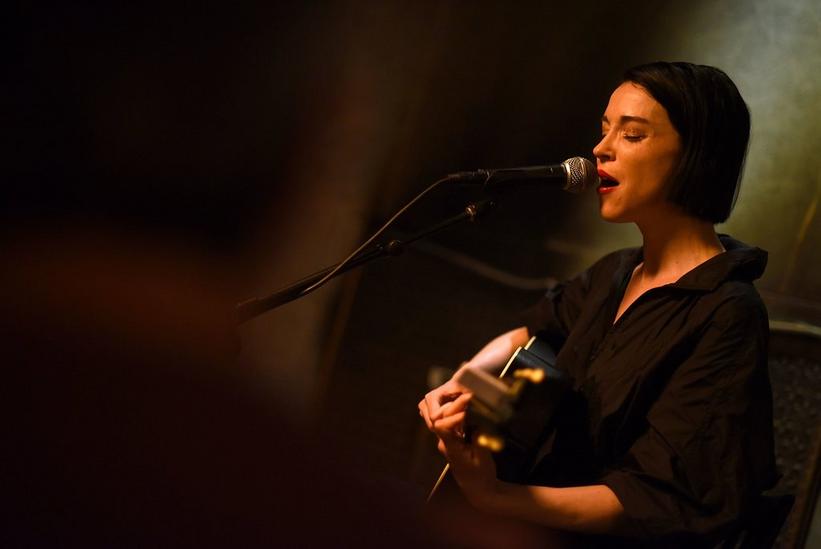 Photo: Sasha Haagensen / Getty Images
news
Even The Rain Waited For St. Vincent At Austin Event
Texas music stars and the elements held their breath as St. Vincent explained her creative process on 'Masseduction' and performed an acoustic set
Membership
/
Oct 17, 2018 - 05:58 am
On May 15, a summer storm was brewing in Austin as music industry tastemakers gathered at the intimate boutique hotel, St. Cecilia, for an Up Close & Personal Texas Chapter event with acclaimed artist, St. Vincent.
Gary Clark, Jr., Ruthie Foster, Mark Waystrach from the band Midland, southern rock duo Jamestown Revival, local legend Ray Benson from Asleep At The Wheel, and pop/rock band Fastball were among the invited attendees enjoying the sweet vibes of St. Cecilia over cheese and wine, awaiting the special guest for the evening. If anything can bring out this diverse group of notable artists, it's Annie Clark — aka St. Vincent — to talk about all things music.
Executive Producer of "Austin City Limits," Terry Lickona gathered everyone near the fireplace to welcome the group and talk a little bit about Annie, who had just taped her "Austin City Limits" episode with Lickona the night before. Liz Lambert, aka "Queen of Cool" and owner of Hotel St. Cecilia among other artists-choice hotels in Austin, San Antonio and Marfa, sat down to talk with her longtime friend about life, her guitar, and her latest album — Masseduction.
A couple of her favorite guitarists she mentioned off the bat—Mark Ribot and Adrian Belew. After she got that out of the way, Liz asked, "How was it recording your latest album." I was lucky enough to be sitting next to Gary Clark, Jr. who was nodding his head in agreement after many of her statements, specifically how she described that when she's touring she feels as though she's been floating in the atmosphere, going from place to place unsure of what day and time it is. Then, it comes to a halt and she asks, "Where the f*ck have I been?" And now it's time to be ready to record a big concept album? It's an interesting transition for her but luckily, songwriting is irrepressible (again, a lot of nodding in the room among this group and I think I may have heard an "amen"). When it comes to creating music, we know we can always count on St. Vincent to give us all the feels — equal parts groovy, sensual, and unpredictable.
Right on time for St. Vincent's performance — just her and her acoustic guitar in the living room — the storm surrounds the city with lightning and thunder. We're on the patio but no one seems to be worried about being rained on. Everyone just soaked up the electrifying performance and mood that came with it. Thankfully, the rain waits to release from the swelling clouds until we said our good byes.
St. Vincent Remix Of Maroon 5's "Girls Like You" Puts Cardi B On Top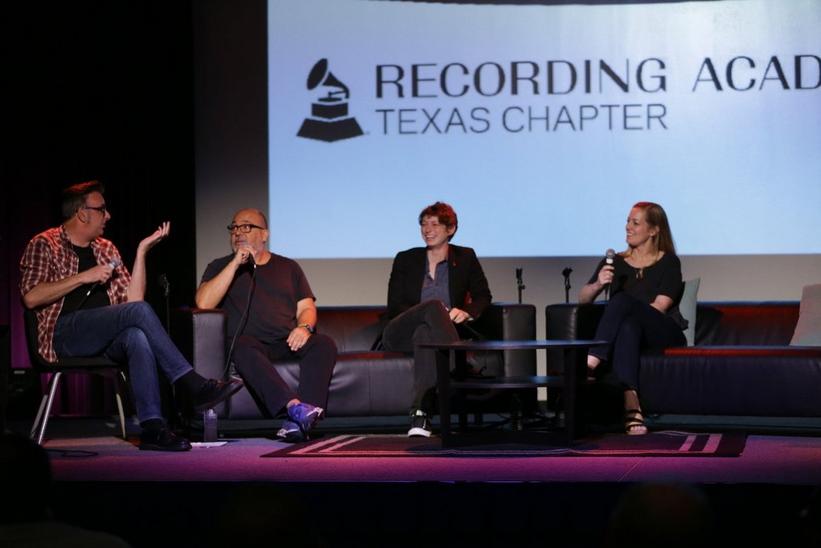 Photo: Bob Levey/ Getty Images
news
Inside The Engineers' POV On The Craft Of Mastering & Credits
Texas Chapter's expert panel on mastering discuss the ins and outs and excitement of their craft
Membership
/
Oct 17, 2018 - 05:55 am
On June 12, Texas Chapter producers and engineers gathered at respected music venue The Heights Theater in Houston's historical Heights District for a deep technical dive with three prominent mastering engineers from around the country. Current Austin, Texas resident Chris Athens, owner of New Jersey's Knack Mastering, Kim Rosen, and owner/chief engineer at Neato Mastering in the San Francisco Bay Area, and Piper Payne joined a panel moderated by Texas Chapter Trustee and mix engineer Tim Palmer to discuss file formats, compression issues, overall level and more. It was great to hear what these pros are seeing, thinking and hearing, and to find the best ways to take full advantage of this important stage of the recording process.
GRAMMY-winning engineer and Chapter P&E Committee chair Tre Nagella shared, "One of the interesting philosophies I heard from the panelists was how they viewed their role in the recording process as, most importantly, quality control. They are the last tastemakers to hear and touch the product, so they're not so much trying to add creativity to the song, but to make sure that everything is as it should be for the final product."
Also joining the discussion was Gebre Waddell, current Memphis Chapter President and CEO of audio technology company Soundways. Waddell, author of the McGraw-Hill published book, Complete Audio Mastering:Practical Techniques, shared news about the launch of Soundways' new music crediting website, SoundCredit.com. Having first created a cross-platform plug-in to collect credits that uses the DDEX RIN metadata standard, Soundways has now expanded to include an online portal for documenting and publishing recording credits.
Backstage At ACL Fest 2018 With The Recording Academy | Photo Gallery