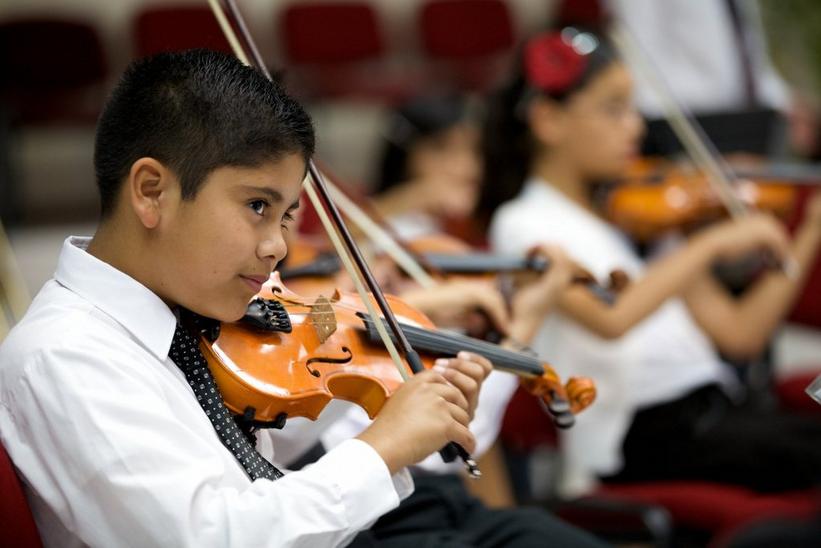 Photo: Jose Girarte / Getty Images
news
The California Arts And Music In Schools Initiative Is Officially On The Ballot: Here's What You Need To Know
If passed, Proposition 28 would add $900 million of state funding to arts and music education in California schools — without a tax hike hurting your wallet.
Advocacy
/
Jul 27, 2022 - 06:28 pm
The California Arts and Music in Schools Ballot Initiative is officially on the state's ballot for this year's November election as Proposition 28. If passed, Proposition 28 would put $900 million of state funding to arts and music education in California schools — without raising taxes. This includes music, dancing, computer graphics, coding, film, and many other art forms.
Currently, only one in five public schools in California have a dedicated arts or music teacher — but Proposition 28 would provide the necessary funding to ensure that changes. Proposition 28 would be a tangible step toward minimizing the systemic inequalities in the education system. While all public schools would receive an increase in funding, Proposition 28 would provide additional funding to California public schools serving Black, Latino, and low-income students.
These increases in funding are critical to the overall education of all California students. Studies have shown that having arts in the classrooms improves reading comprehension, attendance, self-confidence, and motivation to learn. In turn, providing those students with a better path to academic success — especially among poor or at-risk students.
Proposition 28 also has strict measures to make sure the funding is being utilized properly. Schools will be required to submit annual reports detailing what programs the funds were used for, the number of students who participated, and other details to ensure the money is being used correctly.
After receiving over a million signatures as a ballot initiative, Proposition 28 now must receive over 50% YES votes during the November 8th election to become law. The Recording Academy has supported Proposition 28 since it started as a ballot initiative and continues to advocate for its passage this fall. Its other supporters include teachers, parents, community leaders, labor organizations, and artists such as Barbara Striesand, Christina Aguilera, Dave Matthews, Dr. Dre, John Mayer, Katy Perry, Lenny Kravitz, and many more.
On March 10, the Recording Academy's CEO, Harvey Mason jr., released a statement highlighting the importance of this initiative.
"The Recording Academy supports the California Arts and Music in Schools ballot initiative which, if passed by the voters, will ensure that public school students throughout the state can experience the joy of learning music," he said. "As music creators, we at the Recording Academy know how enriching music is for our lives and our culture. Study after study has shown how arts and music education benefits students both in and out of the classroom.
"Unfortunately, many California public schools lack the staff and funding for this programming, making this initiative vital for providing students with the education they deserve," he continued. "The ballot initiative gives voters the opportunity to bring music to the classroom. Let's lift up our civic voices and sing out a hit for California's students."
Please visit voteyeson28.org to learn more about this important proposition and find out how you can help ensure it becomes law.
The Fight For Music Maker's Rights Continues This Summer: Four Key Questions For A Busy Legislative Season