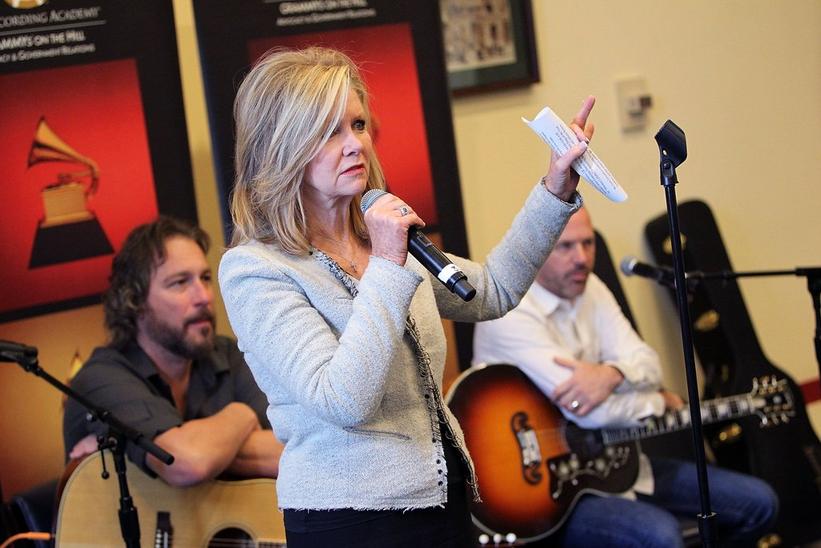 Sen. Marsha Blackburn (TN)
Photo: Paul Morigi / WireImage for NARAS
news
Sens. Alex Padilla and Marsha Blackburn Introduce The American Music Fairness Act In The Senate: Here's What You Should Know
This new bill will ensure that artists, performers, producers, and music creators are fairly compensated when their songs are played on terrestrial radio stations.
Advocacy
/
Sep 23, 2022 - 08:06 pm
On Sept. 22, Sens. Alex Padilla (D-CA) and Marsha Blackburn (R-TN) introduced the bipartisan American Music Fairness Act to ensure artists and music creators receive fair compensation for the use of their songs on AM/FM radio.
This legislation will hold corporate radio broadcasters accountable to pay artists and producers for their music just as other music services– like satellite, internet radio, and streaming platforms– already do Identical legislation (H.R. 4130) has already been introduced and received a hearing in the House, setting Congress up for action this fall.
"We commend this bipartisan bill led by Reps. Deutch and Issa, and we thank them for joining us in the fight for fair pay," said Harvey Mason jr., CEO of the Recording Academy. "Artists create music that can bring us together and heal us, and they deserve to be paid when their work is played on FM/AM radio."
Earlier this year, Governors and Trustees from the Recording Academy's Los Angeles and San Francisco Chapters sent a letter to Sen. Padilla asking the freshman senator to introduce the American Music Fairness Act in the Senate.
In a statement, Sen. Padilla said, "For too long, our laws have unfairly denied artists the right to receive fair compensation for their hard work and talent on AM/FM broadcasts."California's artists have played a pivotal role in enriching and diversifying our country's music scene. That is why passing the American Music Fairness Act is so important. It's time we treat our musical artists with the dignity and respect they deserve for the music they produce and we enjoy every day."
Senator Blackburn, meanwhile, has long championed the rights of creators. Prior to arriving in the Senate, Senator Blackburn led the effort to establish performance rights for artists in the House of Representatives. 
Upon introduction of today's bill, the Senator said, "From Beale Street to Music Row to the hills of East Tennessee, the Volunteer State's songwriters have undeniably made their mark… However, while broadcasters demand compensation for the content they create and distribute, they don't apply this view to the songwriters, artists, and musicians whose music they play on the radio without paying royalties. Tennessee's creators deserve to be compensated for their work. This legislation will ensure that they receive fair payment and can keep the great hits coming."
Currently, and historically, terrestrial (AM/FM) radio stations do not pay artists for the music they play on the radio in the United States. This is because of an antiquated loophole in copyright law that allows AM/FM radio stations to play music while rightly compensating the songwriter, but not also the artists who perform the songs or the studio professional behind the sound recording. The AMFA also includes protections for songwriters to ensure the new right does not encroach on songwriter royalties.
In 2019, music broadcasters made over $10 billion by selling ad revenue, yet did not pay artists for the product – the music – that generates this revenue. The American Music Fairness Act rights this wrong by requiring major radio stations to fairly compensate all artists for their property.
The American Music Fairness Act also works to ensure that AM/FM stations are no longer the only music platforms that do not compensate artists for their music. It is long overdue for terrestrial radio stations to pay royalties to artists just like streaming services, satellite radio, online radio, and every other platform that profits off copyrighted content.
The American Music Fairness Act would establish fair market value for radio performance royalties similar to how the law currently works for other music platforms.
Additionally, the American Music Fairness Act will protect small, local broadcasters with dedicated protections and exemptions. Under the American Music Fairness Act,  radio stations that fall under $1.5 million in annual revenue and whose parent companies fall under less than $10 million in annual revenue overall would be exempt and pay a special rate of less than $2 per day ($500 annually) to play unlimited music. Other exemptions under the bill would apply to public, college and other noncommercial stations as well as super-small stations in general, who would pay as little as $10 per year.
Finally, the American Music Fairness Act supports American artists whose music is popular in other countries with a performance right. The AM/FM radio loophole currently harms American artists when foreign radio stations play their music overseas. Foreign countries routinely hold royalties that should go to US artists due to the lack of American terrestrial performance copyright.
Moreover, the US is one of the only countries that do not require a performance copyright for terrestrial radio. That means there are hundreds of millions of U.S. dollars, owed to American artists, being left on the table around the world. The American Music Fairness Act would ensure that foreign countries pay US artists when their songs are played overseas.
The Recording Academy offers a ringing endorsement of this historic advancement of the American Music Fairness Act, and promises to continue to work tirelessly to advance the interests of all music people.
Why The American Music Fairness Act Will Give Music Creators What They Deserve