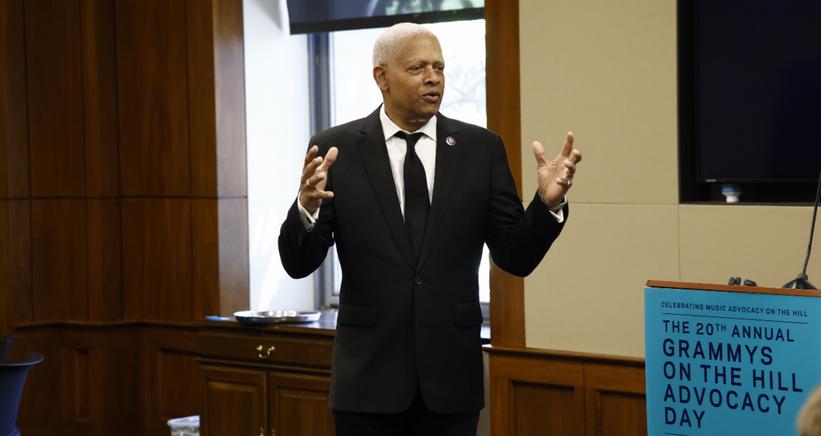 Rep. Hank Johnson (D-GA)
Photo: Paul Morigi / Getty Images
news
Recording Academy Advocacy Holds Twitter Spaces With Representatives About The RAP Act: What You Need To Know
On Aug. 11, via the @GRAMMYAdvocacy account, the Academy spoke with Rep. Hank Johnson (D-GA) and Professor Jack Lerner from the University of California, Irvine School of Law about the RAP (Restoring Artistic Protection) Act.
Advocacy
/
Aug 22, 2022 - 02:12 pm
Every two weeks, the Recording Academy's Advocacy and Public Policy team hosts key stakeholders on Twitter Spaces to do a deep dive into a hot policy topic.
On Aug. 11, via the @GRAMMYAdvocacy account, the Academy spoke with Rep. Hank Johnson (D-GA) and Professor Jack Lerner from the University of California, Irvine School of Law about the RAP (Restoring Artistic Protection) Act.
This bill, which was recently introduced in the U.S. House of Representatives by Rep. Johnson along with Rep. Jamaal Bowman (D-NY), was created to protect the First Amendment Rights of artists and stop the use of an artist's lyrics or creative expressions as evidence during criminal and civil proceedings.
Read More: The RAP (Restoring Artistic Protection) Act Has Been Introduced In The House. Here's What It Means For Artists' First Amendment Rights.
Over the course of the conversation — moderated by the Academy's Michael Lewan and also featuring Todd Dupler, Acting Chief Advocacy Officer — they touched on the importance of passing the RAP Act not only for rappers, but for all artists and creatives.
"No artists nor creators should have to fear their work is being used against them," Dupler stated. "If the trend now is to go after one particular genre of music, like rap, we know that is going to create a chilling effect on any artist who might worry about the words they put into their music or their art."
Currently, this issue is most prevalent in the rap community. According to Lerner's research on the subject, there are over 500 instances of lyrics being used as evidence to this date. As he pointed out, the use of these lyrics negates the fact that "there are unique things about rap music that if you don't listen to rap music, you don't necessarily know."
He continued to quote a court in Tennessee, saying, "Rapping about selling drugs does not make it more likely that the defendant did in fact sell drugs."
The RAP Act seeks to end the bias against rappers by which their lyrics are used as evidence. Rep. Johnson spoke to this point, stating, "All you have to do, as Professor Lerner pointed out, is even mention that someone is a rapper and that conjures up all kinds of biases and prejudice against the accused who might be a black male.
"And then when you introduce the artistic expression of that black male," he continued, "and hold it out as being something that shows the state of mind or the intent of the maker of the creative or artistic expression, that's pretty much all you have to do in order to get a conviction." 
Lerner furthered the Congressman's point on bias by stating that the use of rap lyrics as evidence is "so common because prosecutors can use this assumption that someone couldn't be creative enough to make something up and develop a whole fictional persona. So, the presumption is that this person is not smart enough, this person is not creative enough, and they see this as clearly confessional or clearly literal when it's actually not meant to be literal at all."
Also during the Twitter Spaces conversation, Rep. Johnson emphasized how the RAP Act would affirm an individual's right to expression.
The Congressman said, "We have the right to freedom of speech in this country and freedom of speech means that you have the freedom of expression. Not just in what you say but in what you may write, what you may sing, what you may imagine in a poem that you put down on paper, or in a script that you may write for a play or a production on film. Artistic expression is something that is inherent in the first amendment freedom to speak."
Although the RAP Act is the first of its kind at the federal level, many states have taken up similar legislation in an effort to stop this practice nationwide and its introduction has shined a light on each of those. Rep. Johnson mentioned that this bill was modeled after the bill introduced in the New York State legislature. Similarly, there is currently a bill in California — A.B. 2799 — that passed through the general assembly in May and is expected to be voted on in the state senate this week.
During the conversation, Rep. Johnson and Professor Lerner both emphasized the importance of getting involved. They encouraged everyone to call and email your representatives — both state and federal — and encourage them to support these bills. Currently, there is not a U.S. Senate bill on this issue, but calling your senators and urging them to sponsor one could help make the RAP Act become law.
The more the public knows about the RAP Act and similar state level bills, the more the issue will be acted upon. As Professor Lerner pointed out, raising awareness will create a wave of support for these bills and could be the momentum that is needed to enact change.
As the conversation came to a close, Rep. Johnson ended with this message: "When rap music artists are brought before the court and prejudged because of their creative and artistic expressions, it hurts the ability of everyone to be able to express themselves."
District Advocate 2022: What Recording Academy Members Can Look Forward to — And What's Been Accomplished Already